Scheduling meetings might sometimes turn out to be quite problematic. While organizing a meeting with a colleague who works in the same office might be a no-brainer, the task may become much more complicated when you want to plan a presentation for a client. Imagine you have a busy week, with most of your calendar booked, and only a few open windows for new appointments. And the client who wants to book your time is 6 time zones away from you. Such situation is not a rare one and it often includes lengthy back and forth conversations. In effect, it might cause customers to give up in the unexpectedly complicated process. Fortunately, there is a way to let your customers schedule meetings quickly and easily.
Imagine you do not have to worry about time zones or other meetings you have. Instead, you allow any customer or colleague to use a simple button that is added automatically to your email signature.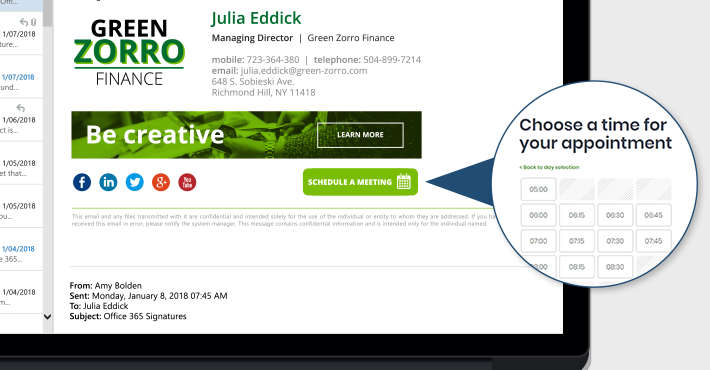 Scheduling meetings right from an email signature
Thanks to the integration of CodeTwo Email Signatures for Office 365 and Cogsworth, you can solve all problems concerning booking your time by adding a "schedule meeting" link to email signatures for all users.
All your recipients need to do is click on the scheduling link you provide and choose what time works best for them. They will receive a confirmation email which will enable them to add the meeting to their calendar. Calendar items can be added to Office 365 and Google calendars with a single click. There is also an option to add the entry to a calendar with an ICS file, which works with most email clients. Thanks to that, you do not have to worry about your recipients' email client or device.
Learn more about the integration of CodeTwo Email Signatures for Office 365 with scheduling tools
Useful links: