In times of economic crisis many businesses are forced to adapt to new challenges. While some financial cuts are unavoidable, organizations also need to make new investments to stay competitive and grow. Emails are the core of business communication, and it turns out that with the right tools they can become a powerful marketing channel to help organizations cope with a recession.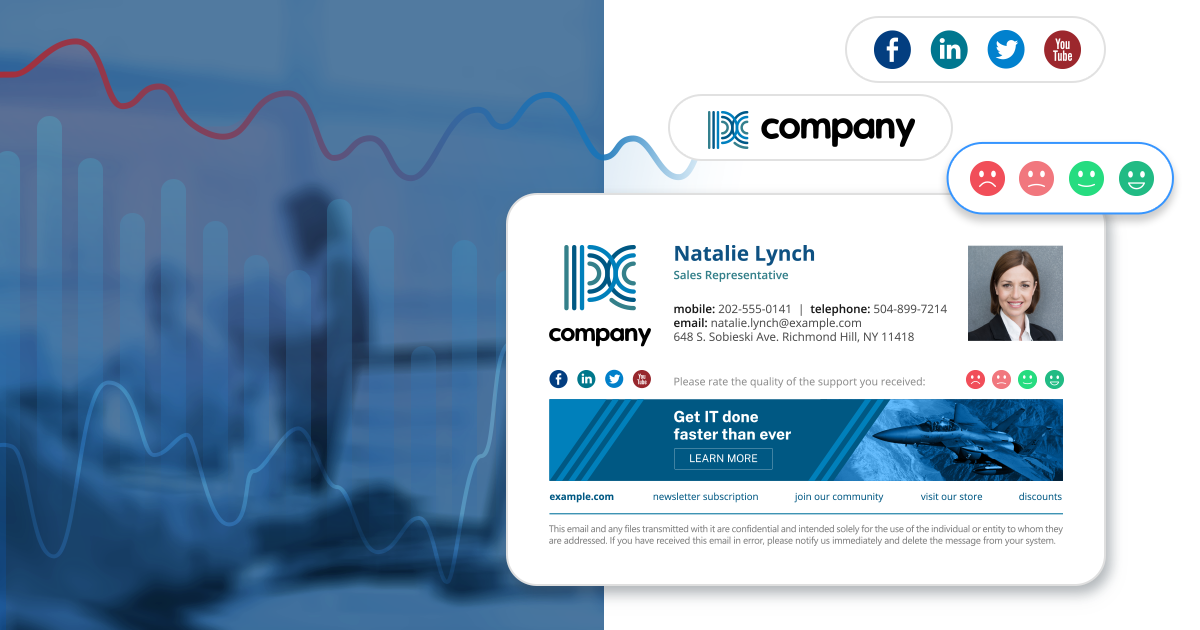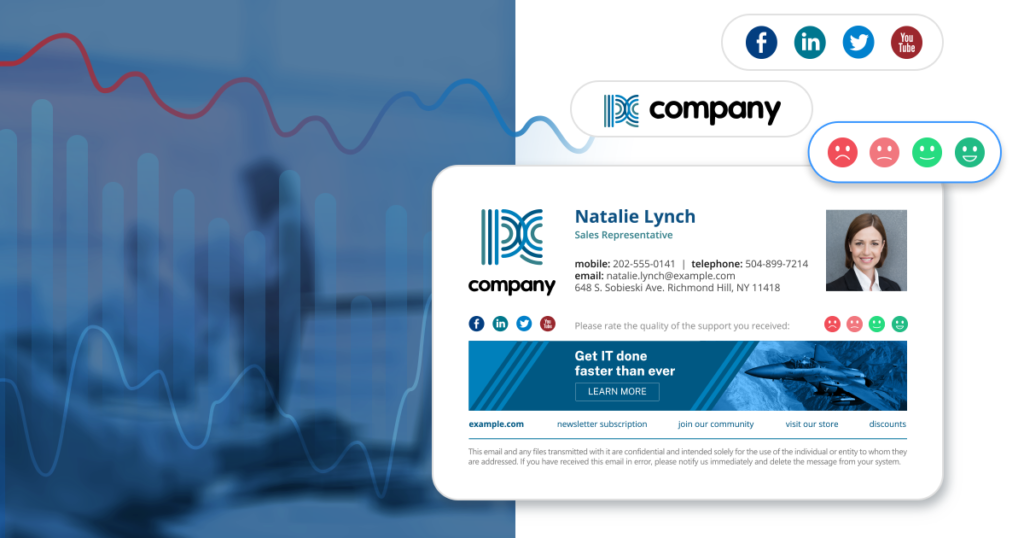 Economic crisis – what can we learn from it?
We've already witnessed a financial crisis multiple times in the 21st century. The most notable were the 2007–2009 Global Financial Crisis (which caused the Great Recession) and the Great Lockdown caused by COVID-19 pandemic. There's even more going on in 2020s that keeps businesses on their toes: several armed conflicts, skyrocketing inflation, increasing energy costs, shortage of resources, and so on.
Wherever there's an obstacle, there's also an opportunity. As Insider puts it: "Periods of economic contraction (i.e. recessions) are a natural part of the business cycle. They're inevitable but temporary." (source). In other words, sooner or later the economy will recover. This means that the times of crisis don't have to lead to business stagnation (or decline) but rather serve as an opportunity to reinvent your business without making large or risky investments. And COVID-19 is no exception – there's no denying how profoundly it changed how we do business. Digital transformation and global shift from local infrastructure to the cloud, remote and hybrid work becoming the new normal or rapid increase in e-commerce are just a few examples of post-pandemic opportunities.
How to prepare for an upcoming crisis
Incorporate automation
Automation is necessary for the business for many reasons, not only during the crisis. Organizations are leaning towards process automation to drive more efficient work management and cost savings.
Implementing automation can:
improve processes,
help reduce costs and avoid significant price increase of your products or services,
relieve your staff from mundane or repetitive tasks and concentrate on more productive ones,
help in times of labor shortages, and more.
Adopt a customer-centric marketing
Staying connected with existing customers and finding new clients is one of the biggest challenges you are going to face during an economic crisis. One way of handling this is by adopting a customer-centric approach to everything you do (from product development to marketing and customer support). You can, for example:
run targeted marketing campaigns – show your customers and prospects only those services/solutions that you know meet their needs,
make it easy for the customers to contact you, e.g. by providing contact information, adding links that initiate virtual meetings or chats, schedule meetings, etc. This information needs to be easily accessible (website, email signature, etc.),
be flexible and responsive to changes – demand patterns might change as a crisis/recession progresses, so make sure you're prepared for that as well,
enable easy access to your solutions – make them available to trial (with all features included), preferably free of charge and with no commitment.
All this will help you provide a better customer experience, which is vital for business growth.
Build a credible brand
A financial crisis or recession is a time of uncertainty and stress for all of us. This is also the time when the number of phishing/cyber-attacks increase significantly (as it was in the case of the cyberattacks' surge in 2022). During this period, consumers or decision makers think twice before spending money on new technologies. Most businesses will invest in a limited number of solutions or services until the global economy begins to stabilize. This means that if you want to get a larger share of the market, your brand not only needs to be easily distinguishable but also perceived as trustworthy.
How to achieve that? Be professional in everything you do, especially when engaging with customers through your website, emails, phone calls, social media, etc. Present your services/solutions in a way that attracts attention and offers best price-quality ratio. Work on increasing your brand's awareness by investing in brand marketing and by keeping your corporate identity consistent: use the same logo, colors, fonts, etc. in all your resources and all communication channels.
Speaking of communications channels…
How can email signature and marketing automation help you in times of economic crisis?
In current times of rapid changes, one of the things that remain constant is using emails as the main form of business communication. And this is unlikely to change anytime soon. That's why businesses need to think how to get the most out of their emails.
It turns out emails can become a powerful marketing channel if they include the right information in a subtle, non-intrusive way. Here's where automated email branding comes into play.
Find out what you can achieve with the world-leading email signature & marketing tool used by 50k+ companies worldwide:
Time, cost & labor savings
Our cloud signature solution lets you create and manage email signatures, marketing campaigns and automatic replies for all users in a Microsoft 365 organization. It's all web-based and does not require any end-user installation. Organization-wide updates to company signatures are made within just a few minutes. You can create a professional email signature in just 2 minutes by using built-in templates. Each new employee gets their own personalized email branding automatically – there's no need for them to configure anything themselves.
Signature & branding management tasks can be easily delegated to non-admin users (e.g. Marketing or Sales teams). It's a huge help for IT admins, who no longer need to design or set up signatures manually. All this adds up to significant savings in costs and manhours, which helps to keep inflation in check. See the key benefits in a short video:
Powerful marketing tool
A 100-employee company sends over a million emails per year. On average, each email is opened 2 times by the recipients. If each of these emails contains a marketing element (such as a banner ad or a product link), then by assuming that the average banner click rate is 0.4%, you get nearly 9,000 conversion chances yearly from your emails alone (see statistics for even larger companies). A conversion can be defined as, for example, subscribing to your newsletter, buying your product or simply visiting your website.
With CodeTwo Email Signatures 365, you can:
Use the built-in scheduler to automate email marketing: plan your campaigns ahead or configure the service to add specific marketing banners for a limited time only.
Automatically change the contents of signatures depending on the recipients and run targeted email campaigns.
Add signatures in different languages to reach a wider audience.
Change banner ads in signatures within minutes (useful e.g. when using different ads for holiday seasons).
Rotate/alternate banners in signatures per day, week or a custom period.
Tag links and track marketing campaign results in tools like Google Analytics, Woopra, or Matomo.
These and even more email automation examples can be found here.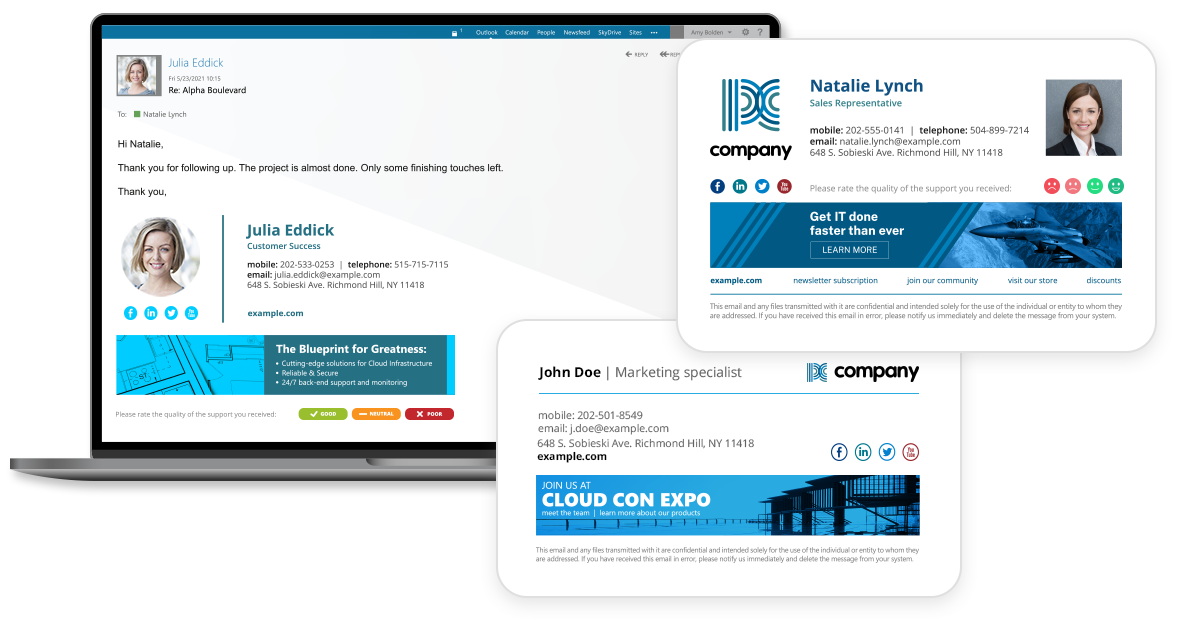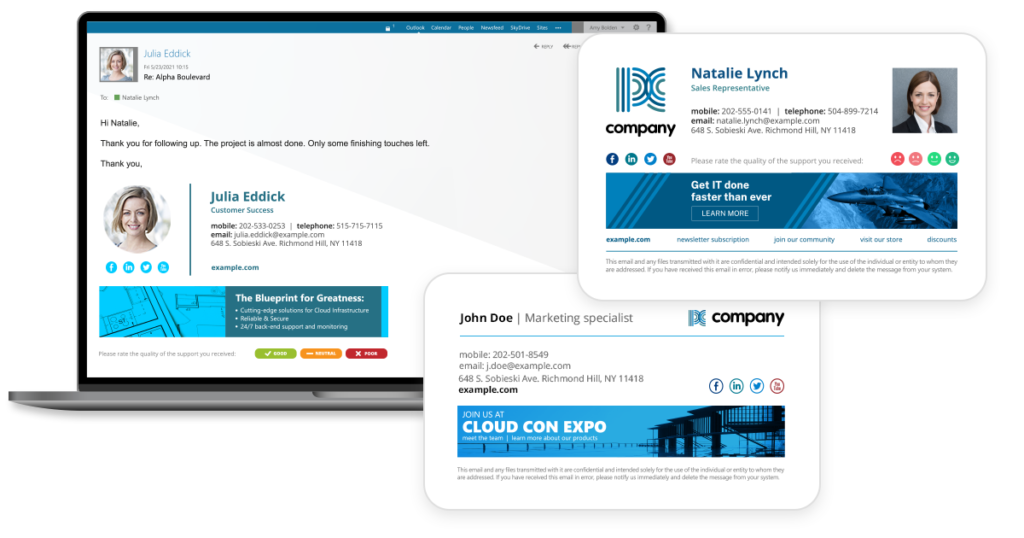 Professional, fully branded email signatures
With CodeTwo Email Signatures 365, you can be sure that every email that leaves your company has a professional-looking signature. Your recipients will easily recognize emails received from your employees, which is fundamental for building brand awareness.
By default, our service adds email signatures in the cloud, after an email is sent. This means that signature is added to emails sent from any device and email app, and always looks exactly as you designed it. Your employees don't even need to remember about their signatures – they will change and update automatically depending on what they send and who they send it to. If you prefer, you can also add signatures directly in Outlook (Outlook for Windows, Outlook for Mac and OWA) and allow your employees to select a different signature before they send an email.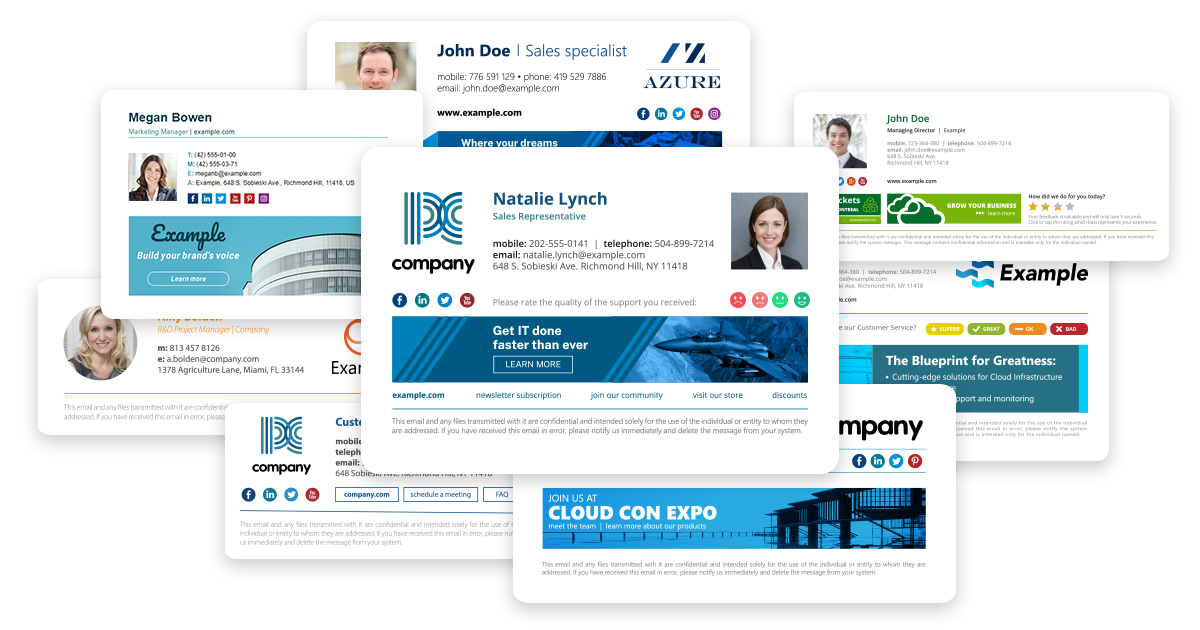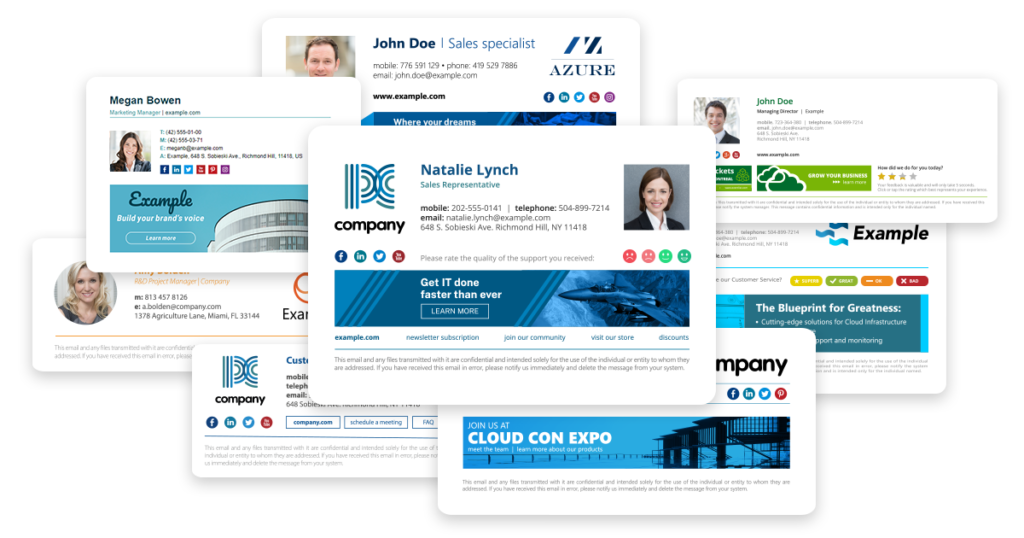 Customer satisfaction and engagement
Here are some additional tips for automating email signatures that will help you boost customer experience:
Remember to include up-to-date contact information in your emails. With CodeTwo, you can easily manage all user details (like name, job title, etc.) centrally and all changes are automatically synchronized with email signatures.
Make sure your signatures are added directly under the latest email in an email conversation (this is the default behavior if you use CodeTwo) and not at the bottom where no one can see them. Note that such a feature is not available natively in Microsoft 365 (Exchange Online).
Use embedded images instead of online images (learn the difference) in your signatures. This eliminates the need for your recipients to click "Download pictures" to see graphics in your emails. This feature is also absent from Exchange Online.
Integrate CodeTwo signatures with:
The Autoresponder feature in CodeTwo Email Signatures 365 lets you set up and manage automatic replies (including out of office messages) for all users in your organization. Be sure to add fully-branded email signatures to such replies as well. Learn more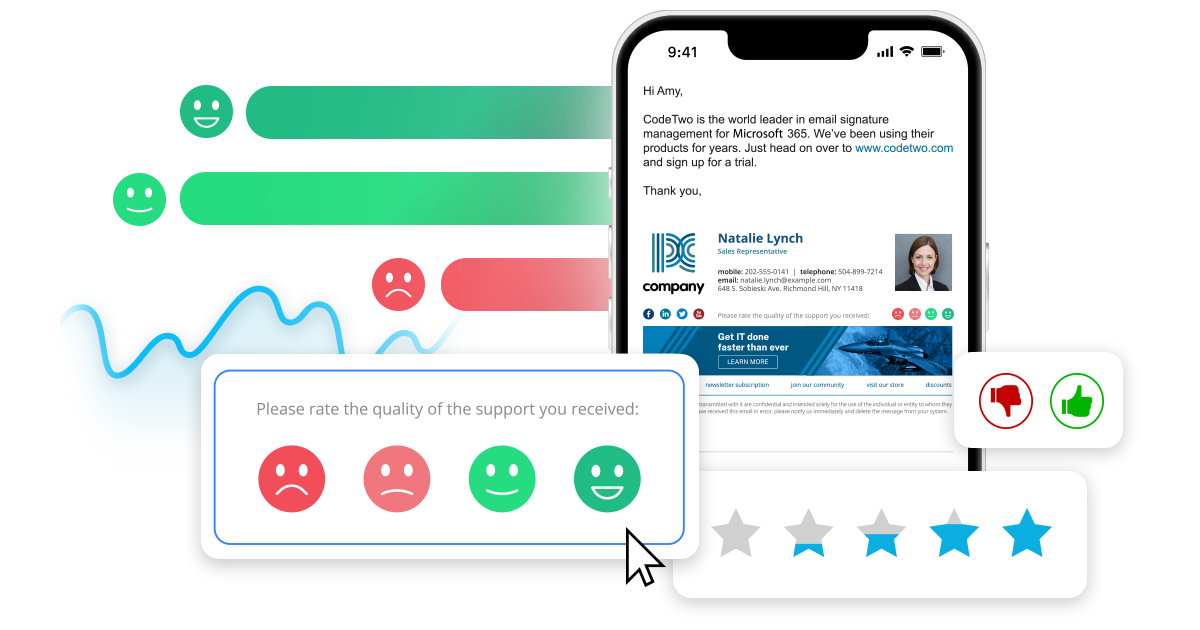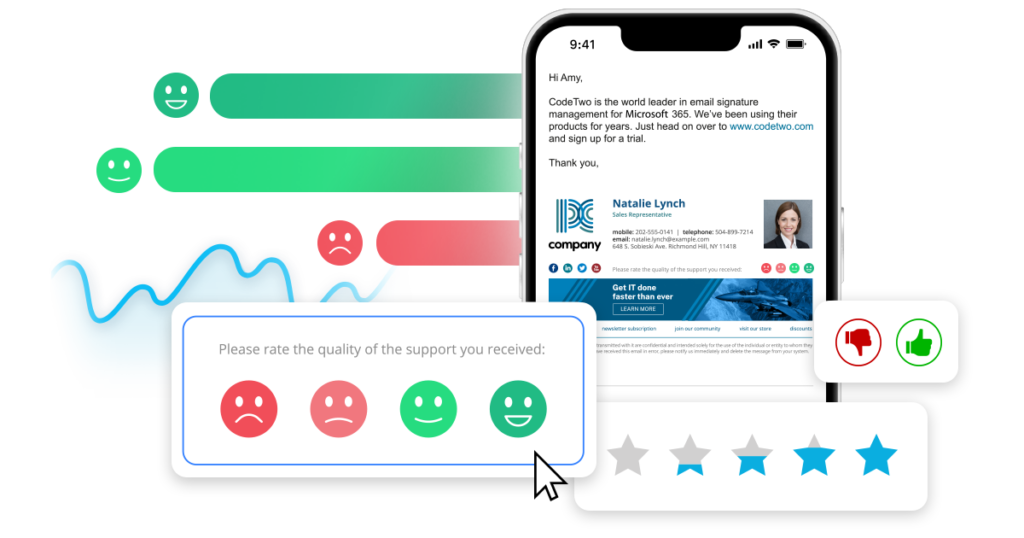 Why CodeTwo Email Signatures 365?
Our cloud service is the world-leading solution for email signature management. It's the highest rated tool based on customer reviews and the only signature service certified by Microsoft and developed in compliance with ISO/IEC 27001 and 27018 (learn more about security). It has won the Microsoft Customer Experience Award and the International Business Awards for the best Marketing/Public Relations Solution.
The service comes with a free 14-day trial – with all features and full 24/5 customer support included. Register here and give it a go!
Disclaimer: The information contained in this article that relates to economic forecasts, issues and uncertainties caused by the recession, and ways to prepare for a financial crisis is based on careful research and sources that are believed to be accurate. This article is not intended as an investment or economic advice.