[Update]: This blog post was updated on June 15, 2022. 
On the Internet, you can find tons of guides that explain how to migrate from an IMAP server to Microsoft 365 (Office 365), for example how to migrate IBM Lotus Notes to Exchange Online. Most of them, however, cover the topic from the native perspective, so to contrast this, I am going to show you how to perform the IMAP migration from servers like Google Workspace (G Suite), Zimbra, Kerio Connect or Lotus to Microsoft 365 by using a third-party tool – CodeTwo Office 365 Migration.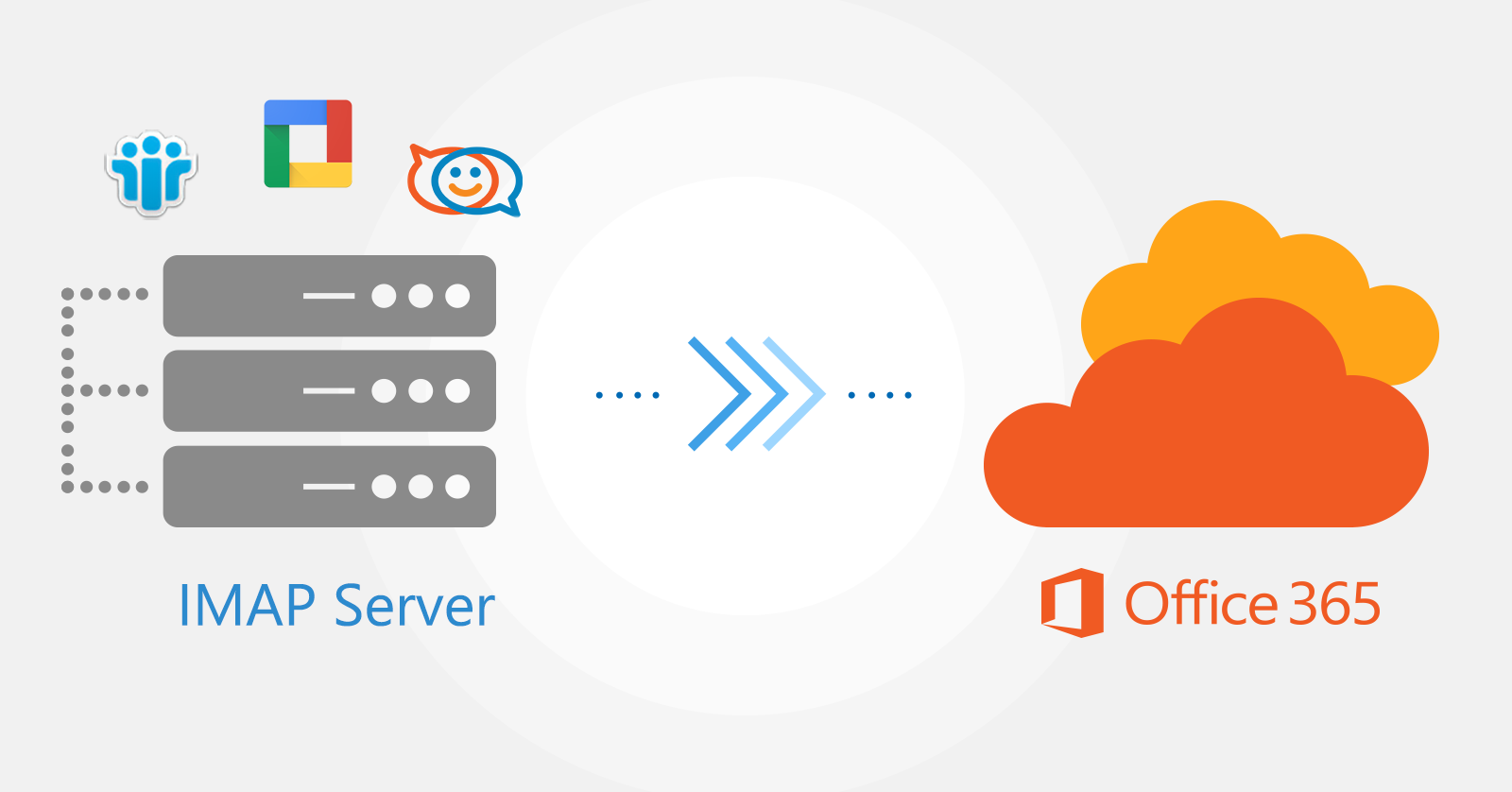 So, to migrate emails from an IMAP server, you need to do some preparation first. In this phase, you are about to prepare both source and target servers as well as users for the migration. Once you are ready with that, you can start the actual migration using the CodeTwo migration tool. This phase is as simple as setting up the program and clicking the Start button. As soon as users' emails are migrated to Microsoft 365, you can start a post-migration cleanup. Keep reading for a step-by-step migration guide, and to find out why CodeTwo Office 365 Migration makes IMAP migrations easier and quicker than native solutions.
CodeTwo Office 365 Migration vs native IMAP migration
To migrate emails from an IMAP server, you can use either a native Microsoft 365 migration feature or a third-party tool like CodeTwo Office 365 Migration. All depends on your resources (such as time and budget) and preferences. Native migrations require more attention and preparation. It also takes longer, mainly due to fewer possibilities to automate the process.
Below, I point to a bunch of benefits that you get with CodeTwo migration tool in contrast to when following the native migration path. CodeTwo Office 365 Migration allows you to:
Automatically create users and mailboxes on the target Microsoft 365 server, which is a great time-saver (no need to do it manually).
Automatically match source IMAP and target Microsoft 365 mailboxes.
Overall, mailbox or job reports as well as instant alerts in the program inform you about the migration performance. You can also get reports directly into your Inbox.
Delta scan feature (Run delta migration) that allows you to re-run migration for already moved mailboxes to transfer newly arrived emails. This will not create any duplicates on the target server.
Create separate migration batches called migration jobs to better organize the whole process. You can easily manage all jobs via the 100% graphical user interface.
Schedule migration so that it runs automatically. You can set up this functionality individually for each migration job.
Pause and resume migration at any moment.
How to migrate Google Workspace, Zimbra, Kerio or Lotus to Exchange Online?
Below you will find a step-by-step instruction on how to perform the IMAP migration of emails to Exchange Online with CodeTwo Office 365 Migration software.
Check the pre-migration tasks when migrating from the IMAP server
Before you start the migration:
Create the custom domain in Microsoft 365 and verify it. Here is the instruction that shows how to do it.
When migrating to Microsoft 365, you need to recreate IMAP server users in Microsoft 365. You can either do it manually or let CodeTwo Office 365 Migration do it for you automatically.
Make sure the admin account that you use to connect to the target tenant has all necessary roles assigned. You can find more info about the required roles in this user's manual article.
Check whether your Microsoft 365 admin's email address is set to active with a new domain. To do this, sign in to the Exchange admin center, go to Recipients > Mailboxes, select Admin's account and check the details in the Email addresses section on the General tab.
Assign Microsoft 365 licenses to user mailboxes. When using CodeTwo Office 365 Migration, the program can automatically create mailboxes and assign the Microsoft 365 licenses to them. If you prefer to do this manually, here is the instruction.
Due to the IMAP protocol limitations, you need to prepare a CSV file containing users' mailbox credentials.
Find out your IMAP email address or IP, port and whether an SSL connection is supported. Here is an example for Gmail: gmail.com, port 993, enabled SSL. If you are migrating from Google Workspace, see this instruction on how to enable IMAP access on the source server.
Migration to Exchange Online
The migration process itself is as easy as configuring the CodeTwo migration tool. Follow the steps below to get the program ready for the email migration:
Note: If you want to migrate HCL Notes/Zimbra/Gmail/Kerio or any other IMAP server to Exchange on-premises, feel free to check CodeTwo Exchange Migration.
Open the program. In the Dashboard view, on the How to start card, you will see a Create a new migration job link. Click it and select Migration job from IMAP server… to start the migration job wizard.
Provide the migration job name and click Next.
Configure the connection to your source IMAP server (e.g. Google Workspace, IBM Lotus Notes, Zimbra, etc. ). In this step, you need to provide the server details you collected in step 7 above. Click Next to close this window and go back to the migration job wizard.

In the Source mailboxes section, you need to define which mailboxes will be included in your IMAP to Microsoft 365 migration.

Note: Here you need to use your CSV file with source mailbox credentials. The file should consist of the following fields: EmailAddress, UserName, Password (App Password if you are migrating from Google). To import the file, use the Import CSV option and configure the software so that it properly reads your data. For testing purposes, it is a good practice to first migrate emails from 1-2 test mailboxes (e.g. your mailbox) to see if everything is set up correctly and there are no roadblocks along the way.
Now, connect to the target Microsoft 365 tenant.

Once you have configured server connections, you can now match source and target mailboxes. You can either match them manually or automatically using the Automatch option.

Configure other options of the migration job, which are Scheduler, Time filters, Folder filters and Advanced settings.
Once the migration job is ready, simply click Start in the top menu to begin the migration process.

Note: As for the migration speed, it may differ depending on the individual environment settings. To see what factors can impact migration speed and performance, follow this link.
Once the migration is finished, check if items on the source and target servers show the same results. If you notice any missing items on the target server, you can use the Run delta migration feature to migrate all remaining emails to Microsoft 365.

Note: During the migration, the Run delta migration feature is greyed out. Once the migration job is finished, you can use this feature to run a scan for missing items.
Use the Run delta migration option also if you notice some new items delivered to the source mailboxes during the migration process. This will let you move only those newly arrived emails even if migration of a particular mailbox has already been finished.
Post-migration tasks
Once you have migrated all emails to Microsoft 365 from your IMAP server, it is time to change MX records to point mail flow to your new Microsoft 365 server. This process may take several hours. If during the MX records switch you notice any new emails in the source mailboxes, use the Run delta migration option to move them over.
Note: If you are migrating to a completely new domain, there is no need to change MX records. In other words, once the migration is finished, there are no post-migration activities.
For a more detailed instruction on migration from the IMAP source to Microsoft 365, see this user's manual.
If you would like to give the program a try, download and run a free trial version of CodeTwo Office 365 Migration. No commitments.
On this website, you can find more information about the program.
IMAP migration – limitations
When migrating from Rackspace, Google Workspace, IBM Lotus Notes, Zimbra, Kerio or any other IMAP server, it is good to be aware of some limitations that you will hit along the way:
IMAP migrations can only move emails. Other mailbox items and folders (like calendars or contacts) are not supported in this migration type.
You need to prepare a CSV file with source mailbox credentials prior to the migration. This ensures access to user mailboxes.
You cannot migrate emails greater than 35 MB.
These limitations originate from the way IMAP protocol handles the migration.
See also: