When users can see each other's photos, online conversations and collaboration become more personal. In large organizations, the reason for using photos may be even more pragmatic. It may be the only way for people to actually see who they are talking with. This is why companies want to display users' photographs in Office 365 applications like SharePoint Online, OWA, Outlook, or Skype for Business. In most cases, if you need to upload photos of just a few users to Office 365, it isn't a big deal. However, adding photos to hundreds or thousands of users in a large organization can be troublesome. This is where CodeTwo's free tool for Office 365 user photos comes in.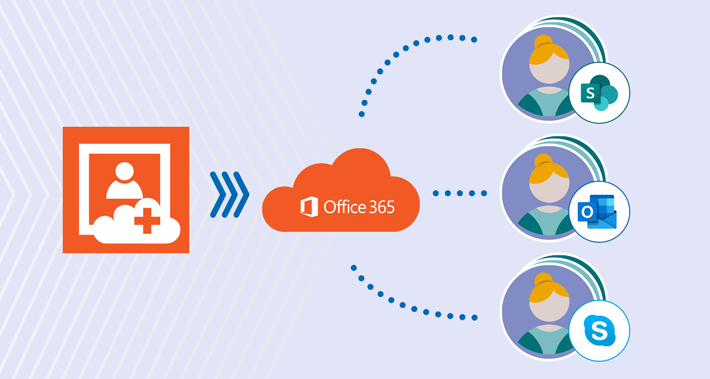 No PowerShell scripts needed
With CodeTwo User Photos for Office you don't need to use PowerShell to add images to Office 365. You don't have to write scripts and you don't need to play with the Set-UserPhoto cmdlet. Our program automates most of the process, which makes it a perfect tool for both adding single photos and bulk operations.
Free tool from CodeTwo
CodeTwo User Photos for Office 365 is a ClickOnce application designed for quick and easy user photo management in Office 365. This free tool adds images directly to Exchange Online mailboxes and then they are synchronized across all Office 365 apps. It comes with a graphical user interface allowing you to quickly import, export or remove user photos for the entire Office 365 organization. You can also modify your pictures (resize, rotate, preview the final effect) directly in the program. And if you want to go the extra mile, you can also use it as a first step in adding users photos to Office 365 email signatures.
Watch the video below to learn how to bulk upload user photos directly to Exchange Online mailboxes using the free CodeTwo User Photos for Office 365 tool:
Bulk upload user photos to Office 365
Follow the steps below to upload user photos directly to Exchange Online mailboxes for all users in your organization:
Download and install CodeTwo User Photos for Office 365 (it's free).

Note: You need to register the application in your Office 365 tenant. Otherwise, the tool won't be able to access user profiles in Azure Active Directory and update their photos.
Launch the program and log in to your Office 365 tenant using a global admin account.

When you are logged in, a list of groups and users will appear in the program. Select a group in the left pane and then select all or individual users belonging to that group listed in the right pane. You can easily see who has no photo or who needs to have their photo updated.

Note: Feel free to use keyboard shortcuts to select all users (Ctrl+A) or individual users (hold Ctrl while clicking users one by one).

To upload user photographs from your computer, click the Import button.

Click the Browse button in the Import photos window and select the folder containing user photos. Then, set the file name pattern so that it matches the file name pattern used in the selected folder. Finally, click Automatch.

Once you click Automatch, the program will match photos to the corresponding users based on the file name pattern you have set. You can see whose photo was added correctly and whose needs manual matching in the Match photos window.

Note: To manually match photos to users, simply drag a user photo from the list to the right and drop it over a user on the list to the left.


Once all photos are matched, you can select one or several users from the list and click Next to open their photos in the Edit photo window. There, you will be able to resize or rotate user photos (either one by one or many at the same time).

Use the Next button in the top right corner of the window to open another photo for editing.

Click OK when you have finished editing the photos and all of them are ready to be uploaded. The program will import them to Office 365.
Note: In addition to bulk uploading photos, the program can also bulk export or remove images if needed. Use the buttons in the top menu to manage your Office 365 photos globally.
User photos available across Office 365 applications
Once you uploaded user photos to Exchange Online mailboxes using the CodeTwo's free tool, you will almost instantly see photos displayed in some Office 365 applications. However, in the case of some apps synchronization takes a little longer. Anyway, it shouldn't take more than 72 hours to have user photos visible in all Office 365 services, for example:
Microsoft Outlook: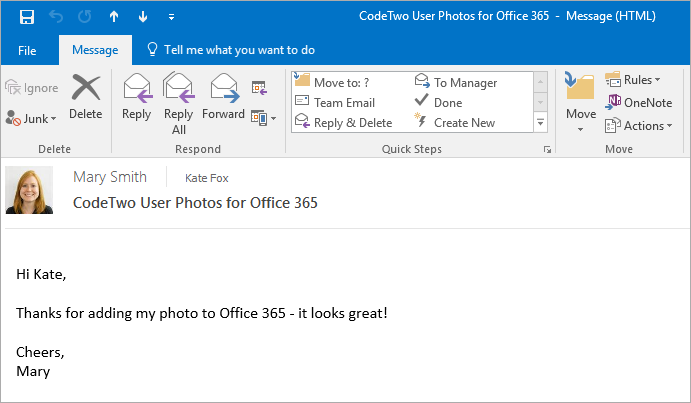 Outlook on the web (OWA):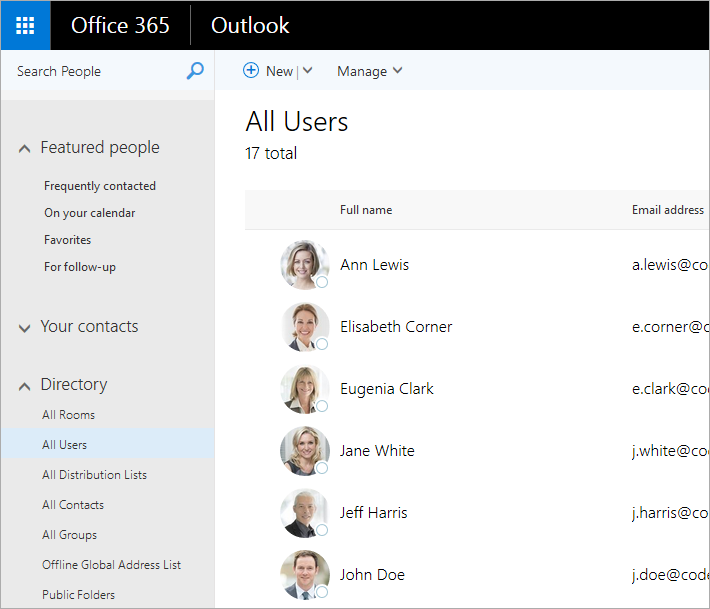 Office 365 Groups: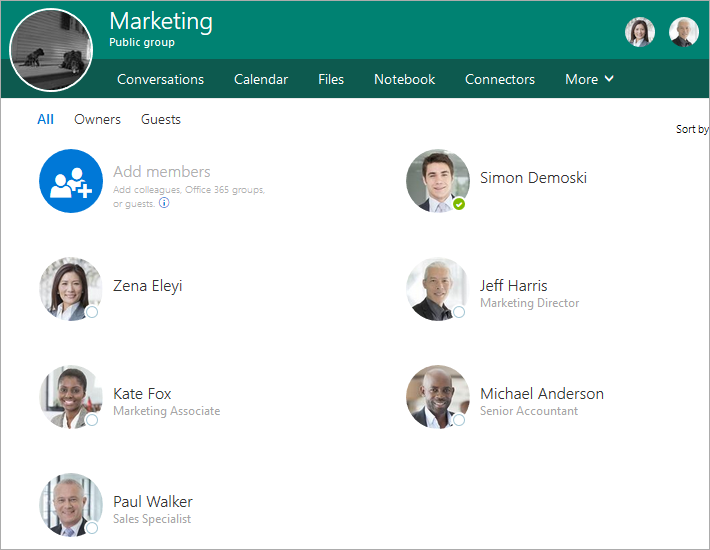 And other Office 365 applications like SharePoint Online, OneDrive, Delve, Planner, or Skype for Business.
User photos in Office 365 email signatures
Having user photos in Office 365 apps is a nice feature in itself but you may want more, for example to add them to Office 365 email signatures using CodeTwo Email Signatures 365.
For more details, watch the short video below:
See also: