Installation and updating
Installation of CodeTwo User Photos for Office 365 requires a few steps. First, the program has to be installed on your local computer. The process is fast and easy thanks to the Microsoft ClickOnce deployment technology. Next, you need to log in to your Office 365 tenant and accept the permissions requested by the program. Finally, you have to grant the application access to the Management APIs of your Office 365 by registering it in your Azure Active Directory. Learn more
Installation on a local computer
To install the program, visit its homepage and click the Download for free button. Download and run the installation file. Read and accept the License Agreement and proceed with the installation wizard (Fig. 1.).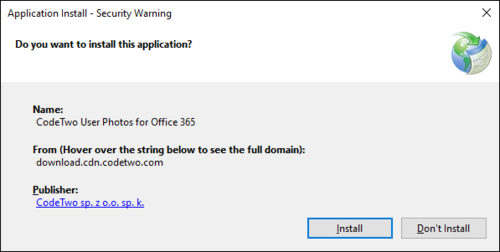 Fig. 1. Installation wizard.
During the installation, a shortcut to the program is created in the Start menu. The software is also featured in the Add or Remove Programs section of the Control Panel to simplify its removal. The use of the ClickOnce deployment technology minimizes the software's impact on your system and ensures that the program is always up to date (the self-updating mechanism is decribed later in this article).
To finish the configuration and start managing user photos, you need to register the application in your Office 365 tenant. First, launch the program from the Start menu and click the Log in button in the main panel (Fig. 2.). This will open an Office 365 sign-in screen in your browser. Enter your global admin's credentials and accept the permission to access user profiles in your Azure AD.
Your credentials are completely safe as they are passed directly and only to Microsoft servers, which is ensured by the Azure OAuth2 authorization. CodeTwo does not store, copy or have access to your global admin credentials. If you select the option to keep you logged in (Fig. 2.), the required tokens will be encrypted and stored on your local machine.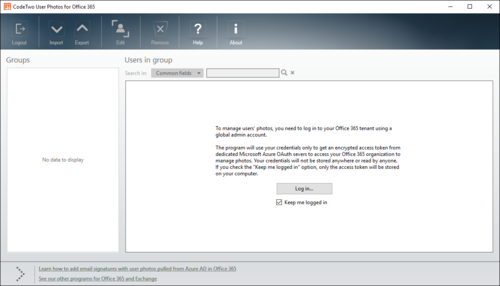 Fig. 2. CodeTwo User Photos for Office 365 at first launch.
Next, you need to allow the program to be registered in the Azure Active Directory of your tenant (Fig. 3.).

Fig. 3. Registration of the application in Azure AD.
The program is now configured and you can start managing the photos of your Office 365 users. Read this article to learn how to use the software.
You can also use the application in hybrid environments, as described here.
Updating
Our application is equipped with a self-updating mechanism that is a feature of the ClickOnce technology. Each time you launch the program, it checks for newer versions and prompts you to install the most recent update, if available (Fig. 4.).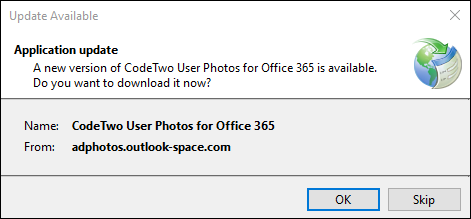 Fig. 4. The application update window which appears on startup when a new version is released.
Impact of the software on your IT infrastructure
During the installation and configuration of the program, CodeTwo User Photos for Office 365 makes the following changes to your system:
Changes to operating system
The program lets you install the required .NET 4.6 Framework if it's not already installed.
See next
Hybrid environments - this article tells you more about using CodeTwo User Photos for Office 365 in hybrid environments.
User photo management - learn how to use the program to manage the profile pictures of your Office 365 users.