Multiple photo management
CodeTwo User Photos for Office 365 makes it fast and easy to manage your photos collectively. The program is equipped with a mechanism that automatically matches images with users via custom or predefined naming patterns.
Important
Keep in mind that to work with multiple users' photos, you need to be assigned the global/user admin role in your Office 365 (Microsoft 365) tenant. Learn more
To manage photos for multiple users at the same time, select appropriate people from the list displayed in the main program window (Fig. 1.). You can use standard keyboard shortcuts (such as Ctrl+A or holding down Ctrl) for multiple or custom selections.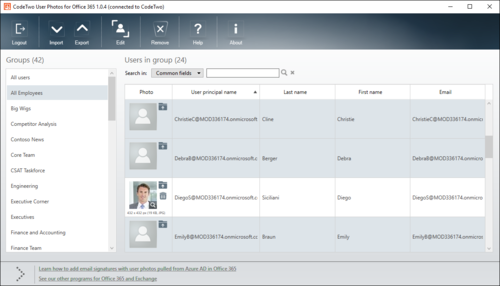 Fig. 1. Custom selection of users.
Now use the toolbar buttons (see Fig. 1.) to:
Importing user photos
What kind of images can be imported to Office 365?
Our software supports the most common picture formats (JPEG, BMP, PNG, and GIF).
There are no limits when it comes to image resolution. Images are only limited by file size: you can use the default Office 365 limit (currently: 4 MB) or define your own limit in the built-in photo editor. The program will resize your images to match this limit: first, the quality of your image(s) will be reduced (JPEG pictures only) and then, if required, the resolution will be lowered (while keeping the highest quality).
The program lets you import user photos from a local folder and add them to selected users or to all users in a currently open group (Fig. 2.). You can also define a custom filename pattern by using common Active Directory (Exchange Online) attributes. This is particularly important as it allows the program to match your images with Office 365 users automatically.
Important
To use the program's automatic matching mechanism you have to name your image files properly. Keep in mind that the Automatch feature is case-sensitive, so make sure that you use e.g. first name and last name of a user exactly in the same form as they appear in Microsoft Entra ID (Azure Active Directory). These attributes, for example, are usually capitalized, so when you name your image file, remember to capitalize the first letters as well. We also recommend including common Exchange/AD attributes of users in your filenames, with optional separators. For example, filenames such as [First name]_[Last name].[jpg] or [E-mail].[bmp] will be recognized by the application after you define a suitable naming pattern in the Import photos configuration window (Fig. 2.). As a result, if you've chosen, for example, the first of the above-mentioned file naming patterns and your example user's first name is John and the last name is Doe, the correct image file name should be John_Doe.jpg. Remember to keep all image files directly within your selected folder, without any subfolders.
Once the program uploads your images to Office 365, Microsoft Entra ID (Azure Active Directory) might further convert and/or resize them. Please avoid uploading images with a removed (transparent) background, as they might lose their transparency during the Entra ID conversion (currently, Office 365 stores images as JPEG files).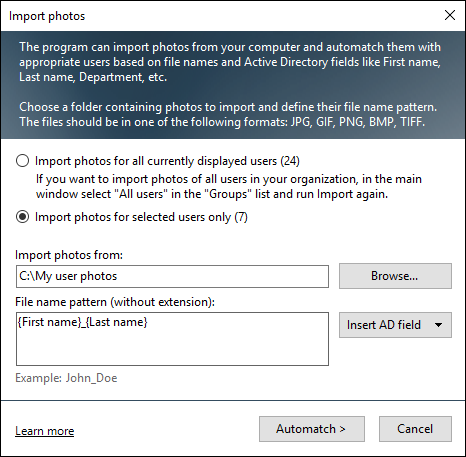 Fig. 2. The Import photos configuration window.
The Match photos wizard (Fig. 3.) will show you the results of the automatching process. You can sort them by the status of the matching operation. The panel on the right displays the list of image files that have not been matched. You can match them manually by dragging and dropping them onto appropriate users on the left. Use the Unmatch (

) button if you want to individually unmatch the photos that have been automatically assigned. This action will move these photos to the list on the right. At this stage, you are also able to assign local image files (e.g. from a different folder than specified previously) to individual users via the Browse (

) button.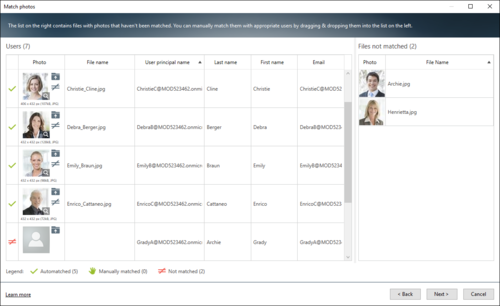 Fig. 3. Results of the automatching process.
In the next step, the built-in photo editor lets you preview and modify the photos that have been successfully matched (Fig. 4.), before finally assigning them to user accounts. You can edit each picture individually or apply your settings to all of the matched images.
By default, your pictures will be resized to 4 MB, which is currently the maximum size allowed in Office 365. If this limit changes, or if you would like to specify your own image file size, use the other available option (Fig. 4.).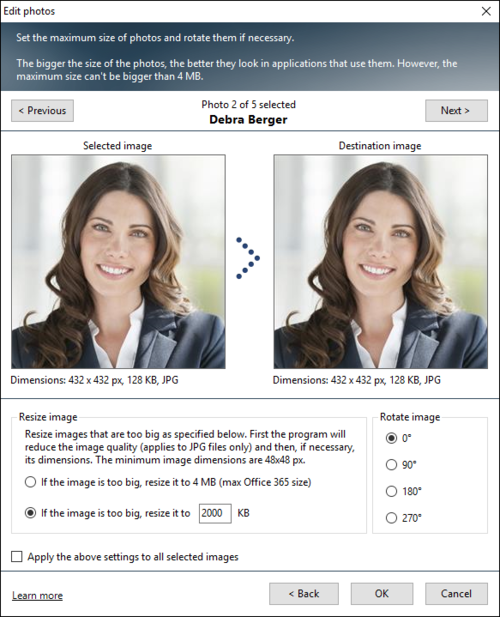 Fig. 4. The multi-photo editor.
It may take up to 48 hours for your images to appear in SharePoint Online and associated services. In other Office 365 applications, your user photos should be visible almost immediately. If you still have any problems with the visibility of images across various Office 365 components, see Frequently Asked Questions.
Remember that Entra ID (Azure AD) might further convert and/or resize images after they are uploaded by the program, as mentioned earlier.
Exporting user photos
The Import and Export configuration windows are similar. When exporting Office 365 profile images, you can choose if the action should apply to all/selected user photos and define custom filename patterns. Additionally, you can decide what to do to avoid filename collision conflicts (Fig. 5.). The program will export your photos and save them locally as files in the default Office 365 image format (currently: JPEG).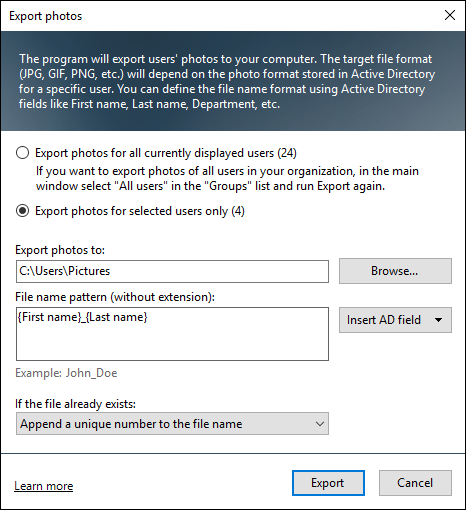 Fig. 5. The Export photos configuration window.
Info
Please note that the shortcut menu, available when you right-click your selection (Fig. 6.), lets you perform most of the actions mentioned above. You can also copy and paste images between individual users.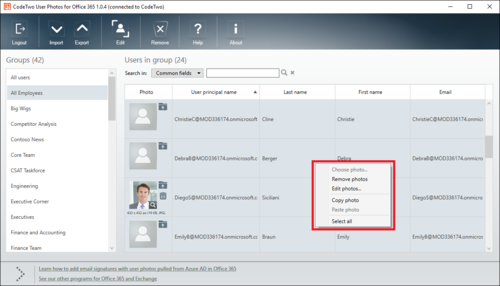 Fig. 6. The shortcut menu.
Editing images
If you want to modify the photos of multiple users, select them from the list, right-click anywhere within the selection and choose Edit photos or use the Edit (

) button available in the toolbar. This will open the photo editor (see Fig. 4.). You can edit each photo individually or apply your settings to all selected images. Please note that the editor does not let you change the image files. For that, you need to use the Import (

) button in the toolbar, as described before.
Removing user photos
To delete the photos of multiple users, select them, right-click on your selection and choose Remove photos from the shortcut menu. You can also use the Remove (

) button in the toolbar.
Info
When you remove a photo, the program will replace it with a default blank photo avatar.
See also
How to add Office 365 / Microsoft users' photos to email signatures with CodeTwo Email Signatures for Office 365