As already pointed out in our other article What can be synced in Office 365, in today's world sharing is literally everything.
We have also learned how to use Office 365 to share personal calendars as well as create a common shared calendar (via shared mailbox). What about contacts then?
How to share contacts with others in Office 365?
It is possible to share contacts in Office 365, however available options are limited as compared to calendar sharing.
A major downside is that contacts folder sharing is not possible in OWA. To share your personal contacts you have to use MS Outlook. The process is pretty straightforward:
In Outlook, select a contacts folder you would like to share and right-click it.
The sharing invitation pops up. In the To… field type in names or emails of users you would like to share your contacts folder with. You can also enable these users to edit contents of the shared folder – to do so simply mark the Recipient can add, edit, and delete items in this contacts folder option below
Below you can enter a short message if you wish.
Click Send.
All selected in the invitation recipients receive a new message with the Open this Contacts Folder button on top. Once they click it – new contacts folder appears in Shared Contacts section of the People pane. The folder is named after the user who shared it.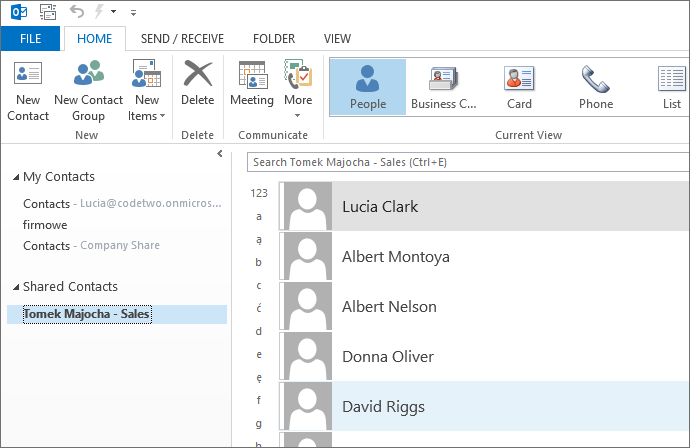 Unfortunately, you can't open such invitation on OWA – opening shared contacts folder is not supported.
Share contacts in Office 365 using shared mailbox
Sharing your personal contacts folder is not the only available method – you can also use a shared mailbox functionality. The process of creating the shared mailbox in Office 365 is identical to creating a group calendar.
Make sure you have administrative privileges, as they are required to do this:
Sign in with your Office 365 administrative credentials to EAC (Exchange Admin Center)
Click Add (little plus icon).
Type the name of the mailbox (e.g. Company Share) in the Display name field. Copy that name to the email address name (you can use a different name if you wish).
In the Send as list, you can add users with the permission to send emails from this shared mailbox.
Click Save.
Click twice on your shared mailbox to open its properties window. Click Mailbox delegation. Under Full Access, click the add button and select users who you want to grant full access rights to the shared mailbox.
Once you select the users, click Save.
You have just created a shared mailbox. A good thing is that for users specified as having full access to it, Outlook automatically displays shared folders of this mailbox. If the user opens the People pane in Outlook, there should be a contacts folder visible with the greyish name of the shared mailbox next to it.

Again, the problem arises if you want to use OWA. It simply does not support opening contacts folder from the shared mailbox. Outlook is the only option.
External sharing with another Office 365 organization
Sadly contacts are also more limited than calendar folders in this scenario. Sharing externally is available only when two organizations are federated.
Summary
It is somewhat surprising that calendar sharing in Office 365 is treated better than contacts sharing. You can open a shared calendar in a web browser, use OWA to access or share it. You can even open a shared mailbox's calendar in OWA. Contact folders lack all of these features.
---

---
In the mobile age, BYOD world, and cloud era sharing is not just a buzz-word. It is a must. Contacts sharing is almost as important as email communication and as pointed out above, not so well implemented in Office 365. Let's hope that this will change soon.
Want to unify email signatures in your Office 365 organization?
CodeTwo Email Signatures: Central email signature management in Office 365