CodeTwo FolderSync Addin
Synchronize folders in Microsoft Outlook for free

CodeTwo FolderSync Addin is an Outlook add-in that lets you synchronize data between Outlook folders. The synchronization process always takes place between selected folders only, and the user can choose several pairs of folders he or she needs to be synchronized.
Please note that if you have Exchange Server in your organization and you want to synchronize its folders (from any mailbox) automatically giving the administrator control over all the synchronization tasks, try out CodeTwo Exchange Sync. This freeware can synchronize data between selected folders in real time while being totally transparent to the end-users. Any changes made in one folder are instantly and automatically copied to the folders selected by an administrator.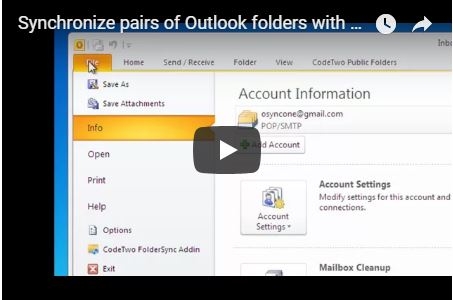 Please note! This is NOT a mobile app so please do not install it on your mobile device. Download the program and install it on your PC with Microsoft Outlook.
How to use the program?
Upon installation, CodeTwo FolderSync Addin integrates with Outlook and adds a new button to the Outlook menu, and a new tab in Outlook options.

The program Settings window enables the user to select which folders should be synchronized. Clicking the "Synchronize" button initiates the synchronization process.
To choose which folders should be synced:
In Outlook 2007 (and earlier versions) choose: Tools, Options and choose the CodeTwo FolderSync Addin tab.
In Outlook 2010 (and newer versions) go to: File, Backstage view and click the program's tab.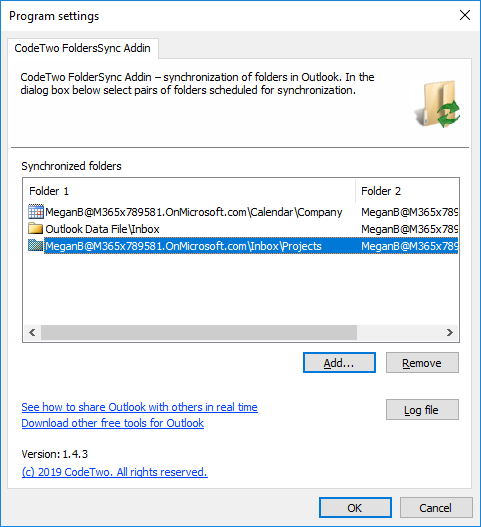 Clicking the Add button opens a new dialog box where the user can select a pair of folders that need to be synced. Please note that this will be a two-way synchronization - the data from folder 1 will be transferred to folder 2, and vice versa.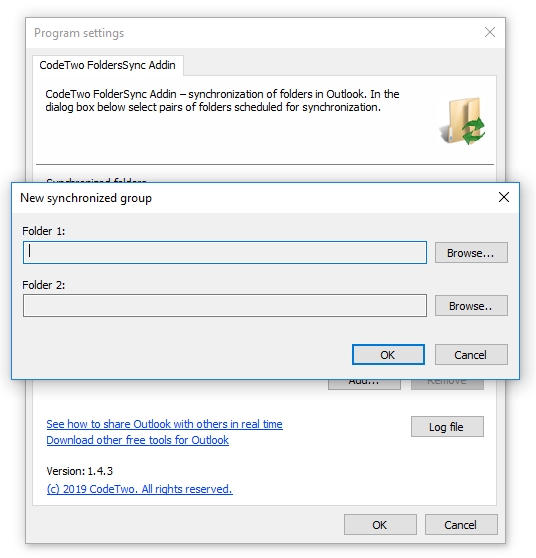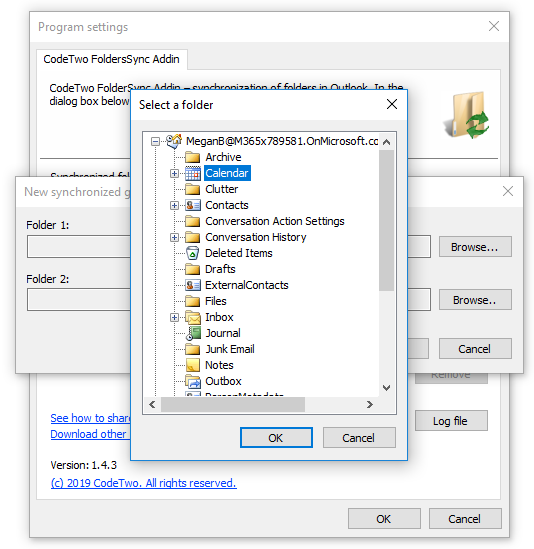 When pairs of folders have been selected, click the program's button in the toolbar or the ribbon to run the synchronization. A log screen will display showing the synchronization details. The synchronization can be terminated at any time and resumed by clicking the toolbar button.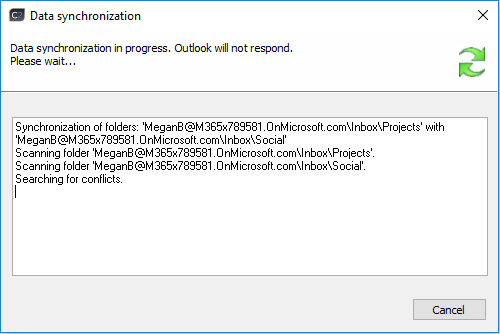 During the synchronization process, the program does not compare the data in selected folders. However, it does store IDs of previously synced items. Therefore, during the first synchronization of two folders, a sum of their contents is created in both of them. All items from folder 1 will be transferred to folder 2, and similarly the data from folder 2 will be added to folder 1. If prior to the first synchronization, both folders contain identical items, these items will be duplicated and must be removed manually.
If a pair of folders has been synchronized and in both folders some changes are made at the same time on the same item, the item that has been modified later will prevail if the folders are synchronized again.