Share Outlook Contacts
CodeTwo Public Folders allows you to create shared customer databases, public contact lists and public address books in Microsoft Outlook, even if your company does not use Microsoft Exchange Server or Cloud-based sharing services. The program is a fully-functional and cost-effective alternative to expensive collaboration platforms that oftentimes require high maintenance costs and are out of reach for small and medium-sized businesses. At the same time CodeTwo Public Folders meets all quality standards of modern online collaboration trends, offering synchronization of Outlook contacts through the Internet and mobile access to shared items.
CodeTwo Public Folders fully integrates with Microsoft Outlook giving you the same experience while operating on shared Outlook contacts, as if you were working with your private Outlook items. It means you and your team members won't be forced to study any detailed instructions or read long manuals in order to be able to use it.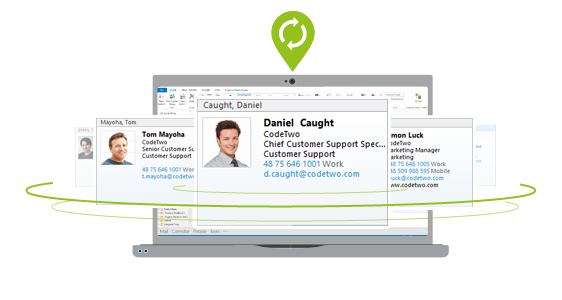 There are two ways how you can use CodeTwo Public Folders as an Outlook contact sharing tool. Among many other features, the program lets you:
Share any private Outlook contact folder with a single person or a group of people
Create a public contact folder in Outlook that can be accessed by the entire team
Share private Outlook contacts with others
One of the ways of synchronizing Outlook contacts by means of CodeTwo Public Folders is to let the others access your private contact lists from their devices. The program makes it possible for you to share any Outlook folder from your private mailbox with just a few clicks. You can also decide whether to grant full access to those folders, or to limit it to certain users. In CodeTwo Public Folders every shared folder is synchronized with other machines automatically and in real-time. It means whenever you add a new contact or make changes to an existing one, others will see those updates on their PCs immediately.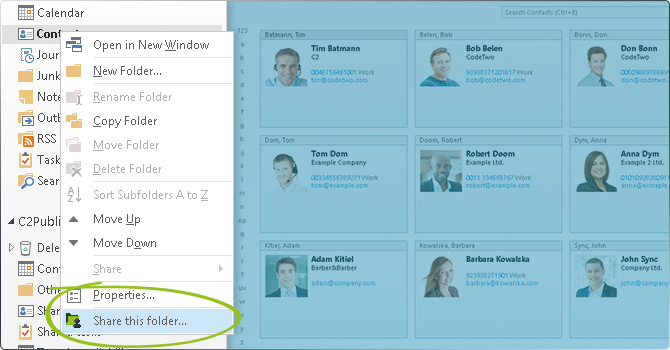 Create global company contact list in Outlook
Another great benefit of using CodeTwo Public Folders is that it allows you to create a public company contact list in Outlook that can be easilly accessed from any device from your network. This model mimics the way public folders in Microsoft Exchange work but doesn't require you to invest large sums of money in server infrastructure.
Creating a public contact folder in CodeTwo Public Folders looks exactly the same way as if you were creating new private folders in your Inbox. After the installation of Outlook plugins a new C2PublicFolders folder tree appears in Outlook. Every folder placed in this location is visible to all your team members, provided that you have not limited access rights to it. It's as simple as that.
This feature opens up almost endless online collaboration possibilities to you and your team. For instance, you can use it to create company-wide address books in Outlook that are instantly updated by all the team members, no matter if they use a mobile device or a PC.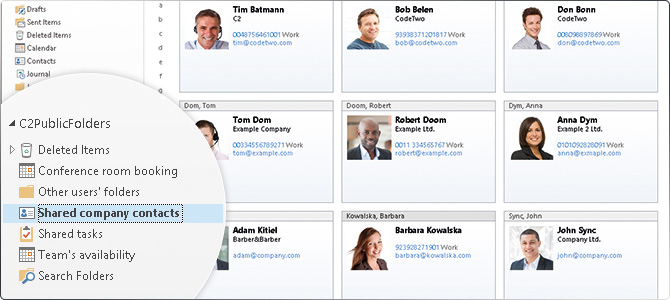 Access shared Outlook contacts from mobile devices
CodeTwo Public Folders comes with dedicated Android and iOS mobile apps, which let you access shared Outlook contacts directly from your mobile phone or tablet. These applications synchronize your mobile contacts with the Syncing Master from any place in the world, provided that you have access to the Internet. Even if you lose the Internet connection, the option to work in the offline mode will let you still use and modify the shared Outlook contacts on the go. The changes applied will be synchronized as soon as they reestablish the connection with the Syncing Master.