Installing the CodeTwo Signatures Add-in for Outlook
If you want CodeTwo signatures to automatically appear in your Outlook as you type, you need to install a dedicated Outlook add-in, CodeTwo Signatures Add-in for Outlook (Fig. 1.), on your Windows computer.
If you're an Exchange administrator, you can deploy the add-in to the whole organization, selected OUs or groups via GPO. See instructions.
You can also ask users to download and install it themselves. Just send them these instructions.
Hints for signature administrators
For the add-in to work, the CodeTwo software needs to work in client-side or combo mode (learn more about signature modes). You also need to prepare an email signature template and assign users who should get it. To do so, create and set up a client-side signature rule(s) in the Manage Signatures App by following our Quick guide.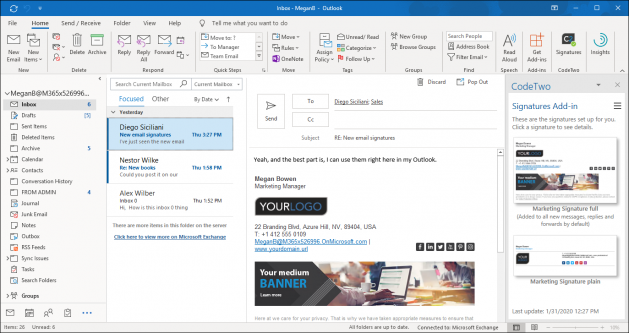 Fig. 1. CodeTwo Signatures Add-in for Outlook automatically adds signatures to your Outlook emails.
See also
Quick guide - find out how to set up email signature rules in your organization
CodeTwo Signatures Add-in for Outlook - when the add-in deployment is complete, it's time to learn how to use the add-in in your Outlook