How to save a signature as a template
Problem:
You want to save the signature you're working on as a template so that you can use it again in the future.
Solution:
Saving signatures as templates is a simple way to reduce the time spent on creating multiple signatures that do not differ much. It also allows you to easily restore the signature to its saved version in case of any unwanted modifications.
All the programs from the CodeTwo Exchange Rules software family are equipped with a Template Library that contains several predefined templates and can also store your custom templates.
To save a signature as a template, follow the instructions for your version of the program:
Saving the signature as a template in the newer versions of CodeTwo Exchange Rules
All the newer versions of CodeTwo Exchange Rules feature a Template Library button located on the Editor's toolbar. Click it to open an additional menu and choose Save as template (Fig. 1.).


Fig. 1. Locating the Save as template option in the Editor.
Now, if you choose Load template (either in the Editor or the Actions tab), your custom signature will be available on the list of templates, along with the predefined templates.
Saving the signature as a template in the older versions of CodeTwo Exchange Rules
To export the current signature to the Template Library, click the CodeTwo button in the left top corner of the Editor and choose the Export signature to library option (Fig. 2.).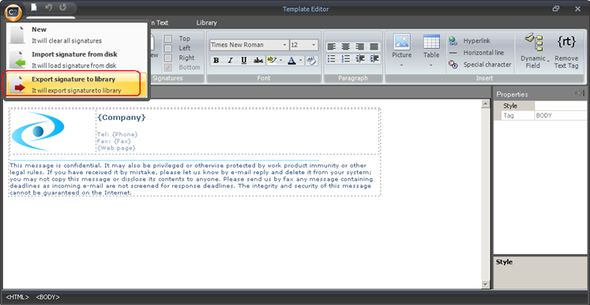 Fig. 2. Saving the signature in the Template Library.
To import the template into an empty signature, click the Library tab, select the template from the list on the left and click Load template (Fig. 3.).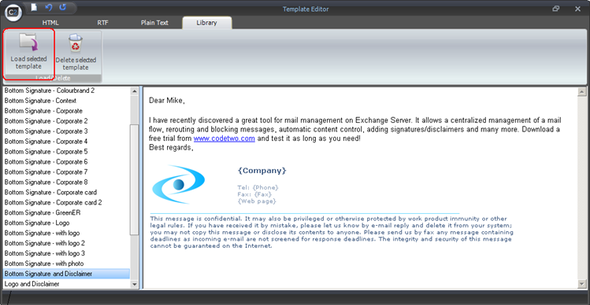 Fig. 3. Loading the selected template.
If you prepared a template in the HTML format, you can use the CodeTwo button to load it into the Editor. To do so, choose the Import signature from disk option (Fig. 4.).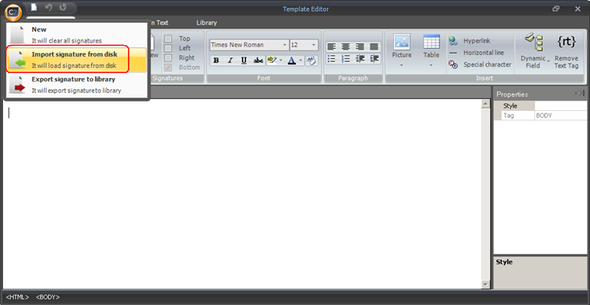 Fig. 4. Importing the signature template from a disk.
See also:
CodeTwo Exchange Rules Converter – an easy-to-use tool that allows you to transfer rules and signature templates from CodeTwo Exchange Rules to CodeTwo Email Signatures for Office 365.