How to export settings from older versions of CodeTwo Exchange Rules Pro
This article is obsolete and may relate only to older versions of our software.
If you're using a current version of CodeTwo software, see User's manual (Exchange Rules Pro | Exchange Rules).
Problem:
You would like to export settings from an earlier version CodeTwo Exchange Rules Pro (version 1.x).
Solution:
CodeTwo Exchange Rules Pro offers an easy and convenient way of managing your settings. Thanks to the Import / Export feature, users can quickly back up all rules and signature templates.
The Import / Export feature can be accessed from CodeTwo Exchange Rules Pro console window, via a dedicated button on the toolbar (Fig. 1.).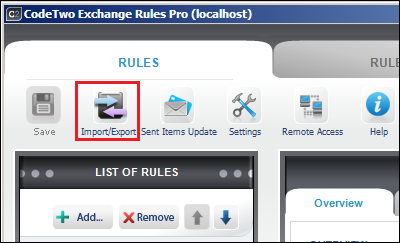 Fig. 1. The Import / Export feature in CodeTwo Exchange Rules Pro 1.x.
After selecting the option to export the CodeTwo Exchange Rule Pro settings, a new window appears in which you can select a location for the settings file. Once the location is selected, the settings file is saved, and can be used as a backup, for copying the original settings between the application's installations, or can be sent to our Technical Support for analysis.