CodeTwo Exchange Migration
Seamless migration to Exchange
2010, 2013, 2016 and 2019
Used by 10k+ organizations from 150 countries
Customer Case Study
JCL Logistics Switzerland AG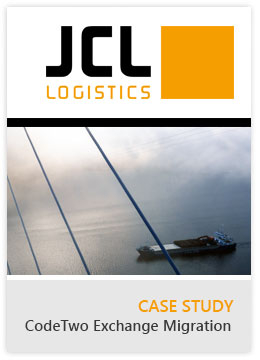 Company description
JCL Logistics is a worldwide logistics service provider. The company specializes in transit and transport by road, rail, air and ocean. JCL Logistics is focused on providing the best customer experience while complying with various national and international laws.
Problem
The organization wanted to upgrade their on-premises Exchange Server to the latest version to ensure maximum data security and to increase server stability. Unfortunately, native migration scenarios require PowerShell knowledge, using various scripts, and do not offer any automation. Therefore, both test and migration phases would require a lot of research and would need to be continuously monitored. The company wanted to simplify the migration project and started to search for alternatives to the native path.
Solution
Gerhard Schöfl, responsible for JCL Logistics server administration, searched for a product which enables easy and secure Exchange migration. He was recommended to use CodeTwo Exchange Migration. As JCL Logistics already knew other CodeTwo applications for Exchange server, they did not hesitate to give it a try. They were able to perform a test migration as a part of their free trial and were happy with the results.
"Software is very intuitive, and the Customer Service provides answers to all questions concerning migration. CodeTwo Exchange Migration enables data migration which is both safe and easy." We hear from Mr. Gerhard Schöfl.
Additionally, automatic user account and mailbox creation, auto-matching mechanism and built-in scheduler take care of some more problematic aspects of Exchange Server migration. It enables the administrator to take care of other tasks, while the mailbox transfer goes on by itself, with no interruptions and no downtime for the users.
Summary
| | |
| --- | --- |
| Company name | JCL Logistics Switzerland AG |
| Number of employees | 150 |
| Number of emails processed daily | 1000 |
| Server type (source) | Microsoft Exchange Server 2007 |
| Server type (target) | Microsoft Exchange Server 2016 |
| Problem | The company looked for an easy and automatic migration method which would also allow testing the migration before the actual move. |
| Solution/Product | CodeTwo Exchange Migration |
| Number of migrated mailboxes | 200 |
| Implementation time | Estimated time - 2 months |