Sync a mobile device with public folders on Exchange
CodeTwo Exchange Sync helps synchronize data from mobile devices (Android, iPhone, iPad or Windows Phone) with public folders of Microsoft Exchange Server (also Outlook and OWA public folders).
In many companies employees need to access the shared company data, such as contacts database, but smartphones that connect to Exchange via ActiveSync are not capable of synchronizing its public folders. In other words, you can use your phone or tablet to access your Exchange mailbox, but not the public folders.
CodeTwo Exchange Sync provides a quick solution to this problem. It enables automatic synchronization of the data in public folders with personal Exchange mailboxes of your users. These folders, in turn, can easily synchronize data further to their mobile devices. This ensures that your users can enjoy up-to-date data at all times in their Exchange mailboxes as well as on their handhelds no matter what mobile platform they use.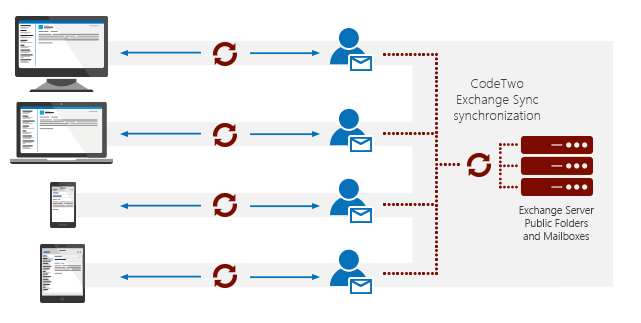 In addition, by using different types of synchronization one-way and two-way, you can decide which employees have rights to modify shared data by updating it on their mobile devices or on personal Exchange mailboxes.