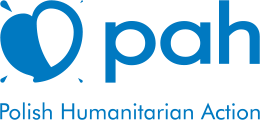 Summary
Company name:
Polish Humanitarian Action (PAH)
Number of employees:
250
Number of emails processed every day:
5,000
Problem:
Time consuming and inefficient email signature management for all users, especially for employees who work remotely
Solution/Product:
CodeTwo Email Signatures 365
Implementation type:
250 users
Implementation time:
1 month
Company description
PAH is a Polish non-governmental organization that provides humanitarian aid to people affected by humanitarian crises caused by natural disasters or armed conflicts. It operates since 1992, helping civilians of all races and religions in 44 countries around the world. PAH not only provides access to drinking water, hygiene kits and food, but also focuses on long-term solutions and prevention of crises in the future. The organization runs educational campaigns to highlight the needs of people living in politically or environmentally destabilized regions as well as encourage societies to offer their help and support by getting involved in humanitarian aid.
Problem
The organization puts a lot of effort into efficient communication and, being widely recognizable in the media, needs to maintain a high level of professionalism and integrity in their email correspondence. A lot of PAH's employees frequently or permanently work outside the main office. Having hundreds of staff members located in different corners of the world caused problems with efficient email signature management. Every update to the signature template was a time-consuming and uneasy task. As coordinating this process became more difficult, the organization decided to find a third-party solution that would automate email signature management and make the process quick and easy.
Solution
The representative of PAH, Jaroslaw Klekot, found CodeTwo Email Signatures 365 through the internet search. Once the application was implemented, Mr. Klekot noticed that it comes with a clear and easy-to-follow user interface as well as comprehensive user's manual. The process of configuration was very straightforward. The representative of PAH mentioned that they "do appreciate the ease of implementation of CodeTwo's solution as well as its reliability." He also added that "what captured their special attention was the openness of the CodeTwo staff, their fast responses and willingness to help". When asked how CodeTwo Email Signatures 365 improved their email signature experience, Mr. Klekot said that "the built-in signature template editor allowed them to quickly create email signature templates in two languages. Thanks to using the Active Directory data, the deployment of signature templates for all users in the organization became fast as lightning". He also added that "since CodeTwo solution was implemented, the distribution of signatures for new users is as simple as adding those users to a proper group in Active Directory."
See more customer success stories