Have you seen the new web-based interface in CodeTwo Email Signatures 365? We've redesigned the signature management experience from scratch to give you modern look & feel and to optimize the way you create and deploy email signatures for your entire organization. Let's take a quick look at the new UI and all the latest improvements to our world-leading Microsoft 365 email signature service.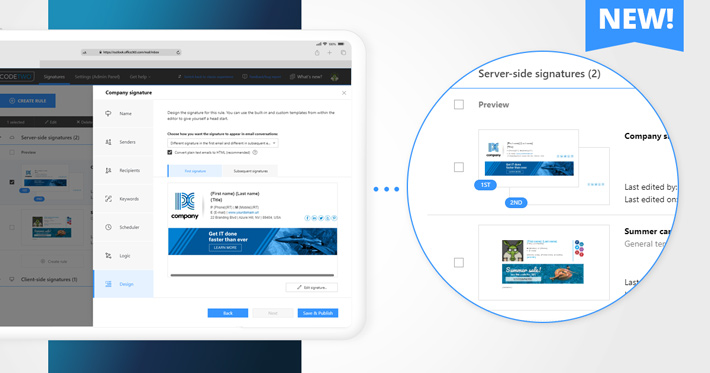 To access the new UI, log in to the signature management app and click Try new experience at the top of the page. First thing you'll notice is that all your signature rules are listed in the main view, and you can preview how they look like and see details like who'll get them and when. The rules are divided into server-side and client-side signature rules as previously.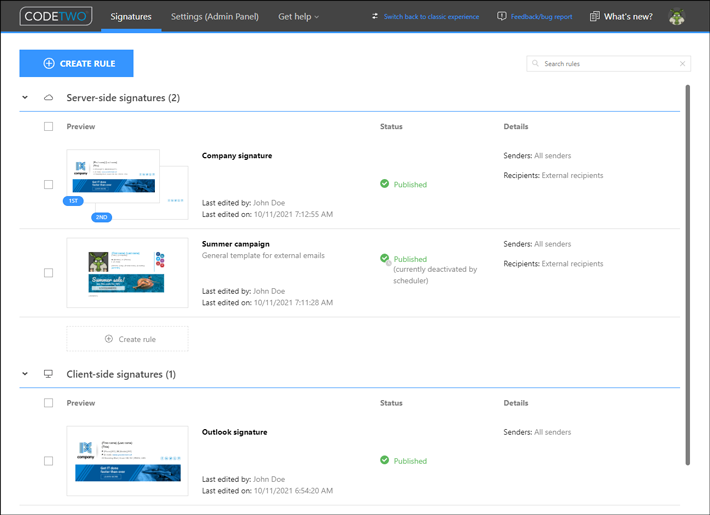 Click any rule on the list to edit it or click CREATE RULE to create a new signature rule. Either way, the rule editing pane opens on the right.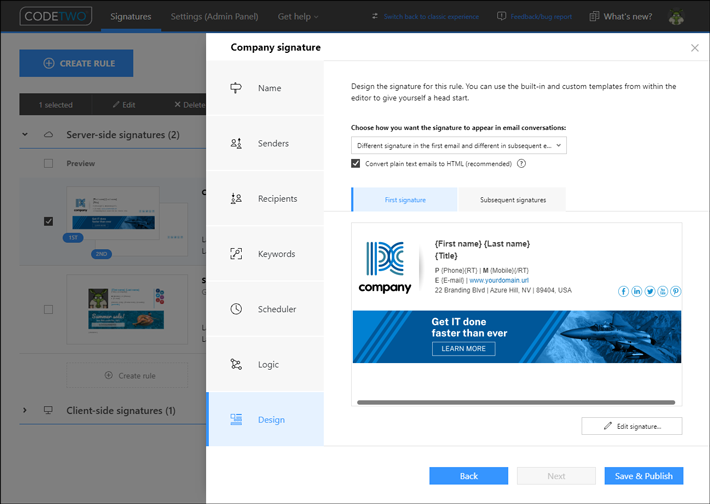 If you're familiar with CodeTwo Email Signatures 365, you'll notice that the configuration steps are almost the same as in the old UI, with these small tweaks:
There is now a separate step where you can configure the Scheduler (which is used to keep the rule active only during specific time frames).
The Options step has been renamed to Logic (this is where you decide if the program should process the next server-side rule from the list; for client-side signature rules, this is where you configure the behavior of CodeTwo Signatures Add-in for Outlook).
The Design step, where you edit your signature template, is now the last step of the rule editing pane to better manage the rule creation flow.
Once you've set up your rule, you can either Save it, if you plan to publish it at a later time, or click Save & Publish to apply the rule in your organization immediately (why wait?).
You can also select one or more rules on the list using checkboxes to open a menu with more management options. This allows you to publish/unpublish or clone rules, change their processing order etc.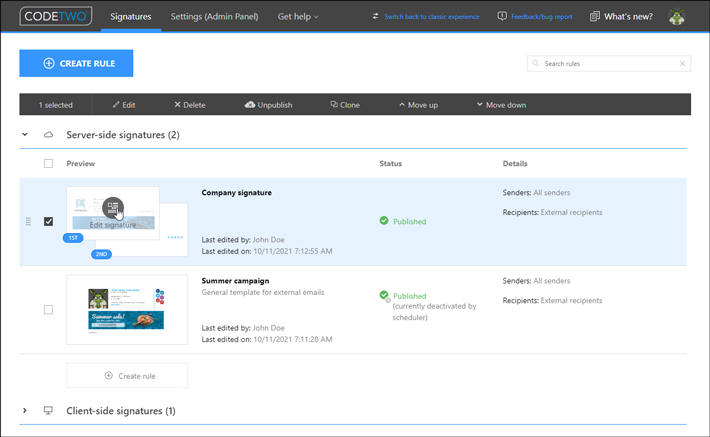 Tip: Hover the mouse over the signature preview and click Edit signature, as shown in the screenshot above. This will open the signature template editor, allowing you to make changes to your template without editing the rule itself.
What do you think about the new UI? Let us know in the comments or contact CodeTwo Success Team directly. More exciting features coming soon!