On the market, there are several software review sites that focus on collecting unbiased opinions from software users and, based on them, present awards to vendors in a number of categories. 2022 has been another hugely successful year for CodeTwo's email signature and migration tools that won Leader and Best Software awards on G2, TrustRadius and SourceForge.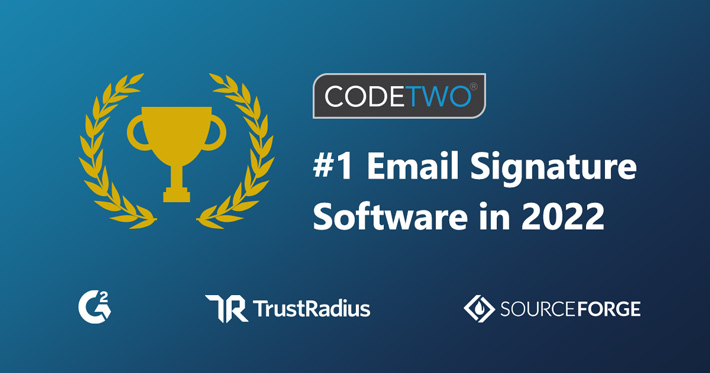 CodeTwo awarded 2022 Leader on G2.com
Based on independent user reviews, CodeTwo products have been awarded in several categories throughout 2022.
CodeTwo Email Signatures 365
Thanks to numerous positive & detailed reviews on G2.com, CodeTwo Email Signatures 365, our feature-rich yet easy-to-use cloud email signature manager, was simply unbeatable in the Email Signature Software category, regardless of which quarter of 2022 we speak about.

But there's still more good news coming! The steady influx of quality feedback from satisfied customers, praising the end user-focused attributes of our product, allowed CodeTwo Email Signatures 365 to become the leader on the Momentum Grid.
Other CodeTwo products
2022 has been a good year for other CodeTwo solutions on G2.com as well.

CodeTwo Exchange Rules Pro, our email signature and mail flow management solution for Exchange Server, received the Best Support and Users most likely to recommend awards in each season, proving that CodeTwo is well-known for its non-cloud software products, too.
The G2 community also acclaimed CodeTwo Office 365 Migration, our solution for migration to the Microsoft 365 cloud. The tool received the best estimated ROI rating in the product's category and independent reviewers praised it for the high quality of sales and support services that come with it.
Gartner Digital Markets brands
CodeTwo Email Signatures 365 has also been extensively reviewed on Gartner Digital Markets tech portals: Capterra, Software Advice and GetApp. It won the 2022 Best Ease of Use award in the Email Signature Software category on Capterra.com based on end-user feedback, along with some other awards: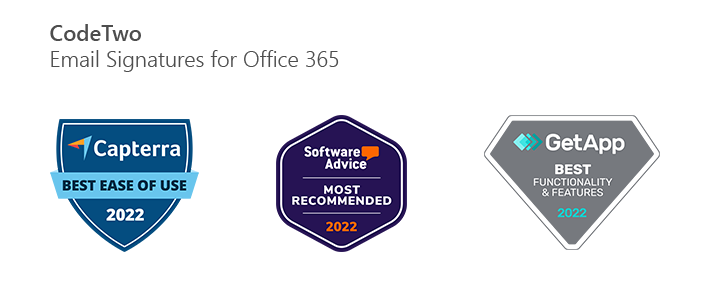 Reviewers appreciated all the practical functionalities our software offers and were very likely to recommend it to others. Thanks to that, CodeTwo Email Signatures 365 boasts the highest overall score of 4.8 out of 5 in the signature software category across all Gartner Digital Markets portals.
Check out user opinions from Gartner software platforms
Trustradius.com
In 2022, CodeTwo Email Signatures 365 scored very well on trustradius.com, which allowed it to receive a number of awards, including Best Software 2022, Top Rated 2022 or Best Feature Set 2022 in the Email Signature Software category.

The results of our cloud signature manager are excellent indeed. 100% users claimed they would buy it again and that it lived up to CodeTwo's sales and marketing promises. All the reviewers were also happy with its feature set.
Read real-life opinions about CodeTwo Email Signatures 365 from TrustRadius users
Sourceforge.net
CodeTwo Email Signatures 365 has kept the SourceForge's Leader badge in the Email Signature software category throughout the entire 2022.

On a closer look, you can learn that reviewers most often praised our product for the ease of implementation & use, multitude of features, as well as for the professional support and detailed documentation.
See for yourself what SourceForge users think about our product
You are our motivation
At the end of the year, we would like to thank you, dear customers, for devoting your time to sharing detailed and meaningful opinions on the software review sites. This makes us believe you're truly satisfied with our products and further drives our motivation.
CodeTwo's main focus has always been on reliable products, superb support, and exciting new features. With this philosophy in place and the motivation we get from your feedback, we are entering the coming 2023 year even stronger.
Stay tuned!