CodeTwo software solutions have been shortlisted as the finalists in the 2021-22 international cloud computing awards program – the Cloud Awards: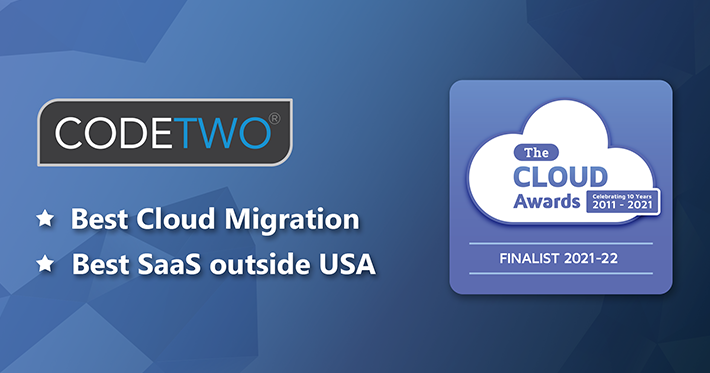 The Cloud Awards aim to find and acknowledge industry leaders and innovators from across the globe who are shaping the future of the Cloud. Hundreds of organizations worldwide participated in this year's edition of the program. The Head of Operations for the Cloud Awards, James Williams, said:
After a decade of identifying and celebrating leading figures in the cloud sector, The Cloud Awards team is still unearthing new and remarkable uses of cloud technology. In the best examples, these innovations unlock transformative business practices and efficiencies. These celebrated organizations and individual innovators continue to disrupt existing markets and create new ones.
CodeTwo's solutions were recognized for their innovative technologies and the value they deliver to the clients.
We owe a huge thanks to all our customers (there are nearly 100,000 of you now!), who use CodeTwo programs and help us improve them every day with your feedback. As always, we promise to keep going the extra mile to provide cutting-edge solutions and the best customer experience across the globe.