Each year, software review sites & communities evaluate feedback from independent reviewers to announce software category leaders. We are extremely happy to find that 2021 has been another successful year for CodeTwo email signature and data migration tools. Read on to find out how G2, TrustRadius and SourceForge rated CodeTwo products in their Best Of 2021 & Category Leader awards.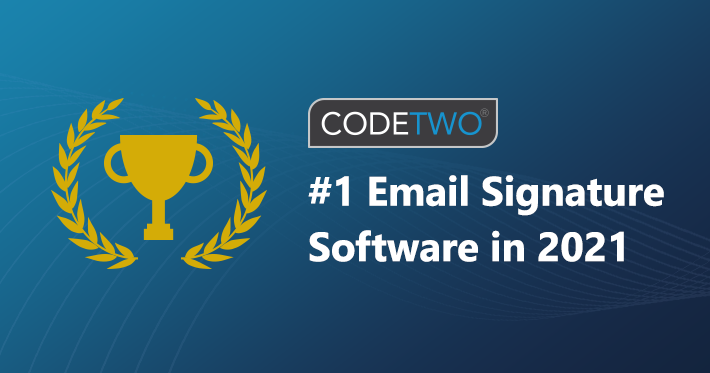 CodeTwo wins 2021 Leader on G2.com
In 2021, CodeTwo products have been awarded in several categories based on user reviews.
CodeTwo Email Signatures for Office 365
According to G2.com users, CodeTwo Email Signatures for Office 365, our flagship cloud software for email signature management, was invariably second to none last year, staying on the top of the Email Signature Software category each quarter of 2021. Even better, favorable reviews continue to make our tool unrivalled in the Winter 2022 season.

Other CodeTwo products
In 2021, reviewers on G2.com also showed their appreciation for other CodeTwo solutions.

CodeTwo Exchange Rules Pro, our tool for email signature and mail flow management for Microsoft Exchange Server, continues to receive favorable opinions, repeatedly receiving Best Support and Users most likely to recommend awards across all 2021 seasons, including Winter 2022 as well.
The other acclaimed solution, CodeTwo Office 365 Migration, has shined in terms of ease of configuration and the quality of our sales service. Users confirm in their reviews that with our tool, cloud migration is no longer a hassle for them.
Trustradius.com
CodeTwo Email Signatures for Office 365 won users' approval on trustradius.com as well, getting two Best Of awards in the Email Signature Software category for 2021.

98% reviewers were pleased with our product's functionality, which allowed us to stay ahead in the Best Feature Set contest. The victory in the Best Relationship competition, on the other hand, was possible thanks to 100% users claiming that our software lived up to their pre-purchase expectations.
Learn more on how TrustRadius users rate our tool for email signature management
Sourceforge.net
Thanks to numerous favorable opinions, CodeTwo Email Signatures for Office 365 was named the Winter 2022 Leader in the Email Signature software category.

The happy users mostly appreciated ease of use, ability to manage the software from any device (mobile devices included), rich feature-set, or outstanding support.
See in detail what SourceForge users like about our product
You drive our success
We'd like to thank you – our Customers – for your continued support throughout 2021 and into 2022. We really appreciate the time you spent to share your experience in using CodeTwo software on various tech portals. And just like always, you can expect us to work even harder and deliver plenty of new features in 2022.
Stay tuned!