Numerous organizations around the globe still use Exchange 2003. The reasons for that are various – after 10 years on the market, administrators know the program inside out, server machines were powerful enough to suit companies' needs etc.
However, ten years in the IT industry is a whole era and much has changed. The explosion of mobile devices that are accessing Exchange mailboxes directly, the Cloud, the release of MS Exchange 2013 and many other factors are making the 2003 version obsolete. Not to mention that in 2014 Microsoft terminates technical support – no more patches, updates and security fixes for Exchange 2003.
These reasons are pushing many administrators to consider migrating to more modern solutions, such as Exchange 2013. The sad fact is that Microsoft provides no way to migrate/upgrade Exchange 2003 directly to 2013 at this moment. It doesn't mean, however, you are left with no options if you would like to move straight to the newest version of Microsoft's email platform. There are several solutions you can consider. The first one is the "double hop" migration.
Drawbacks of double hop migration
Exchange 2003 and Exchange 2013 can't co-exist in one Active Directory forest. On the other hand, moving users' mailbox data between two different forests is complicated when you want to use only native migration tools. We can complaint about Microsoft's policy on that matter but it will still remain a fact. Currently there is no native path to make an intra-organizational upgrade from Exchange 2003 to Exchange 2013. For that reason many system engineers recommend to split the process into two steps: First upgrade Exchange 2003 to 2010 version and then migrate to Exchange 2013.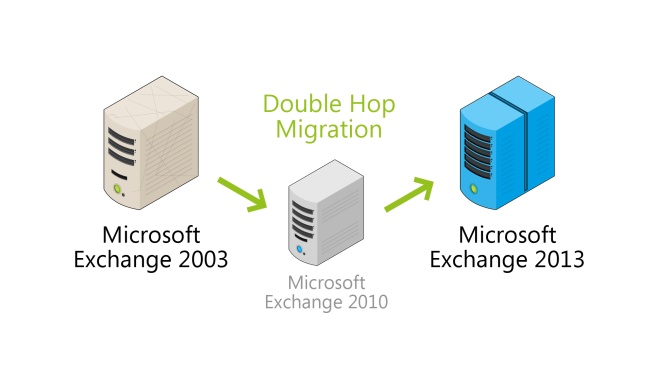 This method is called the double-hop migration, which obviously doubles the work required and the risk of the process going awry. It also requires some important resources, like spare hardware (if you have it), or putting up additional virtual machines only to host the temporary environment before moving it to the target location. The entire operation must be planned and done with maximum care, in order to reduce the downtime of mail servers. Will you take that risk?
Export/Import PST – good idea?
If you operate on a small amount of users working on PST files during the migration can work for you in a way. However, the thing might not be as simple as it seems. Not to mention the fact that the manual export/import operation between the two versions of Exchange might be a bit of time consuming, you might face some other problems which will make the whole process even longer to complete than you initially thought.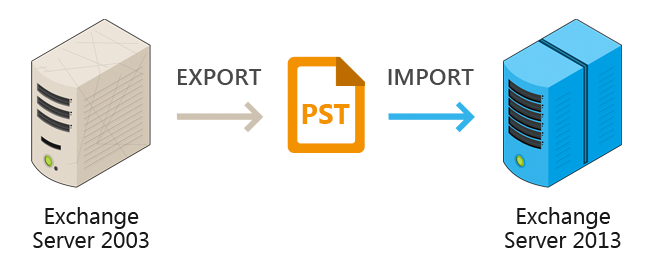 The first issue is connected with legacyExchangeDN X.500 address that will have to be manually added to each re-imported mailbox as proxy address in the target location. If you don't do that right after re-creating the mailboxes in Exchange 2013, your users will not be able to use their email in a normal way. The solution to that is quite simple, but obviously it adds some extra work to the entire migration process and carries a risk of longer service unavailability during the migration. You will find more information on that topic here. You can also use this article as a guide. The steps described in it can be used with an on-premises installation of Exchange 2013 as well.
Another important problem to consider while using the export/import PST option are public folders, if you use them. Re-importing them in the target location will not recreate the folder permissions and you will have to set them manually. If your organization uses a complex public folders structure, re-creating the permissions can obviously become a nightmare.
Using 3rd party migration tool
So what should one do if he or she wants to easily move all mailbox data, either with public folders or not, from Exchange 2003 to Exchange 2013? Since Microsoft doesn't seem to plan any changes in the field of co-existence of these two versions in the nearest future, this is the only limitation you won't be able to overcome at the moment. If you want to make a direct move to Exchange 2013 this year, you will still have to perform a cross-forest migration. However, the rest of the problems mentioned above can be easily eliminated by using a 3rd party migration tool, like CodeTwo Exchange Migration. Choosing this option will let you:
Upgrade to Exchange 2013 without the need to pre-install Exchange 2010 first
Move the complete mailbox data (in bulk) between forests using a convenient graphical user's interface
Forget about importing the PST files, the legacyExchangeDN problem and setting the proxy addresses
Eliminating the above mentioned limits will help you cut down on resources, lead to a shorter total migration time and reduce the risk of service downtime.
CodeTwo Exchange Migration – how does it work?
CodeTwo Exchange Migration is an easy to use desktop application that can be installed anywhere in the source Active Directory domain. It has to be installed on a Windows profile of a domain administrator, either on the server, or any workstation connected with it. One of the biggest advantages of the program is that it is a self-service application. It is the administrator who manages the migration and no 3rd parties are involved in the process at any point.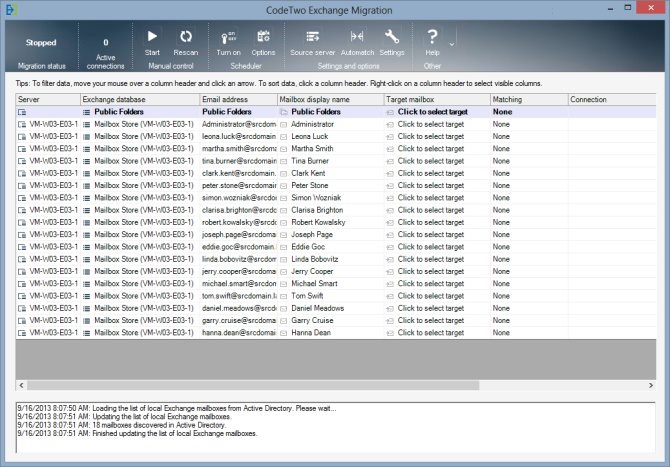 The logic of performing the mailbox migration with CodeTwo software is really simple. It consists of the following steps:
Connecting with the source Exchange 2003 domain and listing the mailboxes.
Connecting with the destination Exchange 2013 domain.
Matching the mailboxes on the source and target server's end.
Launching, or scheduling the migration.
Checking the status reports and log files and post-migration cleanup.
The program comes with two convenient connection wizards that help the administrator establish a connection with the source and destination Active Directory domain. They also help verify if the environment is ready to launch the migration and identify possible problems, if there are any.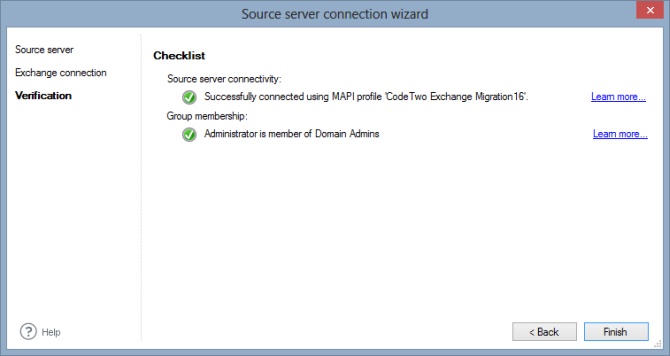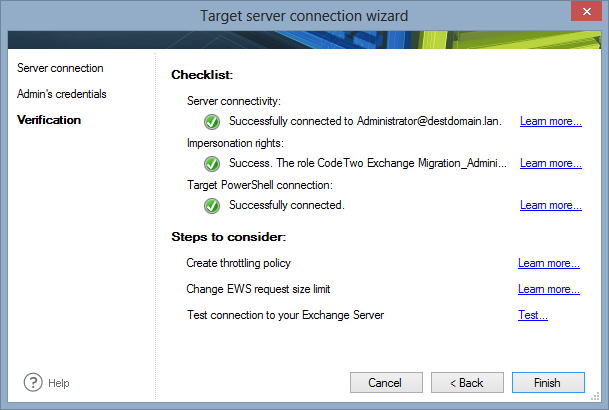 One of the biggest advantages of CodeTwo Exchange Migration over the native migration tools is that it supports operating on mailboxes in bulk. The built-in Automatch option allows to automatically match the mailboxes on the source and destination server's side. While running the migration, a few mailboxes can be copied at a time, accordingly to the program's settings and Exchange Server throttling limitations.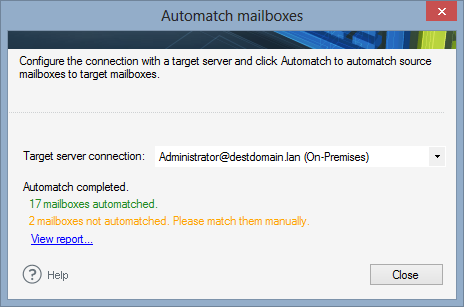 Although the mailbox migration doesn't have any direct impact on the email service availability, the large amount of data that is being transferred across the network may affect the overall network performance.  Therefore, it is wise to perform the migration during weekends, or in the hours when users are not at work. The built in Migration Scheduler allows the administrator to schedule the exact time frames when data is supposed to be copied.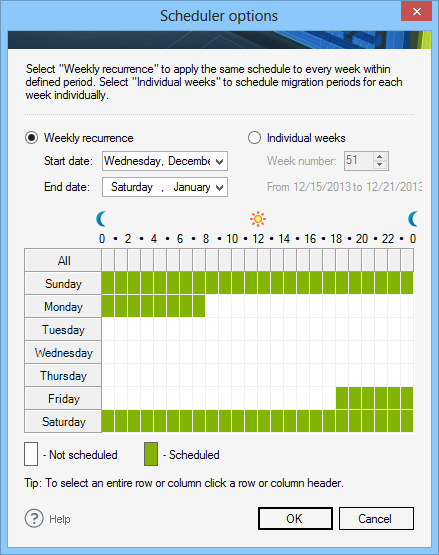 If you are curious how CodeTwo Exchange Migration performs in action, this short video might be interesting to you: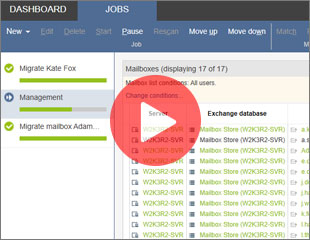 Moving from Exchange 2003 to Exchange 2013 – bottom line
For system administrators time is essential, especially when migrating Exchange. Moving data fast, properly and smoothly is a dream. Double hop migration can turn that dream into a nightmare, whereas exporting/importing PST files across forests doesn't work in large companies. Therefore, it is always worthwhile to check for alternatives just like the CodeTwo migration tools.
Learn more about CodeTwo Exchange Migration
Want to migrate to Office 365? Try CodeTwo Office 365 Migration.