With the growing interest and usage of Microsoft Teams, people are creating more online meetings than ever. And since you can easily invite others to a Teams meeting using Outlook, that's what most people do. Did you know that you can easily add a signature to such a meeting invitation? This article shows why you should do it and how.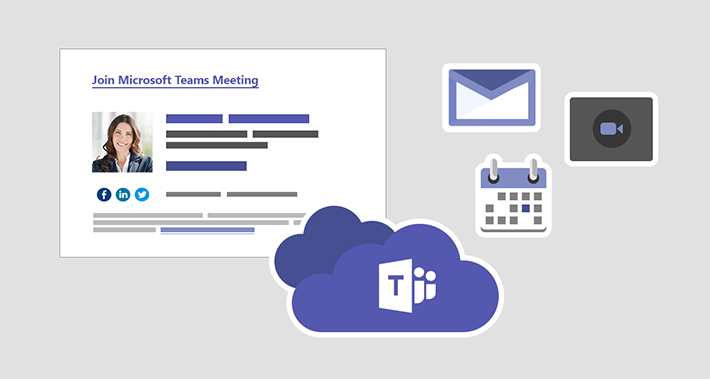 What's wrong with the default Teams meeting request?
Meeting invites, although they are sent via email, differ from a standard message type. By default, a Microsoft Teams meeting request includes a default Teams signature just below the meeting description: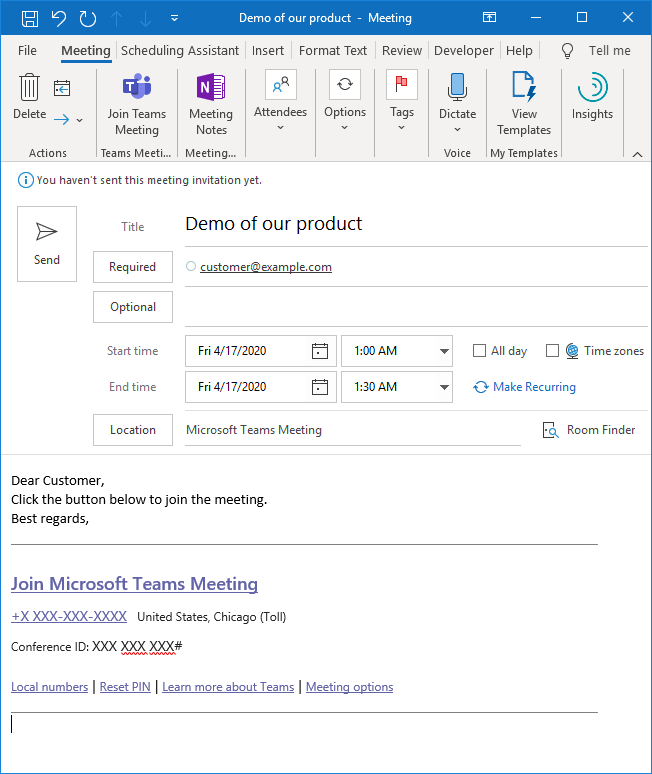 This predefined signature does exactly what it is designed for – it contains the link which enables your recipients to join the meeting. It also lets them learn a bit more about Microsoft Teams. The problem is there are some quite important elements missing:
The Teams invitation is completely deprived of your company's branding.
Your email disclaimer is not there.
This lack of information can be a big deal for internal meetings, and it's completely unacceptable if you use Teams invitations for your external meetings.
Why add signatures to your Teams meeting invitations?
First – there's branding. The default Teams meeting request doesn't include any information about you or your company, except from your email address and information in headers (which normal users know nothing about). Your recipients will most probably think twice before clicking any links if they are not sure where the meeting invitation comes from. You might want to promote and strengthen your brand by showcasing your corporate identity whenever possible. With every branded invitation sent, you build trust and bond with your recipients.
There's also the legal aspect. There are situations in which you need to include a legal disclaimer in your communication. Meeting invitations are no exception.
Learn more about why you might need an email disclaimer
When it comes to internal meetings, you might think that it is less important. However, there is the security aspect. That's right, branding your invitations and emails adds an additional security layer against phishing. The most commonly used phishing methods are based on standard notifications and templates, so that they can be sent out to pretty much anyone. Changing the default meeting signature will let your users immediately see that something is off.
Besides, it looks much better if your communication is consistent across all channels. That's why you may want to change this default invitation signature, especially since adding your own isn't rocket science.
How to add signatures to Outlook meeting requests
To add your email signature to a Teams meeting invitation, you need to:
Open your calendar view in Outlook and click New Teams Meeting: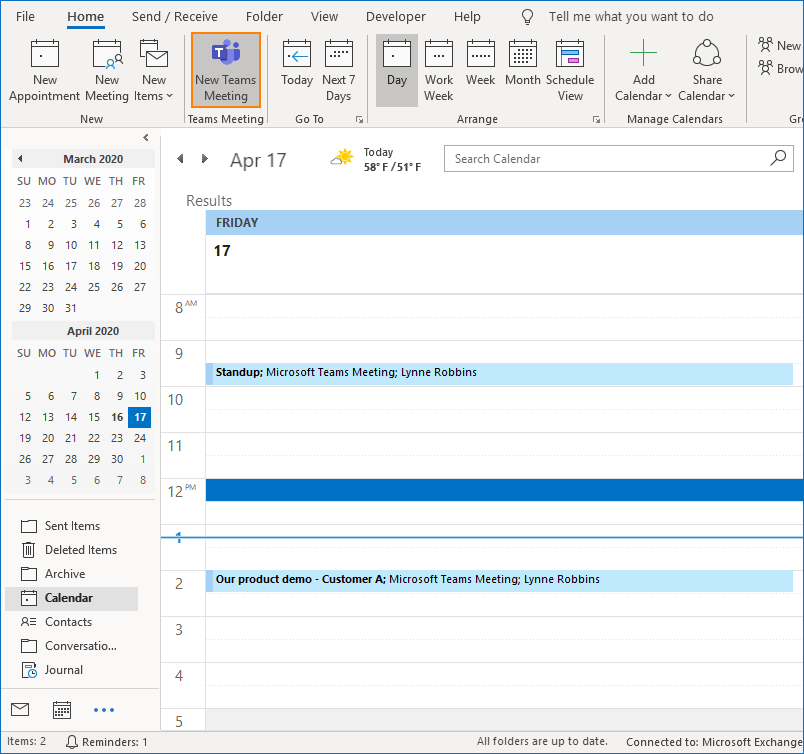 Now, the easiest way to change the default Teams meeting signature is to use a predefined email signature. You can add it by switching to the Insert tab (1), clicking Signature (2) and choosing the signature you created earlier (Tip: See how to create a signature in Outlook).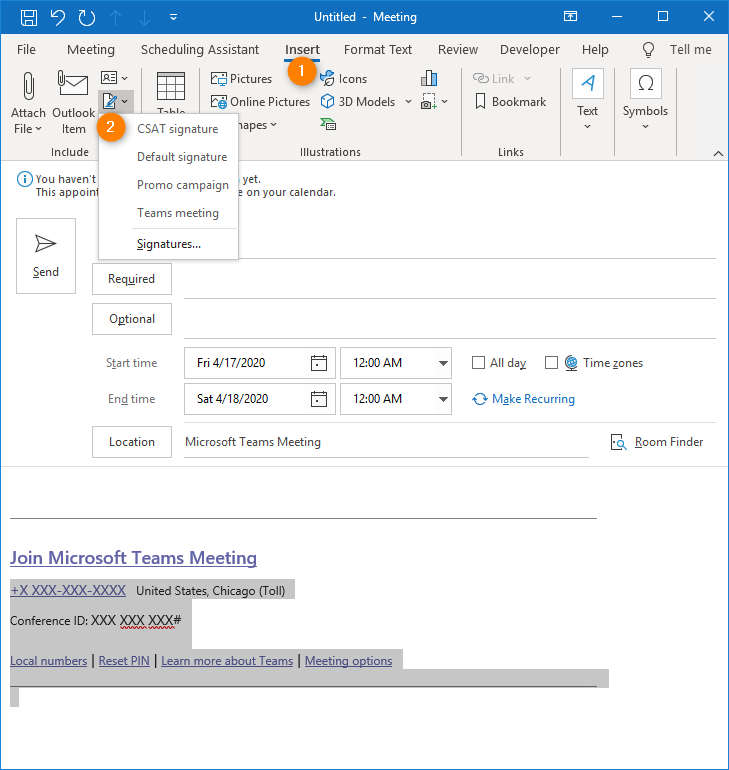 That's how the sample signature can look like: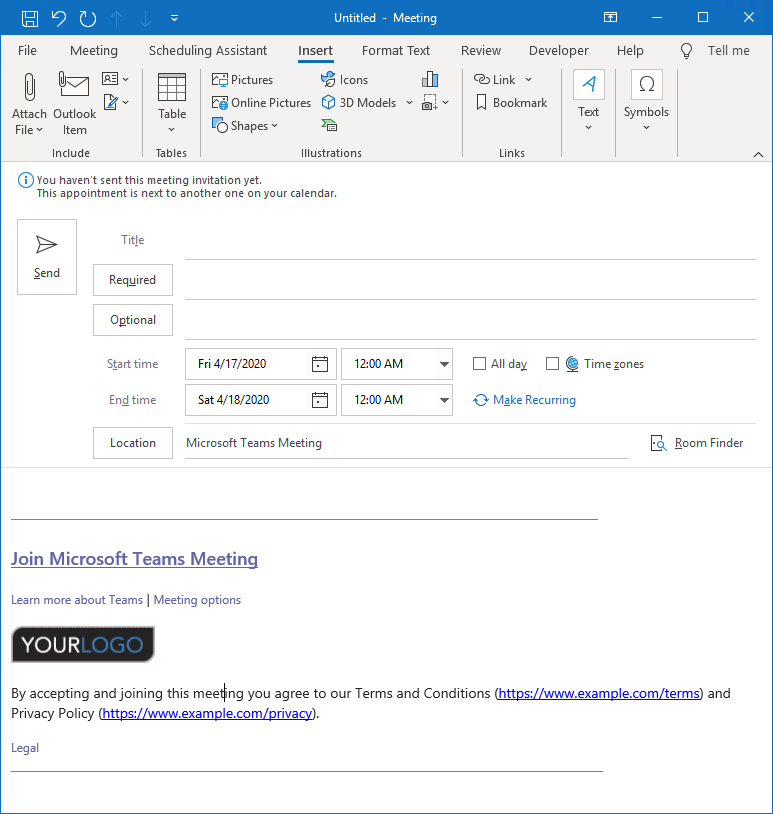 Now, whenever users create a Teams meeting request, they can apply a branded email signature with a disclaimer, enhancing the visual corporate identity of your business and ensuring compliance with legal requirements at the same time.
See also: