G2 quarterly reports for Summer 2022 are in. Thanks to hundreds of 5-star customer reviews, CodeTwo's application for managing Microsoft 365 (Office 365) email signatures remains leader in the Email Signature Software category on G2.com. But that's not all. Our email signature and mail flow management solution for on-premises Exchange servers and our Microsoft 365 migration software have been awarded as well.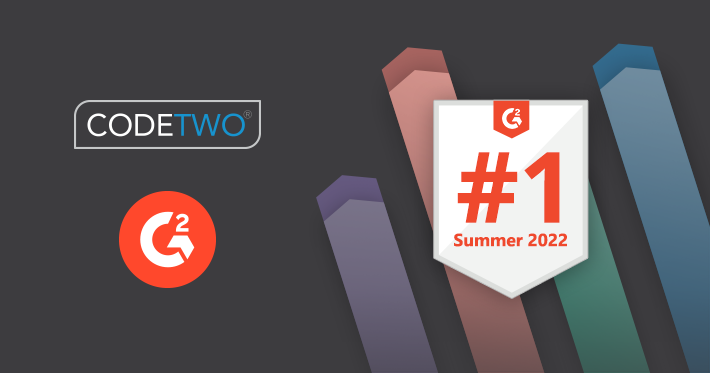 CodeTwo solutions for Microsoft 365 and Exchange email signature management awarded
CodeTwo Email Signatures for Office 365 continues to receive positive feedback and remains the highest rated solution in the Email Signature Software listing. For the Summer 2022 season, our cloud solution earned the highest scores in 15 different categories, including Easiest Setup, Easiest Use, Best Relationship, Best Results and others.

Furthermore, our email signature and mail flow management software for Exchange Server was recognized in the Best Support and Users Most Likely To Recommend categories.
CodeTwo migration tool for Microsoft 365 wins Best Estimated ROI award
IT professionals also praised our Microsoft 365 migration software. Based on their ratings and reviews, the program gained four awards: High Performer, Easiest To Do Business With, Best Estimated ROI and Users Love Us. This shows the value CodeTwo migration tool brings to your business.

CodeTwo Office 365 Migration is a powerful application that lets you easily migrate from Exchange and IMAP servers to Microsoft 365 or between tenants.
Thank you for your reviews
We appreciate every single review you share on G2 and other tech portals. Your detailed and real-life insights not only help convince other customers to try out our products, but also help us to keep growing in the right direction and provide you with applications of the highest quality. Thank you!
About G2
G2 is one of the world's largest review portals helping buyers choose the best software, based on unbiased reviews provided by actual users. Valuable authentic customer insights are priceless when confronted with thousands of different solutions to choose from. G2 helps professionals make better decisions by comparing various alternatives in a given category.