CodeTwo Email Signatures for Office 365 has gained a new highly demanded feature: 'Manage Signatures App users'. This functionality is now available in all geolocations. Office 365 administrators can now easily delegate email signature management tasks to someone else. Thanks to that, you can make the email signature management workflow much easier. Here are some examples of how you can use it:
Delegate all email signature management tasks to the marketing department. They will be in charge of choosing the right email signature banner and designing the signature template. You can also add legal department, so that they can make sure that every outbound email gets the right disclaimer and all the company information it requires.
Chose specific people to manage email signatures in your company. As a global admin, you will also have access to the Manage Signatures App. You can ask other users to save new email signature adding rules in turned off mode. As a result, it will allow you to verify if all conditions and exceptions to rules are well-configured.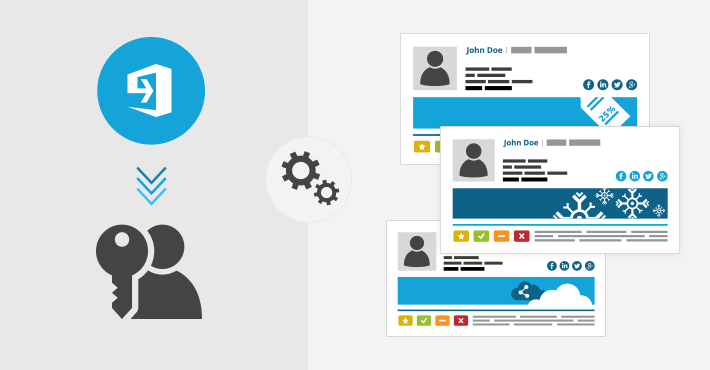 The great thing about this feature is that you can assign permissions to the Manage Signatures App without the need to elevate any permissions for Office 365 users. Furthermore, thanks to a friendly user interface and easy to use email signature editor, there is a good chance you will not need to help other users learn how to use the service.
How to delegate email signature management
Assigning access rights to specific users is a quick task:
First of all, log in to the CodeTwo Admin Panel. Then go to the Tenants tab and click the cogwheel next to your tenant's name to manage the tenant:

Next, go to the Manage Signatures App users tab and add any user or group:

Each of those users and group members will be able to access the Manage Signatures App.
To learn more about this new feature and how to use it, click this link.
If you are not familiar with this tool for Office 365, take a look at the short explanation, below.
About CodeTwo Email Signatures for Office 365
CodeTwo Email Signatures for Office 365 is an email signature management solution which allows your company to keep consistent branding in email communication. Thanks to this tool, you can enjoy automatic, professional email signatures and disclaimers regardless of the email client or device used.