The latest update to CodeTwo Email Signatures for Office 365 brings more flexibility in the way signatures are added in your organization. Our software can now work in three different signature modes, including client-side mode in which CodeTwo signatures are available directly in Outlook when a user types an email. Keep reading to learn how to get the most out of the latest edition of the world-leading Office 365 email signature solution.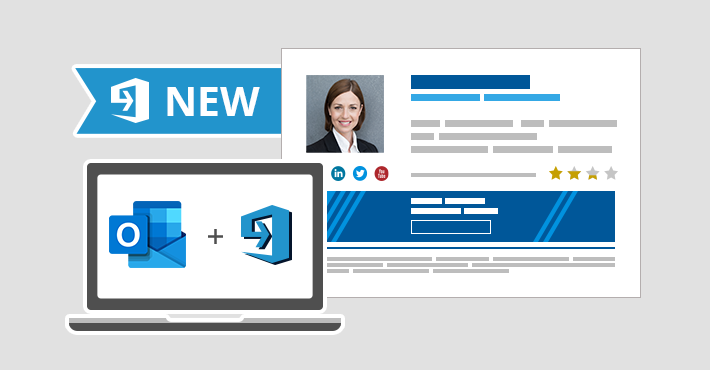 Manage signature adding in Office 365 with new signature modes
You can configure our cloud signature manager to work in one of three signature modes:
Server-side mode supports all email clients. Signatures are added after emails are sent. You can preview signatures when you compose a message in Outlook, Outlook on the web (OWA) and Outlook for Mac (a web add-in is required) or – after an email is sent – in Sent Items. If you were using the product before this update, then this is the mode you've been working with so far.
Client-side mode works with Outlook desktop apps on Windows. A CodeTwo signature is automatically added when you compose an email, or you can select it from Outlook's drop-down menu (depending on organization's settings, there can be multiple signatures that apply to the same user). You can edit your signature before sending. CodeTwo signatures available in Outlook are automatically synchronized with our services via a dedicated add-in, CodeTwo Signatures Add-in for Outlook. The add-in needs to be installed by every user who should get client-side signatures.
Combo mode works with all email clients. It allows an Office 365 organization to use both server-side and client-side signatures. If you use Outlook, then your signature is added when you write a message. If you send an email using other email clients (such as mobile mail apps), your signature is added on the server side (after the email is sent).
Get started and select signature mode
New users
If you're a new user, you can choose signature mode when you register an Office 365 tenant in the CodeTwo Admin Panel (learn more about tenant registration in the user's manual). Server-side mode is selected as default because it supports all email clients and leaves signature management to administrators or people with appropriate access rights. But, obviously, you can choose a different mode at this point. You can also switch between the signature modes later – built-in wizards will help you with all the setup.
Existing users
If you were already using CodeTwo Email Signatures for Office 365 before this update, then the software is still working in server-side mode – this update doesn't change your current signature settings or tenant configuration. However, if you want to try the new signature modes, you can do that from the CodeTwo Admin Panel by clicking a tenant name on the Tenants tab and opening the Signature modes section. After you change mode, the software will guide you through the deployment process.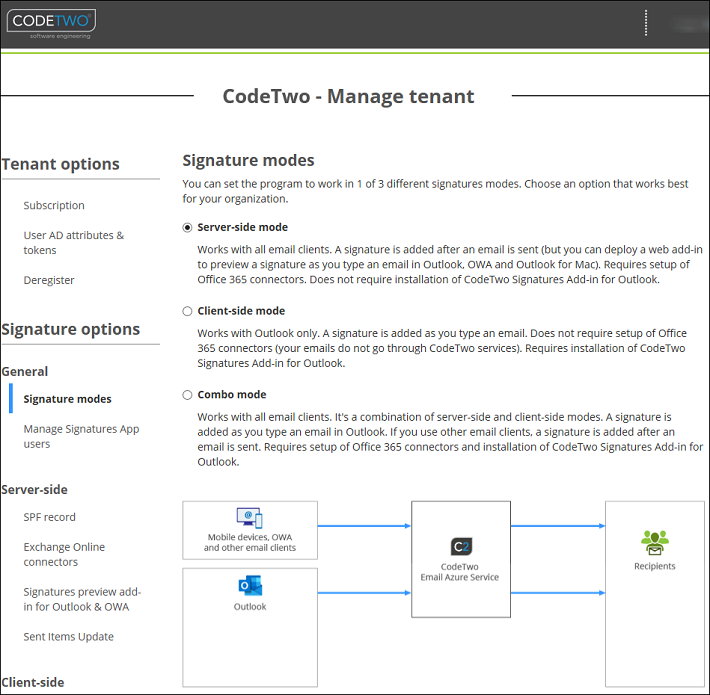 Create signature rules for your signature mode
The signature mode you selected will work in your Office 365 tenant providing you create corresponding email signature rules in the signature management app. With the latest update, there are two types of signature rules you can add: server-side rules (available previously) and client-side rules (a new option). If you set the signature mode to client-side or combo, you need to create client-side signature rules for users who should get signatures directly in Outlook.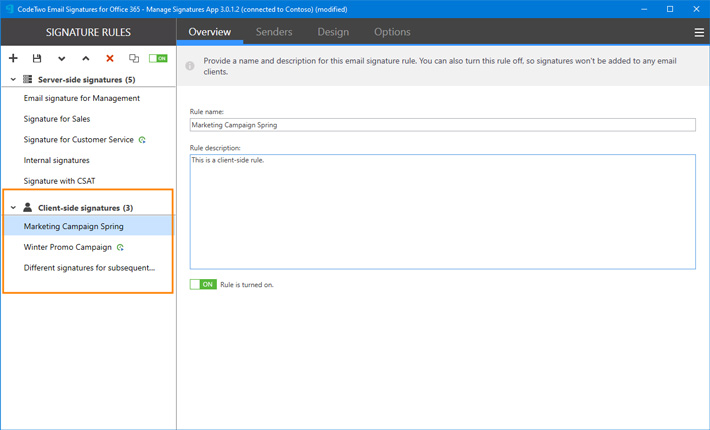 Server-side rules and client-side rules come with their own set of conditions. Since client-side signatures are added directly in Outlook, users have more control over them. That is why client-side signature rules have fewer conditions to set up in the signature management app – basically, you only need to choose users who will get signatures in their Outlook (see the Senders tab). You can also decide if a client-side signature should be added as default for new emails or replies/forwards in Outlook (see the Options tab). If necessary, the software can also remove all user-defined signatures in Outlook to make sure that only the signatures designed in the signature management app are used by people in your organization.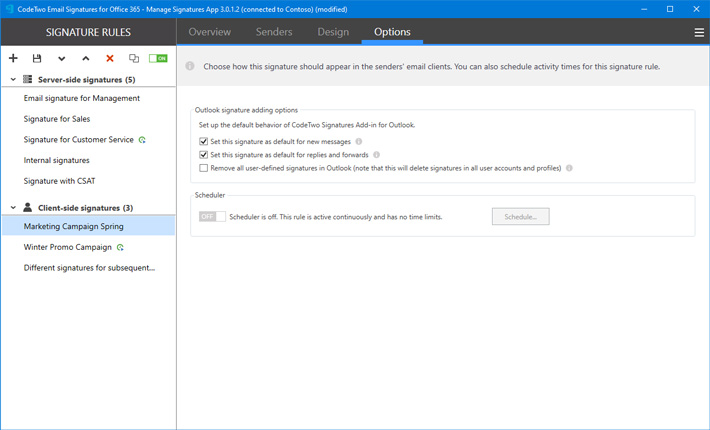 Client-side signatures: add signatures directly in Outlook
If you set CodeTwo Email Signatures for Office 365 to work in client-side or combo mode, you need to ask the users you specified in your client-side signature rules to download and install CodeTwo Signatures Add-in for Outlook, and then sign in to the add-in using their work accounts to get it up and running. The installation is plain and simple, but if they need guidelines, the user's manual will help:
When the add-in is installed, CodeTwo signatures are synchronized to Outlook and are available just as any other native Outlook signatures. Depending on signature rule settings, client-side signatures can be added automatically by Outlook when a user types an email, or they can be added manually via the Signature menu on the Outlook ribbon.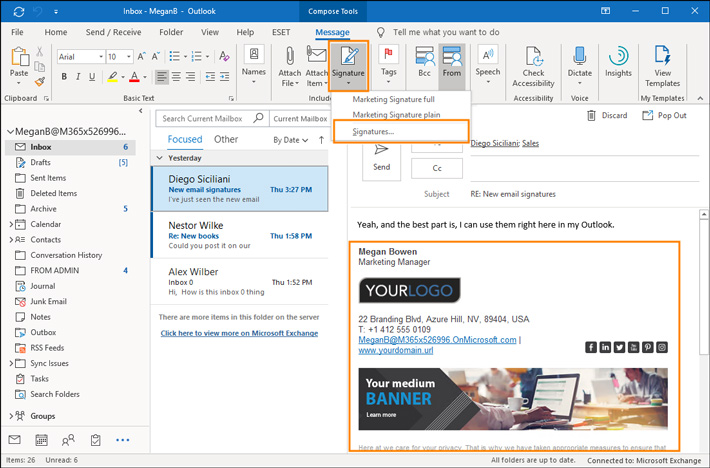 The add-in pane can be opened from Outlook's Home tab to quickly view the available signatures, but you can close the pane if you want – this doesn't stop the signatures from being synchronized and added. See the user's manual to learn more about using the CodeTwo Signatures Add-in for Outlook.
Want to learn more?
If you want to learn more about these exciting new features, see the user's manual and frequently asked questions related to signature modes.