We are happy to announce the release of CodeTwo Exchange Rules 2016 – the latest addition to our family of acclaimed CodeTwo Exchange Rules email signature and disclaimer management products for Microsoft Exchange Server.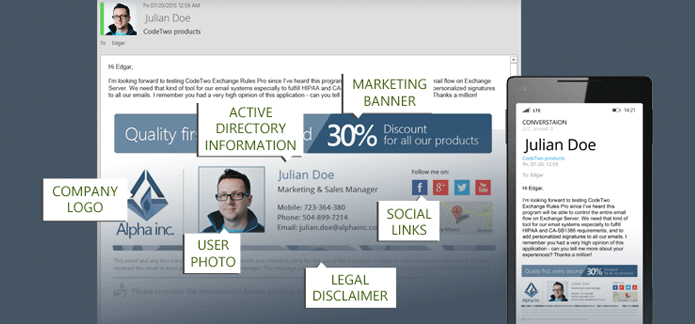 Exchange 2016 might be more than just Exchange 2013 SP2 but in terms of email signature management not much (if anything) has changed, with all limitations known from the previous version still present. Those limitations include:
the inability to insert email signatures within conversations,
no preview of email signatures on the client-end,
no support for embedded images,
limited scheduling options,
etc.
CodeTwo Exchange Rules 2016 lets you overcome these and other hurdles imposed by Exchange 2016's built-in email signature management mechanism. At the same time, thanks to its user-first design philosophy, it makes work with email signatures easy and enjoyable.
CodeTwo Exchange Rules 2016 key features include:
Central management of email signatures on Exchange 2016
Active Directory data in signatures
Support for all email clients and mobile devices
Ability to insert email signatures beneath the latest email or as side banners in a conversation
Support for embedded images displayed in-line in messages
Preview of email signatures in users' Sent Items folders
Scheduler with recurrence option
Easy and secure delegation of email signature management to non-IT users
WYSIWYG email signature template editor
Library of pre-defined, editable signature templates
and more…
Find out more about CodeTwo Exchange Rules 2016 by visiting the products page.
To see how the application handles live, download and install the 30-day fully functional trial. Remember that during the trial you are eligible for full technical support, so in case of any questions or issues, contact us! We are open 24h Monday through Friday.
For details on upgrading licenses of earlier versions of CodeTwo Exchange Rules, go to the CodeTwo Exchange Rules 2016 pricing page.