We are proud to let you know that CodeTwo Email Signatures for Office 365 – our flagship cloud solution for email signature management in Office 365 – has been featured by Microsoft as "Preferred solution" on AppSource.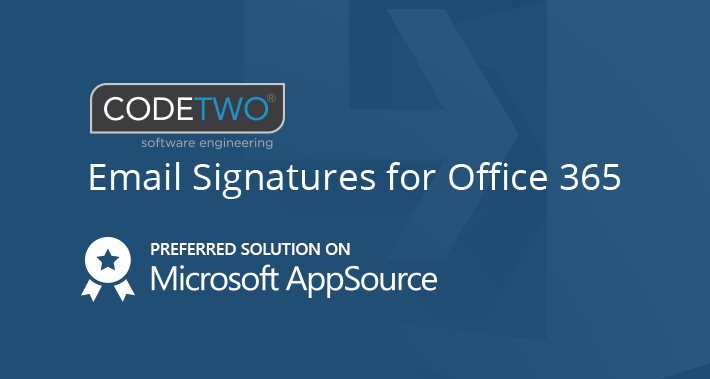 Microsoft AppSource is a place where you can find secure and reliable solutions for your business, delivered to you by Microsoft as well as by trusted MS partners. The "Preferred solution" badge next to our application's name in AppSource means that you are looking at a first-class solution validated and acknowledged by a team of Microsoft experts for its usefulness, quality and efficiency.
To all folks new to our solution, CodeTwo Email Signatures for Office 365 is a cloud-based email signature solution that allows you to centrally manage email signatures and disclaimers for all users in your Office 365 (Exchange Online) organization. The application extends Office 365 signature capabilities to let you, for example, unify signatures on different email clients and mobile devices, add signatures right under replies, or easily include graphics, logos, and banners. The application is developed in a highly-secure environment – CodeTwo's Information Security Management System (ISMS) is certified against ISO/IEC 27001 and ISO/IEC 27018.
Try CodeTwo Email Signatures for Office 365 for free
Check CodeTwo Email Signatures for Office 365 on Microsoft AppSource
Thank you!