CodeTwo Email Signatures for Office 365 now comes with a new web-based signature management interface. You can manage email signature rules and design signature templates on all devices and platforms (Windows, Mac, Android, iOS, and more) using a web browser. It's all in the cloud, so you don't need to download or install anything. The new version also introduces a completely revamped signature template editor. Read on to learn more.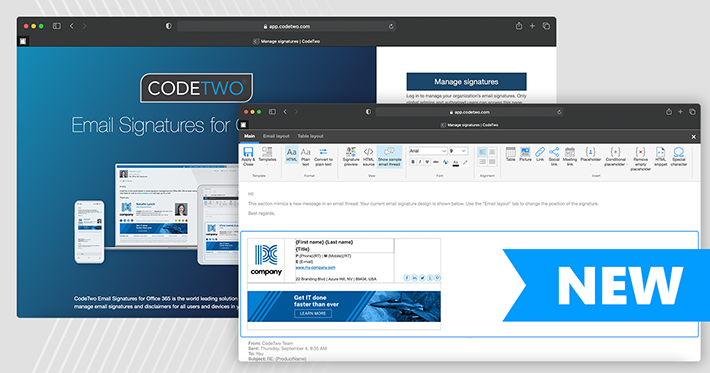 Organization-wide signature management in Microsoft 365 is now easier than ever. Just go to app.codetwo.com (or click the Signatures tab in CodeTwo Admin Panel), sign in and start creating your email signature rules. Remember that only Microsoft 365 global admins and delegated users can access and manage email signature rules for your tenant (learn more).
If you're an existing user, you'll quickly notice that the rule management experience is the same as in the standard desktop app. All your signature rules and templates remain as they were. Just go ahead and create a new one!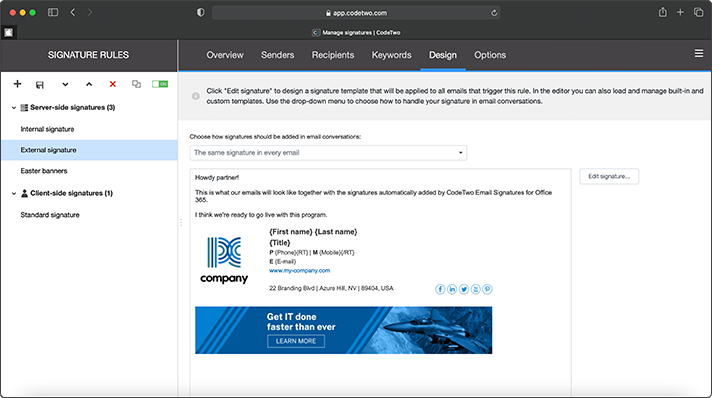 You'll also notice that the new web interface comes with a new signature template editor. It's rebuilt from the ground up, focusing on the most relevant functions, and giving users a more streamlined experience. The new editor brings new features like quick meeting links (more on that soon) and looks perfect on 4K screens.
But email signatures are not all our editor can do. You can design additional email sections like header or side banners. And you can turn on sample email conversation thread to see where your signature will be added, or turn it off if you want to concentrate entirely on your signature layout.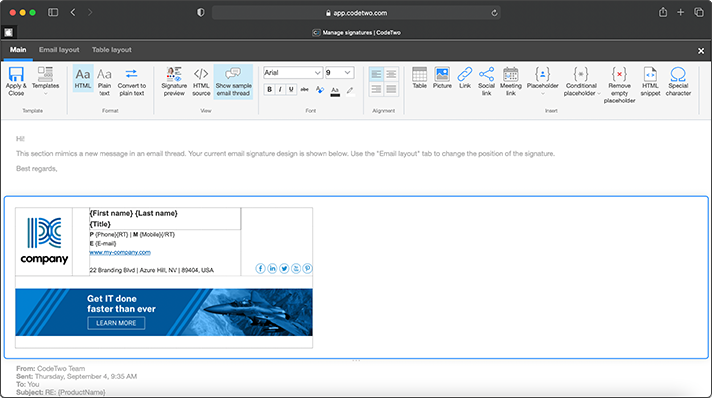 Note that if you want, you can still manage your email signature rules by using the classic application for Windows. You can choose between the new web experience and the classic desktop app by going to the Signatures tab in your CodeTwo Admin Panel (you don't have to be signed in to view this page). Simple as that.
How to update
CodeTwo Email Signatures for Office 365 is a cloud-based application. This means all updates are instantly available to all our customers, and you can use the new web interface now.
If you are a new user, you can sign up for a free 14-day trial. Refer to the user's manual to learn how to: