CodeTwo Exchange Rules Pro
Centrally managed email signatures, disclaimers, marketing banners and email flow control
Support for all email clients (including Outlook and mobiles)
Used by thousands of companies around the world
Windows Server certified
Download
30-day free trial with support;
no credit card required
How it works
CodeTwo Exchange Rules Pro lets you manage the email flow on Exchange Server according to rules. It covers a wide range of aspects, including email content control, attachment filtering, message rerouting, email signatures and disclaimers and a whole lot more. The number of combinations of conditions and actions is almost countless.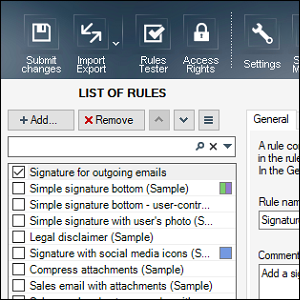 Owing to the graphical user's interface, creating email rules in CodeTwo Exchange Rules Pro is a breeze. You don't have to write any scripts in PowerShell while setting up the application. Thanks to the logical structure of the rules creation wizard, the admin can create advanced email rules with minimum effort and just with a few clicks.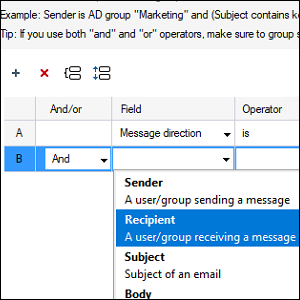 After saving the rule, it will be triggered automatically anytime the specified conditions are fulfilled, e.g. when the sender matches a defined condition, the email contains a certain phrase or attachment, etc. The possibilities are endless!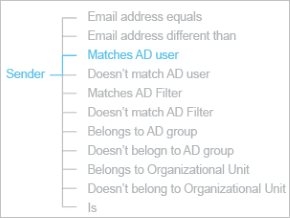 What's more, all changes applied in the program's Administration panel will automatically propagate to all CodeTwo Exchange Rule Pro instances installed in your Exchange organization. There's no need to manually import/export settings to all mail servers.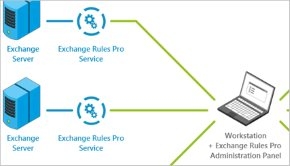 One of the most popular features used in CodeTwo Exchange Rules Pro is the central management of users' email signatures, disclaimers and auto-replies. The program contains a number of facilities that let you create full-blown templates containing users' details pulled from Active Directory, images, and marketing content. A good example of such a feature is the template editor.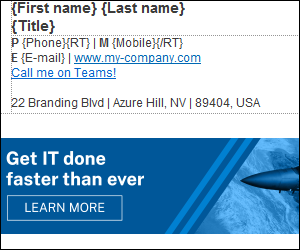 CodeTwo Exchange Rules Pro also comes with a bunch of additional useful administrative tools, e.g. the Rules Tester, Server Monitor and a rich library of signature templates. All these features are there to make your work as a server administrator easier and faster than ever before.