CodeTwo Exchange Rules Pro
Centrally managed email signatures, disclaimers, marketing banners and email flow control
Support for all email clients (including Outlook and mobiles)
Used by thousands of companies around the world
Windows Server certified
Download
30-day free trial with support;
no credit card required
Switch to the Pro version of Exchange Rules!
Now that you use CodeTwo Exchange Rules for managing email signatures and disclaimers for your Exchange Server email, it's time you considered expanding its features by adding additional actions.
Switching to the Pro version will give you a slew of new actions that cover such things as email flow control, DLP, attachments control, forwarding, and rerouting, etc.
After migrating to CodeTwo Exchange Rules Pro all your current email signatures and disclaimers rules will work exactly the same way as they do now.
With CodeTwo Exchange Rules Pro you gain:
Smart auto responders with attachments, editable message subjects, CC and BCC fields.
DLP policies and dictionaries to prevent sensitive content from leaking out.
Full attachment control – strip, block, zip or save attachments in emails meeting pre-defined criteria.
Forwarding and rerouting features – even to users from outside the Active Directory.
Email modification features: Rewrite sender's addresses, tag subjects and force email formats according to rules.
and many more!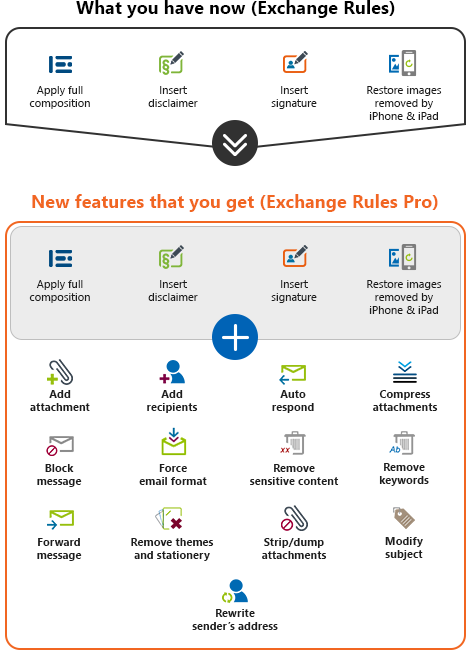 The same UI, more actions and features
You won't be forced to learn how to use new software after migrating to CodeTwo Exchange Rules Pro. The program uses a similar user's interface, but adds additional actions and features. What's more all your previous signatures and disclaimers adding rules will work exactly the same way as in the standard version of CodeTwo Exchange Rules. All you need to do is export the settings and import them to the Pro version. The rules are fully compatible.
Migration prices
Because you already use one of our products from the CodeTwo Exchange Rules family, you don't have to pay full price for migrating to CodeTwo Exchange Rules Pro. See the chart below or contact our sales department in order to find out more about your migration cost.
No. of mailboxes
Price
Support Price per year
50
$ 327
see the text
below*
75
$ 471
100
$ 590
125
$ 710
150
$ 828
200
$ 945
250
$ 1 065
300
$ 1 188
350
$ 1 304
400
$ 1 422
500
$ 1 541
625
$ 1 838
750
$ 1 925
875
$ 2 037
1000
$ 2 151
Above 1000
Request a quotation
How to migrate?
Migrating from CodeTwo Exchange Rules 2019/2016/2013/2010/2007/2003 is provided at additional costs - for prices please refer to the first two steps of the order form or request a quotation.
Because CodeTwo Exchange Rules Pro is an expanded version of CodeTwo Exchange Rules, you can automatically preserve and load all your rules and settings into the Pro version of the program.
Bear in mind that this option is available only for CodeTwo Exchange Rules 2007 v. 4.1.0 (and newer), CodeTwo Exchange Rules 2010 v. 3.1.0 (and newer), CodeTwo Exchange Rules 2013 v. 2.1.0 (and newer), CodeTwo Exchange Rules 2016 and CodeTwo Exchange Rules 2019. If your version is older, you need to manually migrate your settings with the built-in export/import settings tool. Use one of the links below to find out more.