Since the world of tablets is getting bigger, better and more versatile, many of us (iPad aficionados and those who are now becoming ones) ask a question: Can I run Outlook on the Ipad?
Well.. it would be a Sci-Fi question, if it wasn't for VMware View, thanks to which you can have Outlook displayed in the iPad or iPad 2 totally for free. VMware has finally made it possible to access your Windows Desktop from the iPad, which means you can not only display your favorite mail client there, but also use your tablet as a remote client of your desktop machine.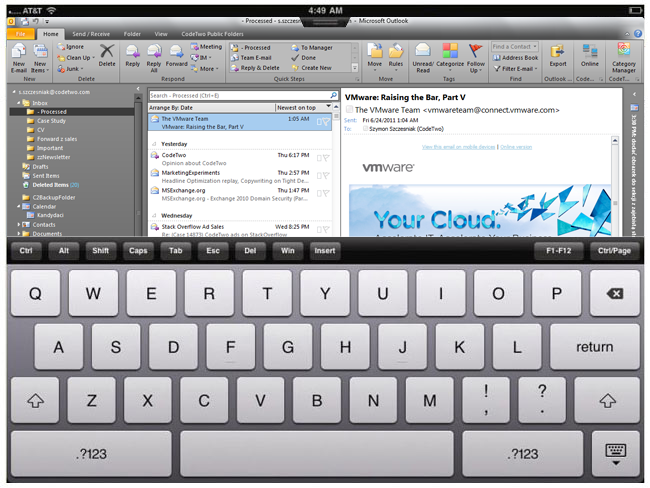 If you don't want to use any remote desktop connections and want to simply synchronize your iPad with Outlook, you can do it pretty easily with the iCloud service and its iCloud Control Panel for Windows, which allows you to share Outlook data with iPad automatically. The iCloud-Outlook synchronization is, however, a little bit tricky as upon installing the control panel you get a new tree of folders in Outlook with your iCloud data. This has little to do with syncing as your master folders are still left intact. You can luckily fix this thanks to CodeTwo Sync for iCloud.
See for yourself how easy it is:
Learn more about CodeTwo Sync for iCloud and download it.
© All rights reserved. No part or whole of this article may not be reproduced or published without prior permission.