CodeTwo Exchange Rules can be a powerful tool to aid your marketing campaigns. By using this program, you can have your company mail appended with marketing information that advertise your products, latest collections, discount bargains, encourage to sign up for news feeds etc.
One of the basic capabilities of CodeTwo Exchange Rules is adding images to footers. This can be done conveniently using the built-in editor. You can use the same mechanism to add marketing banners to your footers. The marketing feed can form an integral part of the footer together with the signature data …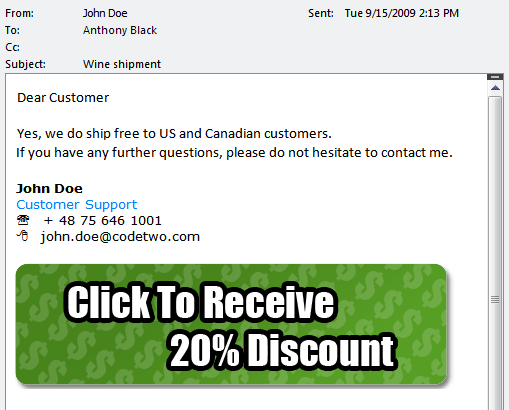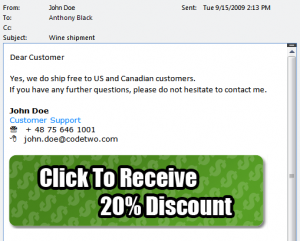 … or you can have one rule to add a signature plus additional marketing rules that will be responsible for adding banners. The ad management is completely automated. You do not need to rely on sales people to remember to add marketing to their emails. All stamping will take place centrally at Exchange Server.
Newsletters
Can your customers apply for newsletters by signing up through your website? Some may not go that far. Why not invite them to sign up by adding a banner directly in each email message sent by your sales staff? Actually, some customers may decide they need a newsletter the moment they receive an email response from your helpdesk to get the latest. Don't make them comb the website in search of the newsletter signup field.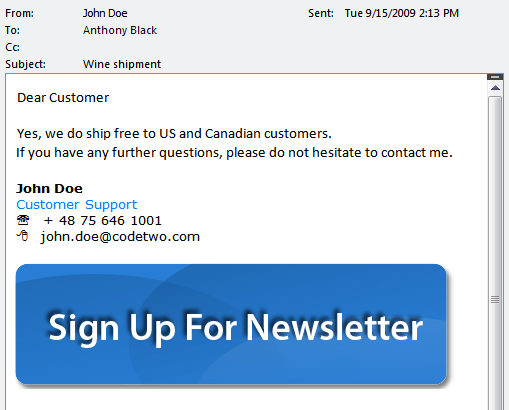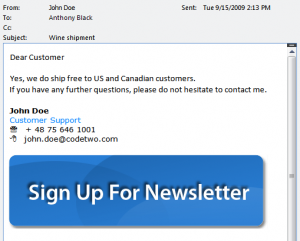 Special & Discount Offers
Your customers might not know yet that in your store every third item can be purchased 50% off or is shipped free. Make sure they can learn about your special offers from email. Use the banner to give out coupon codes. CodeTwo Exchange Rules will ensure the promotion ad is inserted into each customer-targeted mail.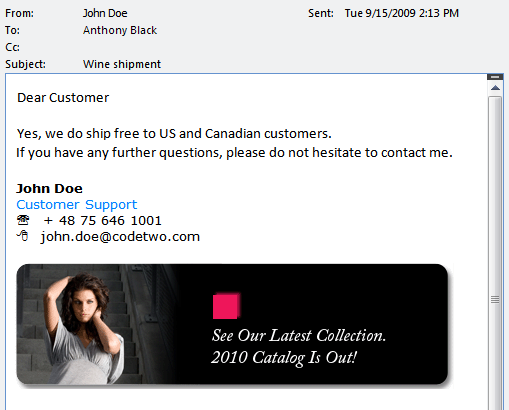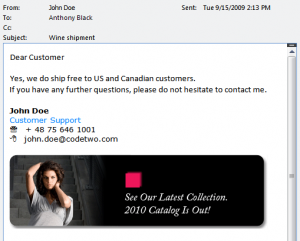 Have you heard about Word-Of-Mouth marketing? Add a touch of exclusivity to your special offers and let your customers feel valued. Stop publishing your limited offers openly on your website. Instead, include them only in emails sent to those customers you are in touch with. You are guaranteed soon everyone will hear the buzz. Also, you can reward your customers for their loyalty by offering bargains before they even hit the stores.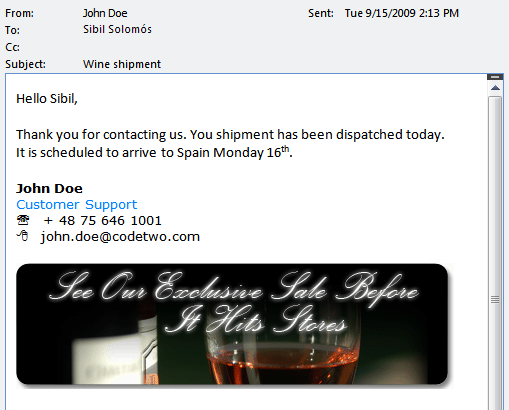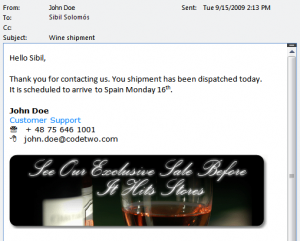 What's on Stock?
Some clients you are in touch with may not be aware of the sheer range of services your company offers. Don't miss a chance to include banners that will tell your clients what your business can do. Make sure every email that leaves your organization showcases your business capabilities.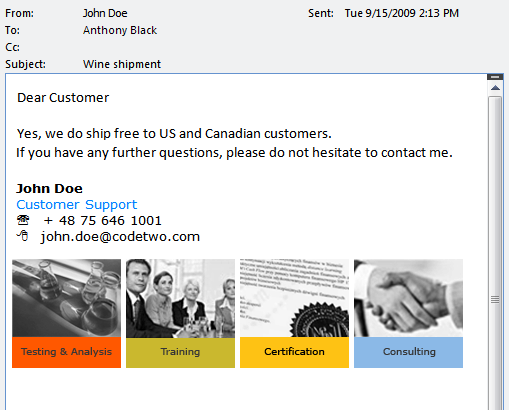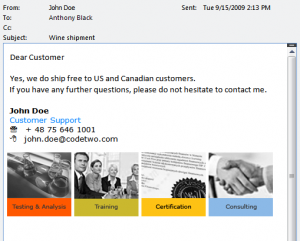 You can set up a number of banners to use in your campaigns. Each banner can link to a different location. The links can be adjusted so that you can measure the yield in search engine analytical tools.
You can use banners to encourage customers to delve deeper into your website, to learn about your latest achievements and rewards you earned. Use email marketing to raise brand awareness.
The technical part
The format of your banner graphics can be JPG, PNG or GIF with no size limitations. Engage your marketing team in developing good looking banners to use in the campaign. Once you have got the image file, just place it in the HTML footer template using the built-in editor. Add extra text if necessary and you are ready to launch.
Visit the following links to learn more on how to launch your marketing campaign in CodeTwo Exchange Rules incorporating banner ads.