Trying to find the right meeting time that suits all required attendees is not a piece of cake. Especially when every user has many different duties during a work day. So, if you feel like you're sacrificing too much time for scheduling a meeting, you might benefit from the Microsoft add-in for Outlook called FindTime. This add-in is intended to help you efficiently find the optimal time to meet with all invitees. Let's see how this timesaver works.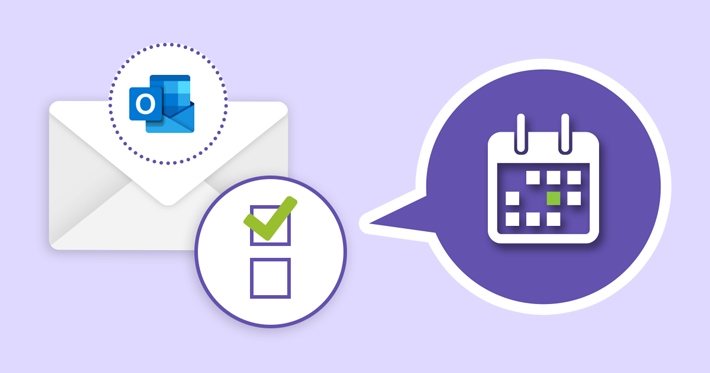 What is FindTime
FindTime is a Microsoft add-in that you can install in Outlook and then use to create a meeting poll that helps you find the best time for a meeting, so that all required people can attend it. This saves a lot of time and unnecessary emailing.
How to find time that suits them all
The thing is that setting up a meeting can be frustrating if you need to coordinate it for many people that have different schedules. If you had a chance to be a meeting organizer at least once, then you know what I'm talking about. So let's see how FindTime can help you minimize the stress and reduce the time necessary to successfully schedule the meeting.
Note: Before you start, make sure you have installed the FindTime add-in in your Outlook. You can download it from the FindTime official website, deploy directly in Outlook by using the Get Add-ins button on the Home tab, or you can search for it in the Microsoft AppSource. Learn more about your installation options.
So, to find time with this add-in, you need to:
Create a new email in Outlook, add attendees in To and Cc fields, and click New Meeting Poll.

Now, the FindTime poll opens. Set it up by selecting the meeting duration, time zone, date and hours. Click Next when the poll is ready.

Note: The colors show who and when is available, may be busy or is busy. This way you can easily select times where all attendees are green, which means they are available for a meeting.

For example, in the screenshot below, all required attendees are available between 8:30 and 9:30 (all are green). At 8:00 one of the attendees may be busy (orange) and at 10:00 I am busy (red). So, as an organizer, I know that in my meeting poll I should propose these hours: 8:30, 9:00 and 9:30.

Feel free to sort the view by Availability (all hours when everyone is free go to the top of the list, while other hours land at the bottom) and Time (it displays all hours chronologically). Use the calendar and user icons on the right to see more details.
In the next step, provide the meeting location. If you want it to be an online meeting and your organization uses Microsoft Teams, you can select the Teams meeting checkbox. Take a final look at the poll and if it's ready, click Add to email.

Send the poll to all attendees, so that they can select the time that suits them best.

Once all invited users select the time, the add-in will send out the meeting invitations on your behalf.
Note: FindTime is available for Outlook 2019, 2016, 2013, Outlook on the web and Outlook for Mac. The add-in requires Office 365 work or school account to run, but only if you are the meeting organizer. People who don't organize the meeting but only receive the meeting poll don't need to have Office 365 subscription or FindTime add-in installed.
Use FindTime with Microsoft Teams
If you are using Microsoft Teams for online meetings in your organization, then you can easily use FindTime for scheduling purposes. You just need to select the Teams meeting checkbox when creating the FindTime poll.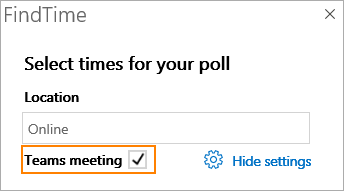 Then, once you and your invitees find the optimal time, the add-in sends out the invitation with a link to join the meeting in Teams.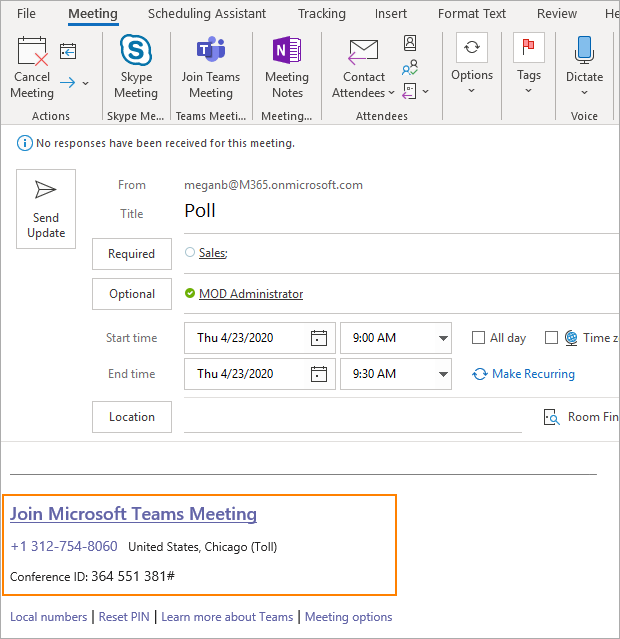 That's all. Now with that extra time you saved, you can focus on more productive tasks.
Deploy the add-in for all users
If you want all users in your organization to have this add-in in their Outlook, you can tell your Office 365 admin to install FindTime globally in the organization. You will find the instructions on how to do so here.
See also: