As all marketers know, eye-catching images are sometimes more than compelling words. Keeping this in mind, our Marketing team prepared something special for CodeTwo Exchange Rules Pro users. Once you are in the Template Editor in HTML preview, click on the Picture icon on the ribbon, select From Image Library … and enjoy a brand new collection of various icons and labels that are designed to help you attract attention of your email recipients. Below I present how to open the Image Library: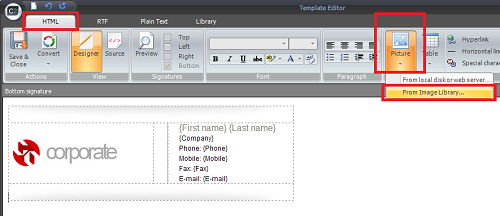 The program's library offers images that can be used for many purposes:
– as auto-replies, when, e.g., a staff member is away or to confirm that you have received a client's message;

– to stress an important information enclosed to your e-mail, such as a legal disclaimer.

– to promote products and spread the word of the hot seasonal offers.

And the last point probably draws your attention the most, since such a simple image added to your email may visibly increase your sales or website traffic. People get hundreds of emails every day. If they open them, it is a half of success, but then they just quickly scan its content. A vibrant image can be most likely to attract their attention rather than just a plain text or big aggressive font, usually associated with a typical spam. Besides, a stylish graphic added to you e-mail looks more neat and professionally.
To illustrate this theory, look below to compare a standard advertising e-mail with the one prepared in CodeTwo Exchange Rules Pro HTML editor, with a use of its reach library of images.
A plain commercial e-mail with text links: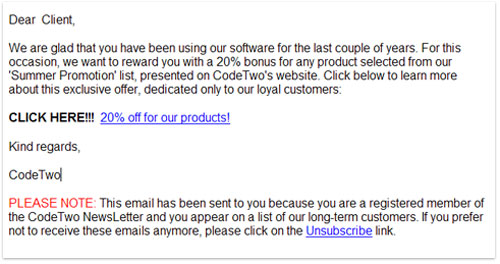 An e-mail prepared in CodeTwo Exchange Rules Pro with a clickable graphic: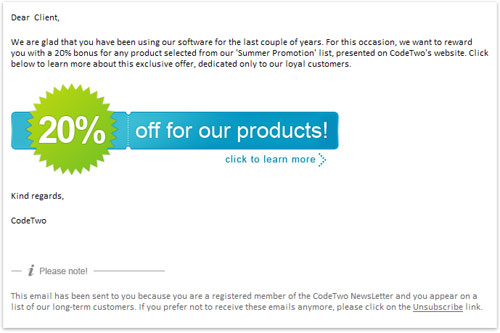 Using the image library provided with CodeTwo Exchange Rules Pro you can freely create beautiful email signatures with your contact details, logos and photos, as well as promotional banners, visual hyperlinks, greeting e-cards, random citations and professional autoresponders. See the new Image Library Manager below: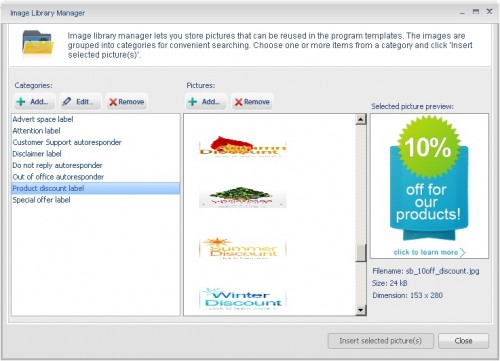 To make CodeTwo Exchange Rules Pro even a more useful marketing tool, the program enables you to set time frames for each individual campaign. The function can be found in the Options Tab and it is called Rule Date Range. As you can see below, there are a few fields that you can complete according to your plan and then be sure that all promotional banners are sent in a right time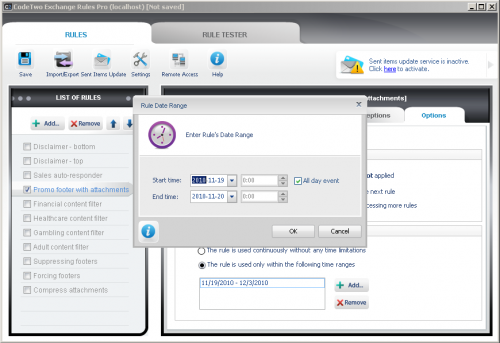 Since an e-mail is now one of the most popular means of business communication, the way you manage your correspondence gives a picture of your service quality. Do not let your company stay behind the technology wave. Equip yourself with a multi-functional program that has been created to let you administrate your e-mail in a professional way.
CodeTwo Exchange Rules Pro – take a tour
Email branding – learn about adding signatures and disclaimers to your email
See how the program works in your company – get a free version