Thanks to end users' superb reviews received nearly every day on G2.com, this spring CodeTwo Email Signatures 365 continues to hold the leading position in the Email Signature Software category. At the same time, our signature & mail flow management solution for Exchange Server and Microsoft 365 migration software win a number of awards in their respective categories.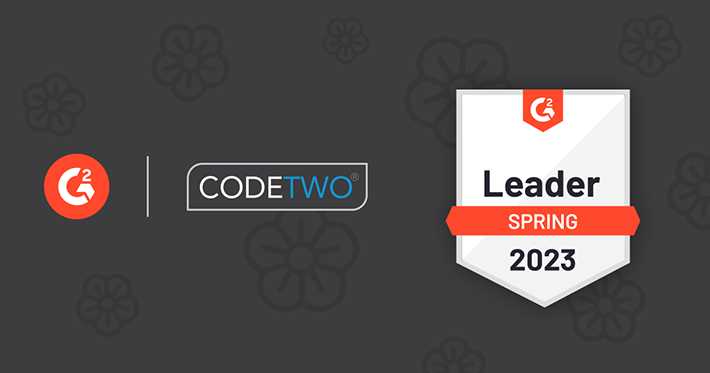 CodeTwo Email Signatures 365 named the leader among email signature solutions
CodeTwo Email Signatures 365 remains the highest rated email signature management tool in terms of user satisfaction, scoring the best in the Quality of Support, Meets Requirements, Ease of Doing Business With, and Ease of Admin partial ratings. Thanks to the overall rating exceeding the results of all the competitors, calculated by G2 based on user reviews, the title of the Spring 2023 Leader simply couldn't go to any other tool than our cloud signature management software. Apart from the Leader badge, CodeTwo's solution has won 12 more badges, the most notable being Best Relationship and Users Love Us.

Our email signature & mail flow manager for on-premises Exchange, CodeTwo Exchange Rules Pro, has been acclaimed by end users for the highest quality of support. Reviewers are also very likely to recommend our tool to others, which testifies that it is a top-notch solution.
That's not the end of good news! CodeTwo's email signature manager for Exchange Server, CodeTwo Exchange Rules, has earned the Highest User Adoption badge for the Spring 2023 season. It means that once implemented, our tool stays with end users for a long time because they are very satisfied with it.
CodeTwo Office 365 Migration highly valued by end users
Our cloud migration tool continues to be perceived as a valuable asset to every organization that needs to migrate its mailboxes to Microsoft 365 (Office 365), winning awards in the High Performer, Easiest To Do Business With, and Best Estimated ROI categories.

CodeTwo Office 365 Migration lets you migrate from on-premises Exchange, between Microsoft 365 tenants or from IMAP servers, such as Google Workspace. If you are in the process of planning the move to the cloud, be sure to get your free copy of Conversational Microsoft 365 Mailbox Migrations by J. Peter Bruzzese, an 8-time Microsoft Office 365 MVP, to learn about native migration solutions and how our tool can simply the process for you.
There are no great products without satisfied customers
Software products cannot be genuinely great if they receive no appreciation from actual end users, and the same applies to CodeTwo solutions. That's why we're extremely happy to hear from you on G2.com on a daily basis. After all, you're the ones who put CodeTwo products into practice and are more than entitled to share feedback on them. Thank you!