We're excited to announce CodeTwo has just been assessed against cyber threats and certified by Cyber Essentials, a UK Government-backed, industry-supported scheme overseen by the National Cyber Security Centre (NCSC).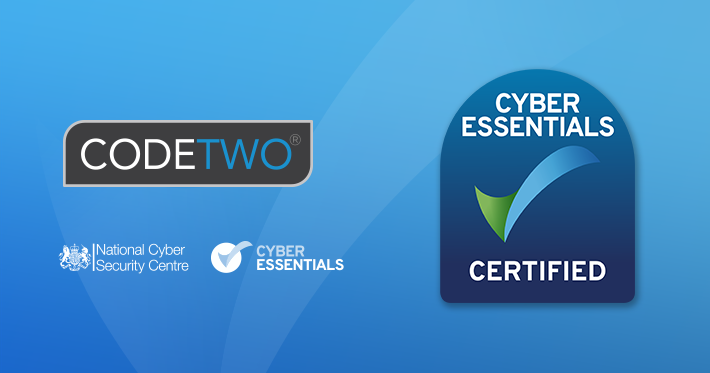 About the Cyber Essentials certificate
The Cyber Essentials scheme is designed to help organizations introduce mechanisms which prevent cyberattacks and to reassure their clients that the company certified has effective cyber security measures in place.
Our Cyber Essentials certification means that we have been assessed by an independent entity to confirm our organization meets the Cyber Essentials Scheme's requirements. And the cyber security measures we have in place are compliant with the highest business standards. It's worth mentioning that the certification was achieved under new terms introduced in 2022, which bring all cloud services, MFA mechanisms and many more into certification scope. View certification
CodeTwo's commitment to maximum security
The Cyber Essentials certificate is another proof of CodeTwo's commitment to maximum security.
Visit our Security & Compliance center to find out how CodeTwo complies with the highest security standards.
Check out CodeTwo Email Signatures for Office 365 security page to learn about the security mechanisms implemented in our flagship email signature management service.