Do you need to create an email signature, but you have no idea where to start? Against all appearances, designing and creating email signatures is not a simple task. When drafting a signature, you should remember of certain design rules that make it look professional and well-thought-out. When you are finally happy with the results, it is time to bring your project into a live email signature. But this part, in most cases, requires at least basic HTML knowledge. Otherwise, you will have a hard time trying to implement the signature the way it looks in your draft. But, if you feel like neither designing your signature nor learning the HTML code, there is a smart alternative – Free Email Signature Generator powered by CodeTwo.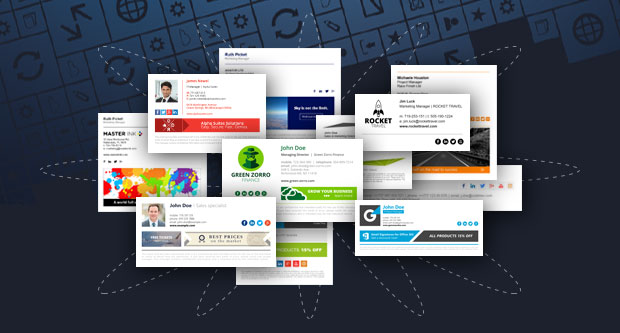 Introducing Free Email Signature Generator
Free Email Signature Generator is an online generator that will help you build your own, professional email signatures for both personal and business purposes. You do not need to worry about the proper composition of your signature or have the HTML knowledge to use it. The only thing you need to do is to select an email client you use, choose a template you like the most and fill it with your data. The generator will put all that information together and prepare a perfect customized signature. And if you wonder how to implement that signature – the generator will guide you through that process as well.
How to use email signature generator
Just a quick glance is enough to get the idea of how to use the generator. To feel even more comfortable, let's have a closer look at its functionalities and set-up.
The generator is divided into four main parts giving you a quick access to all buttons and features necessary for signature design.
1. Select email platform
In the top-left corner, there is the Choose email platform section where you can select what email platform you use. You can choose from Outlook, Outlook 365, Thunderbird, Gmail, Exchange Server or Exchange Online. This step is important as it informs the generator how to properly configure your signature.

2. Select your email signature template
You can select your signature in the Choose signature template section. In this section, you can switch between various email signature templates to find the one that suits you best. All the templates are well-tailored to meet requirements of a modern design – they are clear, neat, professional and attractive at the same time.  What's more, the template library is constantly updated with new email signatures.

3. Fill in user and company data
In the Enter signature details section, you need to provide all details you want to include in your signature. This part is organized into five subsections where you can add your personal and company data, graphics, disclaimer and social media links. For Exchange Server and Exchange Online email platforms, you will notice an additional functionality – Replace user data with Active Directory placeholders. This is a very useful feature, which converts your data into dynamic placeholders that are later used by Exchange to fill in your signature with users' Active Directory data.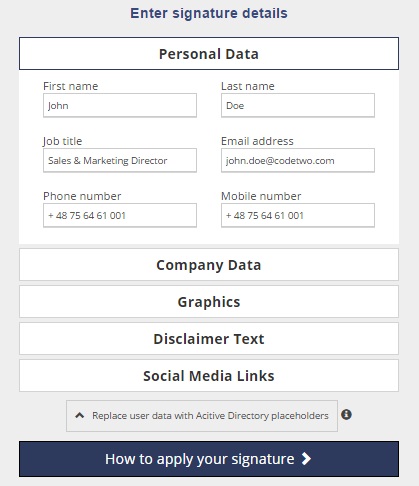 4. Verify your changes
Before you export your signature template, you can verify whether everything is well prepared. In the Signature preview, you will see how the signature will be displayed in your emails. If there is anything you would like to change, this is the right moment to do so.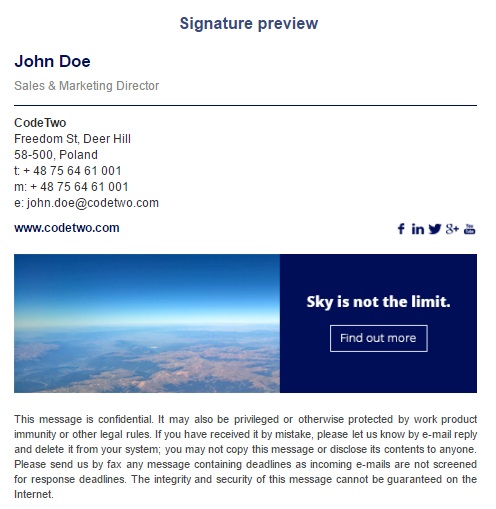 5. Implement the signature in your email client
The generator not only helps you prepare the signature but also lets you easily implement it in your email platform. Using the How to apply your signature button will generate a customized ready-to-use instruction that will guide you through the entire process of implementation.
Start designing your signatures with Email Signature Generator – it's free!
Read all about email signatures on this website.