Once every couple of years, there is a time when a considerable number of Exchange server admins begin to seriously consider migrating mailboxes from their on-premises servers to the Office 365 cloud. This usually takes place when the end of support date is approaching rapidly for another on-prem Exchange server, just like in the case of Exchange 2010 at the moment. Or when a new Office 365 datacenter is introduced, just like recently in Germany. Contrary to popular belief, migrating mailboxes to Office 365 doesn't have to be an overwhelming task. If you don't believe it, you surely haven't read J. Peter Bruzzese's "Conversational Office 365 Migrations" or used CodeTwo Office 365 Migration yet.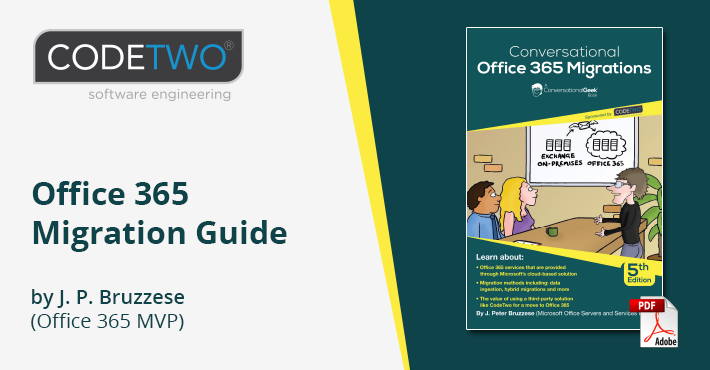 If you are wondering what the word "conversational" from the title actually means, the answer is: easy-to-read and entertaining, while at the same time very informative and helpful. In other words, it's your Office 365 migrations 101. And J. Peter Bruzzese surely knows his way around Office 365 – he is a six-time-awarded Microsoft Most Valuable Professional (MVP), currently for Office Servers and Services and previously for Exchange and Office 365. The book concentrates on what Office 365 has to offer and what are the native ways to migrate data to the cloud. Of course, the newest edition of the book (5th) has been updated with all the changes that were introduced to Office 365 in the last year or so.
And as with the previous editions of the book, this one also contains a chapter devoted to CodeTwo Office 365 Migration. As you can read in the book, the program "can help to speed up and automate the migration process significantly". Our migration tool for Office 365 allows you to migrate mailboxes from any Exchange server (stating from Exchange 2010 and including Exchange Online) directly to Office 365. In addition, the fact that the program is developed and supplied in accordance with ISO/IEC 27001 and 27018 also ensures maximum data safety and integrity during the entire process.
Learn more and experience J. Peter Bruzzese's wit first-hand by downloading a free copy of the book here.