Mailbox migration from Exchange Server to Microsoft 365 (Office 365) can be a huge and stressful task, especially if your organization has been stuck with the on-premises environment for many years. But a large amount of data and all the aspects you need to consider should no longer appear overwhelming if you appropriately prepare for the process and decide on the right tools with the help of "Conversational Microsoft 365 Mailbox Migrations" by J. Peter Bruzzese.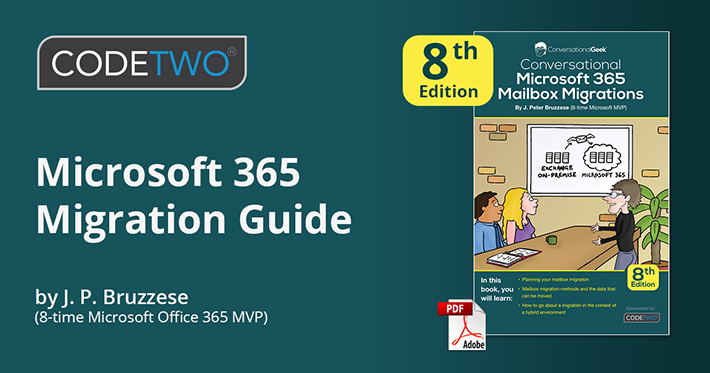 This ebook is definitely not yet another guide full of big words, tricky concepts, and no real solutions. The Conversational Geek series is famous for its conversional style, which is meant to deliver all the important and essential information in the way that's easily digestible, humorous, and 100% to-the-point. Of course, it cannot be any different in the case of the latest migration-focused work by J. Peter Bruzzese. Speaking about the author, it's hard to find someone who is more qualified to talk about migrations than him. J. Peter Bruzzese is an 8-time Microsoft Office 365 MVP and has over 20 years of experience working with Exchange. Quite impressive, isn't it?
What can you expect inside? "Conversational Microsoft 365 Mailbox Migrations" takes the conversational approach to introduce key migration concepts, discuss migration planning, show native migration options, and instruct you how to deal with a hybrid setup. Compared to the 7th edition, the content has been reorganized to make the overall reading experience better and equip you with absolutely essential knowledge.
Traditionally, the last chapter focuses on the CodeTwo's migration tool whose ultimate goal is to simplify and automate the process of moving mailbox data for you. The author not only mentions the program's security features such as OAuth 2.0 and MFA support, connection encryption, or no third-party involvement, to name a few, but also discusses useful functionalities and advantages over the native solutions offered by Microsoft like:
direct migration from Exchange 2010 and newer, hosted Exchange (e.g. Rackspace), IMAP, or another Microsoft 365 tenant,
unlimited number of mailboxes to include in a migration,
automated mailbox matching, target mailbox creation, and license assignment to speed up the migration process,
convenient time and folder filters to let you choose only the data you want to migrate,
the Scheduler feature to plan migration according to your needs and availability or to completely automate the process,
no need to configure a hybrid Exchange environment,
no downtime for email services,
no PowerShell scripting, and more.
As usual, the book covers the latest enhancements and changes in both the Microsoft's ecosystem and the CodeTwo's migration tool to provide you with the complete range of possibilities you have as far as migration to Microsoft 365 is concerned.