Conversational Office 365 Migrations by J. Peter Bruzzese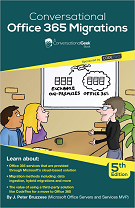 A server is a piece of equipment, right? So shouldn't it be solid? As in, something that actually physically exists? Preferably a heavy piece of machinery that you can put in a server room and look at it with distaste when it's underperforming? Maybe even kick it once in a while?
Have you ever asked yourself these (or similar) questions? No wonder. After all, you're a seasoned Exchange admin. One of the good old kind. You're skeptical of the kids today, running around with their iPhones, Clouds, skinny jeans and whatnot. But more and more often you find yourself looking up information about Office 365. What is it? Why is it out there? Are there any benefits to switching to it? And if so, how do you get it done?
Jokes aside – the last four are valid questions. That's why CodeTwo teamed up with the renowned Microsoft MVP, J. Peter Bruzzese, to prepare an as-concise-as-possible booklet to tackle them. As usual, J. Peter outdid himself. And so, without further ado, we are happy to give you "Conversational Office 365 Migrations" by J. Peter Bruzzese (Microsoft Office 365 MVP).
The free "Conversational Office 365 Migrations" PDF booklet contains chapters:
Office 365 (101) for IT Professionals

Office 365 Services
A Breakdown of Services
Feature Cadence
Accessing Your Tools and Features
Office 365: The Admin Perspective
The Microsoft 365 Trust Center
The Microsoft 365 Online Roadmap (aka: Flight Plan)
The Big Takeaways

Migrating to Office 365

Data Ingestion into Office 365
Hybrid On-Premises/Office 365
Configuring Hybrid
The Big Takeaways

Vendor Sponsored Chapter: CodeTwo

Seven Exciting Enhancements from CodeTwo
CodeTwo's Migration Tool
If you have any questions regarding the software we develop or you are looking for IT solutions for your business, do not hesitate to contact us.
---
Learn more about CodeTwo, its story and details of its business.
---
Take a look at our product line-up and see how to maximize your company's productivity.
---
Take a look at our client list which contains selected examples from nearly 80,000 companies using our software.