A double recognition for CodeTwo at 2021 Stratus Awards for Cloud Computing! The Business Intelligence Group named CodeTwo the top Cloud Company, and they also recognized our email signature management solution, CodeTwo Email Signatures for Office 365, as the Finalist in the Software as a Service category.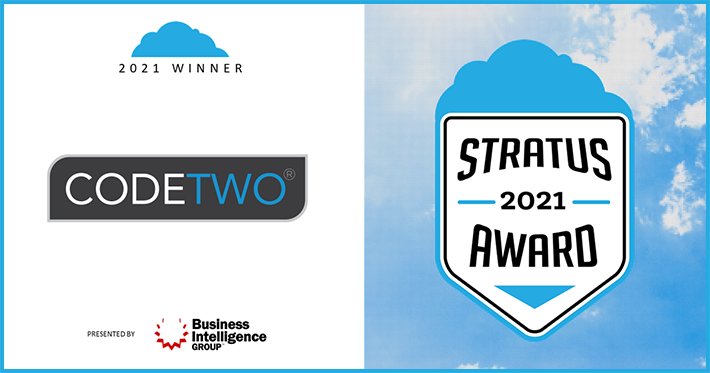 The Business Intelligence Group identifies companies, products and people that stand above their peers and offer unique cloud solutions. The international Stratus Awards are held annually, and over the years companies such as IBM, McAfee, Hitachi and other major players competed to get this recognition.
CodeTwo products are aimed at organizations that operate in Microsoft 365 or want to move to the Microsoft cloud. At 2021 Stratus Awards, we've won for being the only company in the world that offers a complete set of solutions that allow organizations to:
migrate from on-premises infrastructure (Exchange Server, IMAP accounts like Gmail) to the cloud (Microsoft 365 & Office 365),
securely back up cloud data (Microsoft 365, SharePoint Online, OneDrive for Business & Teams),
centrally manage cloud signatures & disclaimers, create email marketing campaigns, automatically schedule meetings, etc.
This year's SaaS Finalist, CodeTwo Email Signatures for Office 365, is our cloud service that unifies email signatures, disclaimers and branding throughout an organization. It is always ahead of the curve when it comes to company-wide signature management capabilities.
We're so proud and thankful to be awarded this year among other industry leaders. See what our CEO, Szymon Szczesniak, says about the award:
See the full announcement on the 2021 Stratus Awards winners