We are happy to announce that CodeTwo has become the sponsor of the new edition of Office 365 for IT Pros – the ultimate guide to Microsoft 365. The ebook covers pretty much all of Microsoft's cloud productivity suite services: Azure Active Directory (Entra ID), Exchange Online, SharePoint Online, OneDrive for Business, Microsoft Teams, Microsoft Purview, PowerShell, Microsoft Graph… and more!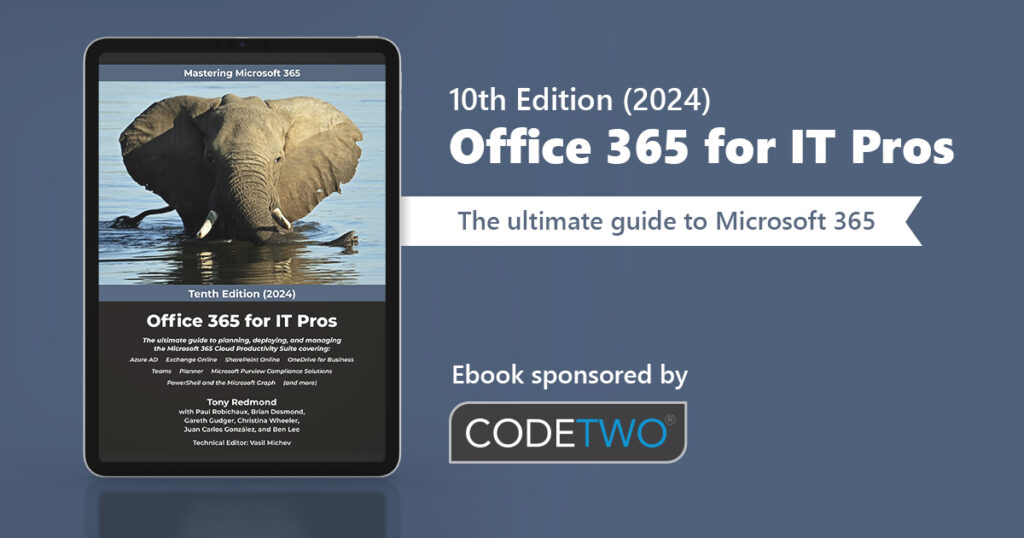 Office 365 for IT Pros is 1,300+ pages (!) of technical knowledge on Microsoft 365. What sets it apart from other books about the Microsoft cloud is that it's updated once a month. Which means it always stays up to date! The newest 10th (2024) edition introduces over 400 major updates compared to the previous version.
The book's author team consists of 8 experienced professionals, most of whom are Microsoft Most Valuable Professional (MVP). The lead author, Tony Redmond, has been professionally involved with Microsoft technologies since 1995. He authored many books and hundreds of articles on Exchange, Microsoft/Office 365, SharePoint and other Microsoft services. He has been Microsoft MVP since 2004.
It makes us proud that we can contribute to the ebook by adding a closing chapter: "Beyond Mail Flow Rules, Email Signatures, and Auto Replies". From day one, CodeTwo helps Microsoft 365 and Exchange admins by providing solutions that automate processes and streamline IT-related tasks. These solutions include both our enterprise software products and articles published on our Admin's Blog. The CodeTwo chapter is based on the same premise: we share insights into Exchange Online mail flow management and show how CodeTwo Email Signatures 365 can overcome many limitations of native Microsoft solutions in terms of email signature and automatic reply management.
To learn more about the book, visit office365itpros.com
Pssst… CodeTwo customers can expect a special offer on the book. If you're interested, be sure to let us know.