It has been almost half a year now since the release of our migration tools for Exchange Server and Office 365. During the last few months we have gathered a lot of feedback about what can be done better and what new features to implement. Thanks to the hard work of our programmers CodeTwo Exchange Migration and CodeTwo Office 365 Migration have now become well recognized tools among Exchange Server and Office 365 administrators. The effort we put in developing our migration software into its current state has been also recently appreciated by two Microsoft Exchange MVPs – J. Peter Bruzzese (TechGenix, previously MSExchange.org) and Ratish Nair (MSExchangeGuru.com). Their in-depth product reviews have been just published on the Internet. Let's find out more about their opinions below.
5/5 rating from J.Peter Bruzesse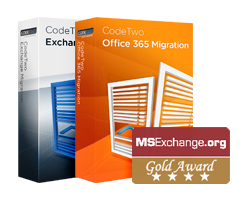 It isn't the first time J.Peter put our software through its paces. Two years ago, CodeTwo Exchange Rules PRO received the maximum score in his comprehensive review on TechGenix. This time the result of the test couldn't be better either. J. Peter loved our two migration products very much and rated both CodeTwo Exchange Migration and CodeTwo Office 365 Migration with the highest possible score. The entire migration test went just flawless and our products have been officially given the MSExchange.org Gold Award. Thumbs up!
"I love a tool (or tools in this case) that is advertised as being able to perform a task, and it does just that. It just works."
 – J. Peter Bruzzese (MS Exchange MVP)
The programs have been especially appreciated for how little effort they required in configuration and for the fact they are simply doing their job as advertised. J.Peter liked the way the user interface was designed, not requiring you to deal with "a thousand little extra settings that require a week long class to make the migration happen". Here's what J. Peter wrote in the summary:
"That is what I appreciated most about the CodeTwo migration tools. They both worked with very little fuss."
Could you expect more from a migration tool?
Read the complete J.Peter's Bruzzese review on TechGenix
Ratish Nair's operational review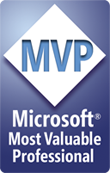 Both CodeTwo Exchange Migration and CodeTwo Office 365 Migration turn out to be very popular among IT experts and consultants dealing with server migrations on a daily basis. The main advantages of using our migration tools are the acceptable price levels, free technical support during configuration and simplicity of use. These features appear to be among the main reasons why another Microsoft Exchange Server MVP and well-acknowledged Messaging Consultant, Ratish Nair, decided to write about our migration tools on his expert blog. Ratish focused only on the operational side of the products writing about some tips how to use them, but he also admitted he had been using our products for a while now. The fact our products serve such widely recognized IT experts as Ratish, is already a great testimonial for us. Thank you for trusting in us guys!
Read the full review on MSExchangeGuru.com
New updates to come soon
Both reviews are a huge positive reinforcement for us and a motivation to work even harder. Soon we will be releasing another update to CodeTwo Exchange Migration and CodeTwo Office 365 Migration containing a set of completely new features. Keep an eye out for news here on our blog and on our social channels.