One of the secrets of leading a happy and stress-free life is keeping personal and professional matters completely separate. When you punch out, that should be it – no more work-related stuff. This way you can recharge and clear your head, instead of stressing out about your job (thus increasing the likelihood of a burnout). Question is, how to make this work, when your mobile phone keeps downloading work emails 24/7?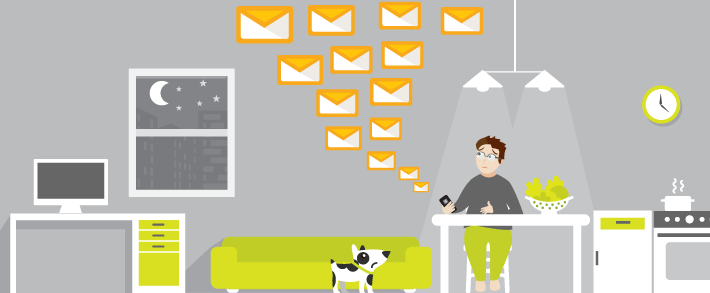 The German automotive corporation Daimler AG seems to have found a partial solution to this problem. In August, 2014 they announced the rollout of the Mail on Holiday system – an end-user enabled inbox assistant, which deletes all emails received while an employee is on vacation, notifies the sender about the fact and provides an alternative contact for urgent issues. This way the employee can actually enjoy their time off, instead of struggling to ignore notifications about incoming work emails, and dreading the day they come back from vacation and have to plow through their Inbox.
Daimler's Mail on Holiday system is a direct result of a government-founded study carried out by Daimler in collaboration with University of Heidelberg psychologists. But it's also a symptom of a broader trend. The growing awareness of detrimental effects constant availability has on workers' health and wellbeing is slowly changing the attitude towards after work emails.
Even though the issue is not yet considered a major concern, France and Germany have already stepped in with regulations protecting their workers. In France workers in selected sectors of the economy are now obliged to cease communication with work outside office hours. Germany is even further down the road. Some of the country's most recognized corporations (like Volkswagen, BMW and Puma) have been limiting leisure time emailing since as far back as 2011. Furthermore, this year in August, legislation was introduced prohibiting managers from contacting employees after work. At the same time, an even further-reaching ban on out of office emails is gaining high profile supporters.
It goes without saying that few (if any) of today's economies are ready to completely eliminate work emails from our personal lives. Even in pre-email times there always was the odd job that simply couldn't be done without constant availability. However, as new mobile technology phenomena (such as BYOD) keep blurring the line between work and leisure time, and negative effects of lack of uninterrupted free time become common knowledge, the issue will most likely have to also be addressed in countries other than France and Germany.
How to limit emails outside office hours in your Exchange organization
Since Microsoft Exchange Server does not include a built-in recurrence mechanism for mail processing rules (and turning them on and off manually would be cumbersome), the easiest way of implementing a system similar to Daimler's Mail on Holiday is using a 3rd party solution like CodeTwo Exchange Rules Pro.
The software lets you set up server-level autoresponders and message blocking rules triggered in recurring time frames (e.g. daily, between certain hours). You can also use the software to redirect messages to users substituting for absent staff.
Another advantage CodeTwo Exchange Rules Pro has over native Microsoft Exchange features is that its administrator can delegate management of selected rules to other staff. Mastering the program is fairly easy and the 2 module architecture allows for controlled remote access even from outside of the domain. What's more, available API lets you develop your own custom web, mobile or standalone apps, which can be released to users.
Download CodeTwo Exchange Rules Pro today and give it a 30-day free trial
Contact our Support Team for more details