J. Peter Bruzzese strikes again (for the fourth time, actually) with his easy-to-read book on a subject that can give quite a hard time to the admins – migration to Office 365. And once again, CodeTwo provides its support for this worthy endeavor.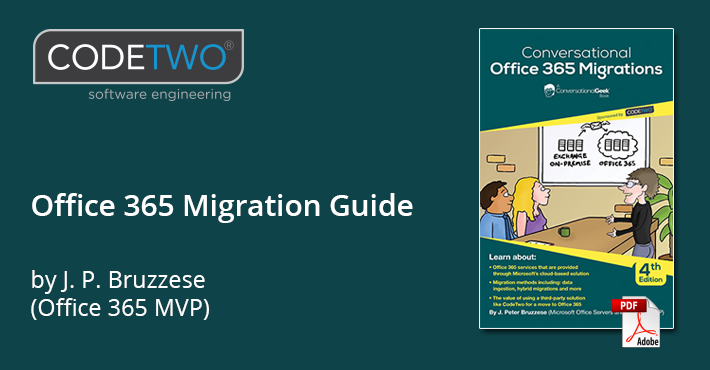 What's so special about this book? First of all, it has been written by
J. Peter Bruzzese
, a many-time-awarded Microsoft MVP for Office Servers and Services. If anyone could give you a good insight on migrations to Office 365, it's him. With J. Peter's 20 years' experience of working with Exchange, he is more than capable of discussing this subject. Although "conversing" would be a better word for it.
The conversational tone of the book makes it suitable even for those who never heard of Office 365 before. Through the use of humor, anecdotes, and cartoons, J. Peter Bruzzese makes sure that your understanding of the subject matter is better. Of course, that doesn't mean this book is all about humor. No, it's pure knowledge served in an easy-to-digest way!
In the 4th edition, J. Peter Bruzzese made sure to catch up on latest updates regarding Office 365 and Office 365 migrations. Additionally, in the chapter devoted to CodeTwo Office 365 Migration, the author included the newest enhancements and changes that came with the newest version of the program, such as new licensing model, support for Office 365 Germany, support for cutover, staged and hybrid migrations as well as the new refresh email addresses feature.