CodeTwo Backup for Office 365
Back up Exchange Online, SharePoint Online, OneDrive for Business and Microsoft Teams data
Perform point-in-time restoration of individual items
Download
30-day free trial with support;
no credit card required
Customer Case Study
The Union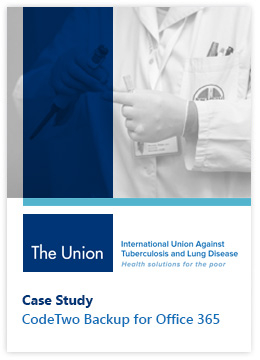 Company description
The Union, also referred to as International Union Against Tuberculosis and Lung Disease, is a global scientific organization. It forms a network of 500 Union experts located in 12 offices, with 17,000 members and subscribers providing their help in 156 countries all over the world. The main goal of the organization is to provide health solutions for people who live in poverty.
Problem
The organization used to keep backed up emails in the PST format. This format, however, was not accepted as a reliable solution for storing important business data. Additionally, keeping mailbox data in PST files caused some difficulties for remote users. The ability to easily restore every email that may be necessary for future reference was another concern. Having this in mind, The Union decided to upgrade their backup utility to meet the organization's security and reliability standards.
Solution
Once they made a decision to improve the backup policy, the representative of The Union searched the Internet to see what options were available. This is how he found CodeTwo Backup for Office 365. As the program offered a free trial version, it was easy to quickly verify whether the application could help The Union achieve their specific backup goals. After a successful testing period, they decided to use CodeTwo Backup for Office 365 as The Union's main backup solution. When asked how CodeTwo software helped the organization meet their security and reliability standards, Jabol Abel from The Union said "We are now able to back up the emails with granularity. This reinforced our ability to inspire trust in the IT department." He also added that "the possibility to set up backup by profile helps us to address specific requests coming from the executive team as they are very dependent on the email system." Using CodeTwo Backup for Office 365 helped The Union improve the solidity of backup and the availability of user mailbox data. As Abel confirms, "it is also a good guarantee for a project admin who wants to be able to recover a mailbox in case of force majeure."
Summary
Company name

:
The Union

Number of employees

:
700
Number of emails processed every day:
Around 2,000
Problem:
No solid and reliable backup solution for Office 365 emails
Solution/Product:
CodeTwo Backup for Office 365

Implementation type

:
< 600 users

Implementation time

:
4 hours +/-