CodeTwo Backup for Office 365
Back up Exchange Online, SharePoint Online, OneDrive for Business and Microsoft Teams data
Perform point-in-time restoration of individual items
Download
30-day free trial with support;
no credit card required
Customer Case Study
Maple Reinders Group Ltd.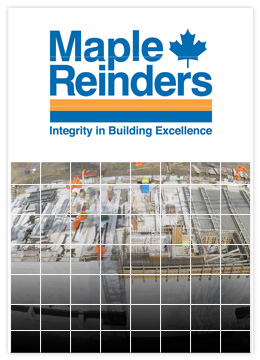 Company description
The Maple Reinders Group was founded in 1967, specializing in industrial/commercial/institutional, and heavy civil/environmental construction across Canada, providing coverage in almost every major region in the country. By providing professional, creative and innovative solutions, the efforts of this company are appreciated and awarded in many domains, having attained a gold-level Best Managed Company designation.
Problem
The company was searching for a way to create backup copies of their Office 365 mailbox data, as there was no native solution they could employ. In the event of any accidental or malicious deletion of items by users, there was no way to track and, if necessary, to restore those items. It was also not possible to identify the dates when particular items were erased. In addition, if employees left the company, there was no simple way to archive their mailboxes, e.g. to a .pst file, other than doing so manually via Outlook.
Solution
When the problem of not having a local backup copy of Office 365 mailboxes became more and more troublesome, Maple Reinders decided to look for a third party product that could help them back up important Office 365 mailbox data. Kevin Dreyer, IT Director at Maple Reinders, searched through the Internet and came across CodeTwo Backup for Office 365. Upon installation he stated, "My first impression was that it is easy to install and configure. I got it up and running in less than 20 minutes. The product has a simple, yet powerful interface." After a few months of using it, Maple Reinders was able to view the program's features with the added benefit of experience and knowledge. "At this moment, I can say that it works without a problem for a couple of months so far – you can just set it and forget it," said Dreyer. "I also noticed that it is a brilliant data retention and recovery software that can be relied on. Thanks to CodeTwo Backup for Office 365, we can backup and restore all company mailboxes – and that has already been very helpful in more than one legal discovery that required recovery of important data from our Office 365 that had been removed. Now I can finally say we have full control of email content in our Office 365 tenant."
Summary
Company name

:
Maple Reinders Group Ltd.

Number of employees

:
500
Server type:
Hybrid – Exchange 2013 and Office 365
Average mailbox size:
6GB
Storage medium type:
Synology NAS
Problem:
No backup solution for Office 365 mailbox data
CodeTwo product(s) you use:
CodeTwo Backup and CodeTwo Email Signatures

Implementation time

:
20 minutes +/-