CodeTwo Backup for Office 365
Back up Exchange Online, SharePoint Online, OneDrive for Business and Microsoft Teams data
Perform point-in-time restoration of individual items
Download
30-day free trial with support;
no credit card required
Customer Case Study
EZ TEC EMPREENDIMENTOS E PARTICIPACOES S/A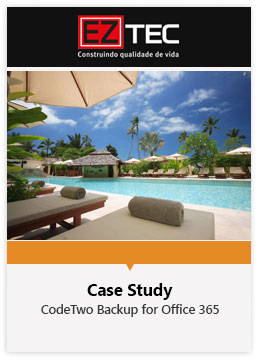 Company description
EZ TEC is a company which specializes in building commercial and residential constructions of both economy and high standards. They are focused on The São Paulo Metropolitan Region, which is the Brazil's largest market for housing. The company was established in 1979, and became an S.A. Group in 2006. It grew steadily to become one of the biggest home builders in Brazil.
Problem
Dealing with high budget projects on a daily basis, and using email as the core communication channel, EZ TEC has always needed to put extra care in securing their mailbox data. Unfortunately, the backup solution they have been using has proven to be ineffective. Because of a large amount of data stored it became too expensive. What is even worse, searching through the database was a nightmare, and the lack of granular recovery function caused the process to be extremely slow. Finding relevant information and sending it to clients quickly was business-critical. They learned that the backup solution they were using was not suited for this task.
Solution
The company turned to its IT consulting partner for advice. The IT professionals recommended CodeTwo Backup for Office 365 and installed the trial version so that EZ TEC could test if it solves all the problems.
"The first impression was that the solution is made for us. CodeTwo Backup for Office 365 searches data efficiently and lets us restore results to any place we want. The incremental backup option greatly reduced the size of our database, and even let us export older data to PST files and archive it in a different storage." – says Mr. Paulo Ferreira, EZ TEC representative – "The more we use it, the better it seems: searching does not pose any problems, even when going through TB of data, and the software significantly reduces the costs of our architecture when compared to the previous backup solution."
Summary
Company name

:
EZ TEC EMPREENDIMENTOS E PARTICIPACOES S/A

Number of employees

:
600
Number of mailboxes:
500

Server type:

Office 365

Storage medium type:
SSD hard drive
Problem:
Could not find required information in their database quickly enough. Lack of granular email data recovery. The cost of the previous backup solution was too high.
CodeTwo product(s) you use:
CodeTwo Backup for Office 365