CodeTwo Backup for Office 365
Back up Exchange Online, SharePoint Online, OneDrive for Business and Microsoft Teams data
Perform point-in-time restoration of individual items
Download
30-day free trial with support;
no credit card required
Customer Case Study
Capital Transport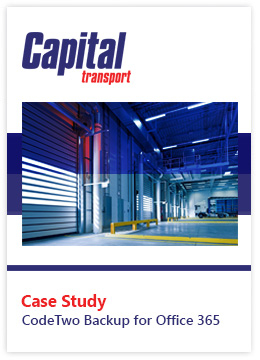 Company description
Capital Transport is an Australian national transport and logistics company established in 1990. It provides transport services of all kinds across the continent. With an impressive fleet of over 1,500 vehicles, Capital Transport ensures flexibility and high reliability of delivery services to help other businesses operate smoothly.
Problem
The company is recognized for its commitment to innovative and customer-first transport solutions. As a result, Capital Transport also needed to ensure the security of their Office 365 data. It was necessary for them to work with a robust solution that guarantees a solid backup of all the company Exchange Online emails at a granular level. An additional requirement was to archive emails of employees who left the company. However, as the company representative said, "since we felt the native solutions were cumbersome and not fit for purpose", Capital Transport decided to look for a reliable and easy-to-use backup solution provided by a third party.
Solution
Adrian Bolzan, National IT Manager of Capital Transport, searched Google in order to find a solution that would meet their business backup requirements. The company was looking for a product which would provide "a more traditional approach to backup, and CodeTwo Backup for Office 365 fit the bill". After a few moments with the software, Bolzan's first impression was that "the product is extremely flexible, yet the interface is simple to use." And when he contacted CodeTwo Customer Service to discuss this solution, he recognized that "the support provided by CodeTwo has been excellent with both quick responses to emails and phone calls." Once the program was implemented and set up in the production environment, Bolzan commented – "The ability to archive the mailboxes of employees that have left the business has been particularly useful, saving money on licensing with Microsoft, as well as providing us with the same level of coverage we had prior to migrating to a cloud-based email solution. I was more comfortable migrating to the cloud once we discovered CodeTwo Backup for Office 365".
Summary
Company name

:
Capital Transport

Number of employees

:
300
Number of emails processed a day:
40,000
Problem:
No reliable backup solution for Exchange Online mailbox data
Solution/Product:
CodeTwo Backup for Office 365

Implementation time

:
8 hours