CodeTwo Backup for Office 365
Back up Exchange Online, SharePoint Online, OneDrive for Business and Microsoft Teams data
Perform point-in-time restoration of individual items
Download
30-day free trial with support;
no credit card required
Customer Case Study
Arcadia Beverage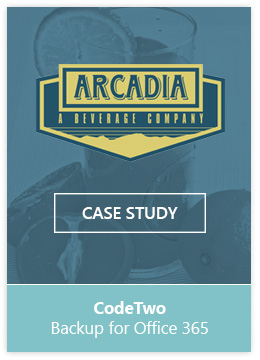 Company description
Arcadia Beverage is a global beverage supplier from Asheville, North Carolina. Since 1939, they have been using their passion for combining clear mountain water with some other high-quality ingredients to provide custom-label tea blends, juices, and hydration drinks.
Problem
IT department at Arcadia found out that mailbox backup in Office 365 did not meet all the requirements the company has for data security. The company wanted to back up their data to local storages, so that it is both secure and available, regardless of the Internet connection.
What they wanted to achieve was a secure offline backup of all mailbox items for some users. Exporting mailboxes to PST was more of a manual workaround than a real solution – it required a lot of time and they believed it had left much to be desired regarding data security and granular data recovery.
Solution
The IT department at Arcadia had no problem finding the right tool for the job, as they have already been using CodeTwo software to manage their Office 365 users' photos and email signatures. As they were satisfied with the email signature manager, they decided to give our backup solution a go.
As it turned out, CodeTwo Backup for Office 365 was just what the company needed. Roger Beard, the IT Director at Arcadia Beverage, shares his positive experience about working with CodeTwo software: "CodeTwo software works very seamlessly. Both the email signature and backup solutions are extremely well-designed and have done their job very well since day one. The few problems we had were quickly fixed by the great support team at CodeTwo. Now the applications work in the background and save us massive amounts of time with Office 365 implementation tasks while requiring no attention at all."
Summary
Company name

:
Arcadia Beverage
Number of employees:
75
Number of emails processed every day:
1500
Server type:
Office 365
Problem:
Native backup methods lack certain functionalities and take a lot of time, backup automation too troublesome.
CodeTwo product(s) you use:
CodeTwo Backup for Office 365, CodeTwo Email Signatures for Office 365, CodeTwo User Photos for Office 365
Implementation type
30 mailboxes

Implementation time

:
a week