Detailed logging level in CodeTwo Exchange Rules
This article is obsolete and may relate only to older versions of our software.
Problem:
You need to change the logging level in CodeTwo Exchange Rules to detailed.
Solution:
If the program deviates from its intended behavior, you may be asked to set the logging level to Detailed by the Technical Support. To change the verbosity of logging, perform the following actions:
In the top menu, choose Tools > Log files.
In the Logging level section, select Detailed from the drop-down menu (Fig. 1).
Click OK and then Save (Ctrl+S) in the program's main screen.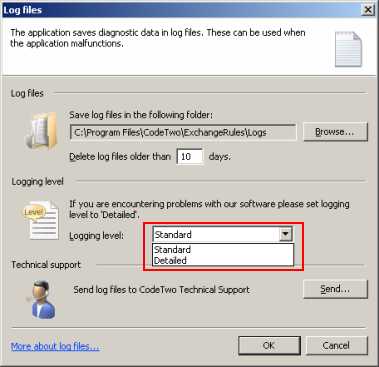 Fig. 1. Changing the levels of logging detail.
The logging level is now set to Detailed.
Now you can reproduce your problem, e.g. send a test message that will be processed incorrectly. After your test is finished, the CodeTwo Exchange Rules log files will be updated. Please send those files to our Technical Support. To do so, follow these steps:
In the program's top menu, choose Tools > Log files.
In the Technical Support section, click Send.
A message containing zipped log files is created. Add any comments that will help us have a better insight into the issue.
Click Send to send the message to the Technical Support.
Important
Keep in mind that the newer versions of CodeTwo Exchange Rules software (including CodeTwo Exchange Rules Pro) than those provided in the Related products section below this article use only one logging level. Refer to the Knowledge Base article on Diagnosing CodeTwo Exchange Rules family software (newer versions) to learn how to collect all diagnostics and get technical assistance.